Ginevra Casati, a PhD student in the Plasma Physics group, was able to tell her personal 15-minute story of awe and wonder: "Looking Up to Our Favourite Constellations". Here are her reflections from the event!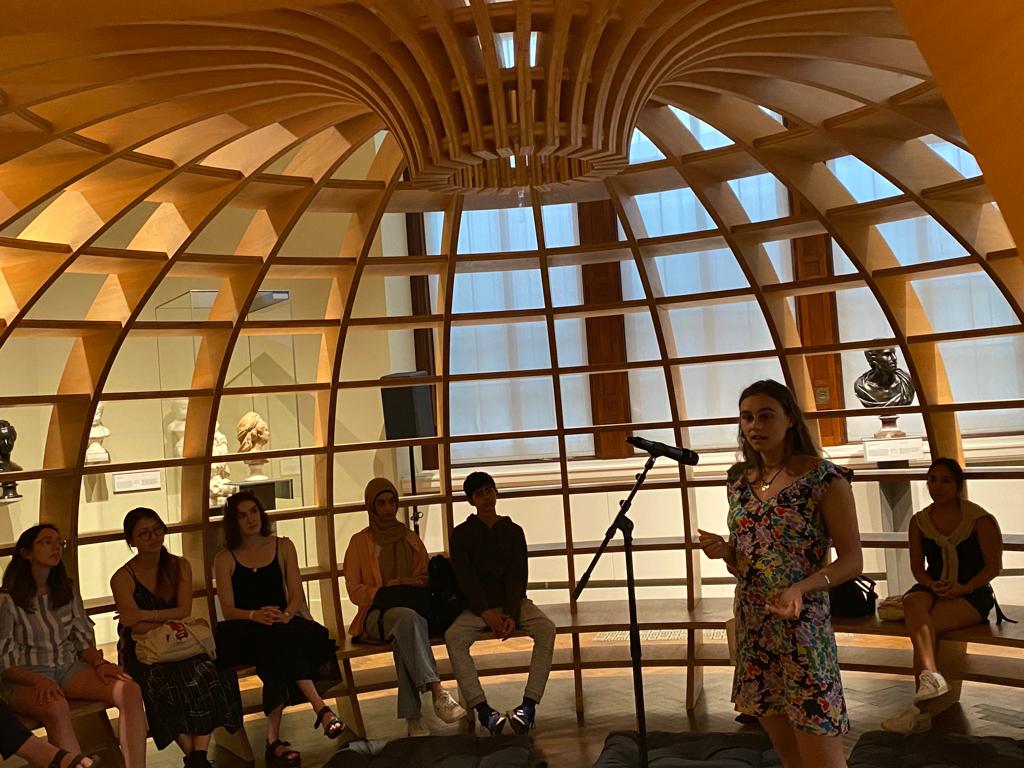 As physicists we are trained to communicate our science in a highly specific manner: concise, clear, objective, with little room for personal flair or whimsicality, so when I had the opportunity to learn how to tell a story to a lay audience, I was intrigued, but also a little bit daunted.
Choosing a story to tell was not simple. I was afraid my audience wouldn't be entertained if I shared something completely autobiographic. I also wanted to leave my comfort zone and step out of the bounds of the research that takes up my working hours. I found that sharing a story about personal growth and passion with an audience of strangers made me feel vulnerable, but also more excited than talking about my results in front of scientists.
I really enjoyed the process of thinking creatively about my story and I was thrilled to have the chance to practice my storytelling skills with people of the caliber of Prof. Claudia de Rham.
On the day, the reality of presenting at the Victoria and Albert Museum had me nervous and intimidated. As I made my way down exhibition road I was overwhelmed by the infectiously fun atmosphere of the festival, everywhere I looked there were curiosities on display, innovative workshops and the whole road was awash with bright colors. In that moment I realized I was part of the festival, and the feeling of belonging to something so huge made my nerves disappear almost completely, replaced with a powerful desire to leave my mark on the festival as best as I could.
Stage fright was kept at bay by my close friends who came to support me.in more than one instance I felt a bit overwhelmed or didn't remember how to continue the story and looking at their smiling faces gave me the push I needed!
Connecting with the audience during and after the story was special, I really enjoyed discussing parts of my tale with members of the audience and hearing how they interpreted what I said and how it resonated with them.
Overall, it was an exhilarating experience which I am eager to repeat next year!