Public involvement in health and biomedical research is increasingly seen as both desirable and necessary. Desirable because the public's vast and varied experience can bring important perspectives to research. Necessary because many funders now require it.
That's why we've developed the Patient and Public Involvement (PPI) Resource Hub – to guide researchers through the process of actively involving patients and members of the public in their research and projects.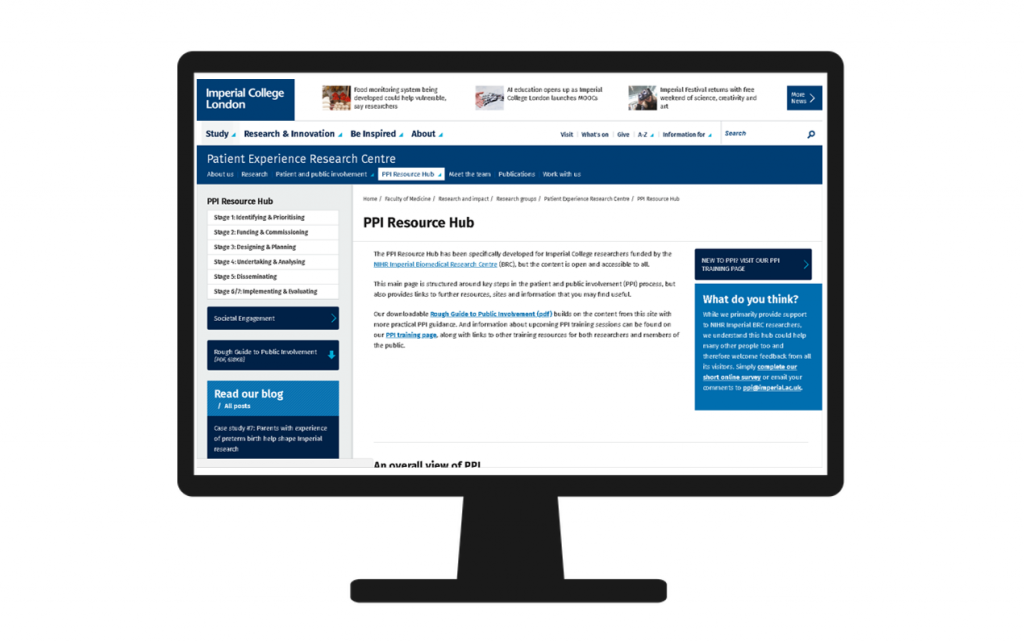 The Patient Experience Research Centre (PERC) is set-up to support researchers funded by or affiliated with the NIHR Imperial Biomedical Research Centre. While the PPI Resource Hub has been developed with them in mind, the content remains open and accessible to anyone. We therefore hope that a wide range of researchers find it useful, both within and beyond Imperial.
The PPI Resource Hub has one central page – the homepage – and six sub-pages. We've provided a short overview of these sections below, but to really see how it works and what it delivers, we invite you to visit the webpage itself.
The homepage
The PPI Resource Hub homepage provides the core of the content and is designed to equip researchers with the main processes, resources and guidance needed to embed high-quality, effective public involvement into their work.
The research stage sub-pages
These six sub-pages have been created to enable researchers to understand where, why and how they could involve patients or members of the public in the different stages of their research or project. Each one includes a number of example activities and case studies to inspire your thinking, many of which will be showcased as posts on this blog too.

They can be accessed from either the left side navigation bar of the PPI Resource Hub, or the six buttons under 'When to involve…' on the PPI Resource Hub homepage:
The PPI training sub-page
Although not sat within the PPI Resource Hub itself, throughout the site we direct visitors to our PPI Training page because it provides information about available PPI in research training sessions and material that you may find useful. This includes our own training series that we aim to run again later this year; it introduces public involvement to those who are new to the concept, and builds on the experience of those who are already getting involved. Alternatively, for an initial introduction, you can visit our Patient and Public Involvement page.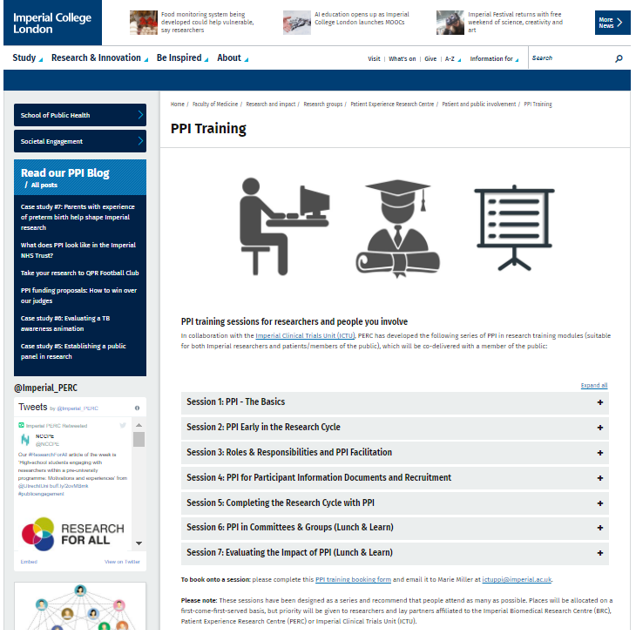 Let us know what you think
Now that the PPI Resource Hub has launched, we're keen to hear your thoughts so feel free to complete our short online survey or email us at ppi@imperial.ac.uk. Considering our remit, we may not be able to meet everyone's needs. But we will do our best to adapt and improve the support we provide through the Hub, so as to facilitate even more public involvement activities, and optimise their impact within Imperial and the wider community.
If you don't work at Imperial but are interested to learn more about our outputs, please email the PERC team at ppi@imperial.ac.uk or visit our Work with us page for more options.
You can also follow us on Twitter @Imperial_PERC