Wednesday 23rd June is the 8th global annual celebration of International Women in Engineering Day, an international campaign of visibility on social media, that aims to shine a light on our diverse engineering role models, and encourage more people to consider engineering as a profession for all. 
This year, women students and staff from EEE have been sharing their journey into engineering and their proudest achievements, along with some words of advice to girls and young women who are thinking about a career in STEM.
---
Sanjana Ganguly is just completing her final year as an undergraduate, studying Electrical & Electronic Engineering with Management, an option which combines technical engineering skills with specialist business modules from the Imperial College Business School. During her four years of study, Sanjana has been very active in the College's Indian Society, and has recently been helping with the vaccine roll-out.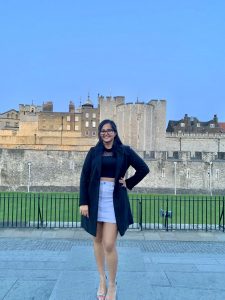 How did you become an Electrical / Electronics Engineer? 
"My journey towards becoming an EE engineer began when I first realized that I enjoyed the IB physics modules related to EE. Throughout school, I liked the challenge of the objective, quantifiable subjects like maths and science. When it was time to think about higher education, it felt like a natural transition to progress into engineering, as it would enhance and utilise my academic interests in a more practical manner. Reflecting on my 4 years at Imperial, I am happy to say that engineering is all that I thought it would be – with a lot more maths sprinkled in."
What's your proudest achievement as an engineer? 
"My proudest achievement as an engineer has been developing adaptability. Through the countless hardware and software-based projects, I have learnt the importance of taking a realistic approach to projects and realising the need to pivot whilst still fulfilling the project or client criteria. My final year MEng project, based on non-interactive zero-knowledge cryptography, has been my proudest engineering achievement at Imperial. The virtual nature of the project meant a lot more flexibility in terms of the brief, allowing me to explore the areas of greatest interest to me. There was excellent guidance from the department, as well as support whenever I needed it. The depth and scope of this individual project has made it the challenging yet rewarding experience it has turned out to be."
What's your proudest personal achievement?
"My proudest personal achievement would be maintaining a balance between the requirements of my course, and my extracurricular interests in dancing and organizing cultural events. I have been involved with the Imperial College Indian Society in the capacity of a dancer, artistic director of dance, and head of an inter-UK dance competition over the years. Not only did these roles give me a much-needed break from the hectic EEE workload, but they also taught me a lot about time management and the importance of taking breaks.
Most recently, I have been helping my peers at and beyond Imperial schedule their vaccine appointments at hospitals that have spare vaccines. Being able to help with the need of the hour has really been a fulfilling and rewarding personal achievement. Seeing Imperial come together, and rally as a community to implement regular testing, social distancing and other safety measures has motivated me to do my bit and pay it forward however I can."
What piece of advice would you give to a girl who is thinking about studying EEE? 
"If you are thinking of studying EEE, my advice is go for it! Preparation is key to success, make sure you are organized, and you stay on top of your workload. There are plenty of people and resources here at Imperial to support you throughout your time studying EEE – be they peers, tutors, or lecturers. Even if you are unsure of your career choices, EEE is a fantastic course to help you figure it out. You will learn and implement both – hardware and software theory, be it through hardware-based electronics labs with op-amps and transformers or software-based computing labs."