By Sunila Prasad, Imperial Hub
On 16th October, Imperial Hub hosted its inaugural talk of The Challenge Series – a series of seminars aiming to inform students on key issues.
Imperial Hub was honoured to host special guest speaker and FGM survivor, Ms Hoda Ali, and Honorary Clinical Senior Lecturer at Imperial, Dr Naomi Low-Beer, to offer their insights into the increasingly prevalent issue of female genital mutilation (FGM).
With Hoda as the first speaker, the audience was immediately immersed into the world of FGM through the perspective of a survivor. Having experienced FGM at the age of 7 in her native Somalia and then forced to flee her war-torn country, she finally settled in the UK to work as a sexual health nurse and FGM campaigner. Hoda's story was inspirational, and she went on to explain the devastating impact FGM can have on a victim both physically and mentally and how she survived it.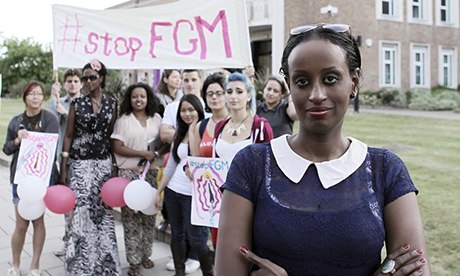 Hoda first showed clips from a Channel 4 documentary she helped make last year called The Cruel Cut. The practice of FGM was placed into historical context and women featured in the documentary recalled the harrowing experience they faced in being mutilated. A practice that is said to date to 2500 years ago, and originally carried out in certain parts of Africa, FGM is now a global threat to women, with cases being increasingly reported in the UK. Since April, a reported 1700 women and children have been treated for FGM on the NHS. Astonishingly, as Hoda explained, those who carry out the mutilation, also known as 'cutters', are now being paid to come into the UK to complete their job.
Under the veil of religious conformation, FGM is often practiced to supposedly protect female chastity and preserve family honour. To date, however, no religious text from the major world religions has been officially cited as prescription to this act. Described as "a part of becoming a woman" Hoda, her sister, and many of her friends were led to believe that FGM was simply a rite of passage and as something to be looked forward to. Hoda stated that she was "privileged to have been given local anaesthetic", as her mutilation was performed in the city.  However, girls who did not have access to anaesthetic in the villages of her homeland were acutely aware of every painful moment of their procedure. Forced to remain stoic, Hoda explained that she simply had to deal with the pain she felt after the procedure and went on to talk about the traumatising complications that have marred her life ever since.
After countless surgeries and hospitalisations, her ongoing trauma from her procedure came to a head when she was told that she would not be able to bear her own children. At this point, she turned this devastating realisation into an opportunity to start campaigning about the horrendous practice that is forced on young women around the world. Hoda emphasised the need for education, particularly amongst the medical profession to help treat and protect women and children from having to endure the same hardship she had faced.
Following on from Hoda, Dr Naomi Low-Beer, consultant gynaecologist and leader of the West London's African Women's Service, gave more detail with regards to the medical background of FGM. Dr Low-Beer highlighted the unique position FGM holds as an act of abuse legally speaking despite many parents believing that it is in fact the best thing they could be doing for their child, by preventing them from stigmatisation amongst the communities that propagate the practice. There is also ambiguity now present in classifying types of FGM being treated for, as there is an emergence of 'religious nicks' that don't fall into any of the previously established categories.
However, both Dr Low-Beer and Hoda emphasised that the challenges related to FGM now lie in raising more awareness about it along with ensuring the safeguarding of girls who are at risk and increasing cultural sensitivity when engaging in dialogue about the issue. Whilst surgical procedures may be carried out to attempt to rectify the physical damage caused by FGM, restoring justice for the victims is still unheard of, with no successful prosecutions for the perpetrators who perform the mutilation. Moving forward, Dr Low-Beer noted government initiatives from the Department of Health that are being put in place to improve data collection from FGM patients as well as improving the training packages that medical professionals receive in safeguarding FGM patients.
Fundamentally, for the pendulum to be swung from awareness to action, continued health and community education needs to be emphasised. Efforts to engage with communities who facilitate the practice in this country alongside protecting the girls who are most at risk from these communities is paramount. So much is already taken from the victims of FGM including their voice for protection- the onus is now on those who are educated about it to help give them back their voice.
About Imperial Hub's Challenge Series
Imperial Hub supports students in gaining the skills and experiences needed to make a real difference in their local and global community.
Their Challenge Series aims to inform students about key issues and pressing problems, providing the inspiration to develop innovative solutions.
The series take place every other Thursday from the 16th October 2014, 6-8pm in the Pippard Lecture Theatre, Sherfield Building, South Kensington Campus.
More information can be found on Imperial Hub's website.