By Joshua Symons, BDAU, Centre for Health Policy, Institute of Global Health Innovation 
2017 has been a very busy year for the Big Data and Analytical Unit (BDAU). High level accomplishments in data security and researcher outreach have led the BDAU to become one of the most secure and recognised analytic platforms for healthcare data at Imperial.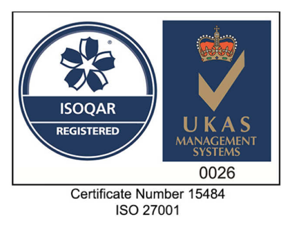 In May of 2017, the BDAU Secure Environment (SE) became the first ISO 27001:2013 (figure 1) and NHS IG Toolkit 100% Level 3 (figure 2) certified research environment in Imperial College. Over the course of 2017, the BDAU SE was successful in completing a further 11 internal and external audits. The 6-month surveillance audit required for retaining ISO 27001 certification was completed with 0 non-conformances. The BDAU now provides advisory to the Imperial College Information Governance Operational Group and the Information Governance Steering Committee for the Department of Surgery and Cancer.

Usage
The BDAU SE provided a secure analytics environment for over 110 researchers using more than 90 unique datasets ranging from custom collected clinical datasets to large linked datasets. Researchers used a plethora of tools for analysis such as standard favourites like Stata and Matlab as well as custom R and Python code. Cutting edge research to be published in 2018 includes patient segmentation, behaviour of healthcare networks and the impact of national antimicrobial stewardship. The BDAU sought to bridge the gap at all stages from data awareness through to early research dissemination (figure 3).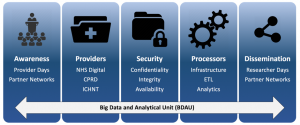 Outreach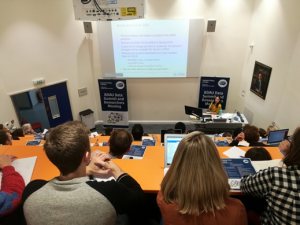 In November 2017, the BDAU ran the first of its Data Provider Days. These events aim to showcase research using routinely collected healthcare data and to give researchers access to experts from actual data providers. The first event focused on Clinical Practice Research Datalink (CPRD) which provided an opportunity for CPRD to introduce exciting developments in on-boarding EMIS data into the CPRD repository.
The BDAU has also formed the Routine and Observational Data Analysis Network (RODAN) at the end of 2017 and will begin building presence for this network in early 2018. This network is the first to be devoted to increasing multi-discipline research using routinely collected healthcare data. Partners in this network include both research experts across all college faculties and industry experts in data driven innovation.