Crohn's Disease and Ulcerative Colitis are the two main forms of inflammatory bowel disease (IBD) and affect more than 300,000 people in the UK. To mark world IBD day, Kapil Sahnan (surgical trainee) and Mark Samaan (gastroenterology trainee) organised and ran a National Patient and Public Involvement (PPI) Research Day for patients with inflammatory bowel disease.
They worked with a team of PPI experts including: Ailsa Hart (UK PPI lead for Gastroenterology), Christine Norton (Professor of Nursing), Nicola Fearnhead (President in waiting of the ACPGBI), Phil Tozer (an academic colorectal surgeon) and two fantastic expert patients (Azmina Verjee and Sue Blackwell). The conference was attended by 80 patients and 30 researchers from around the country!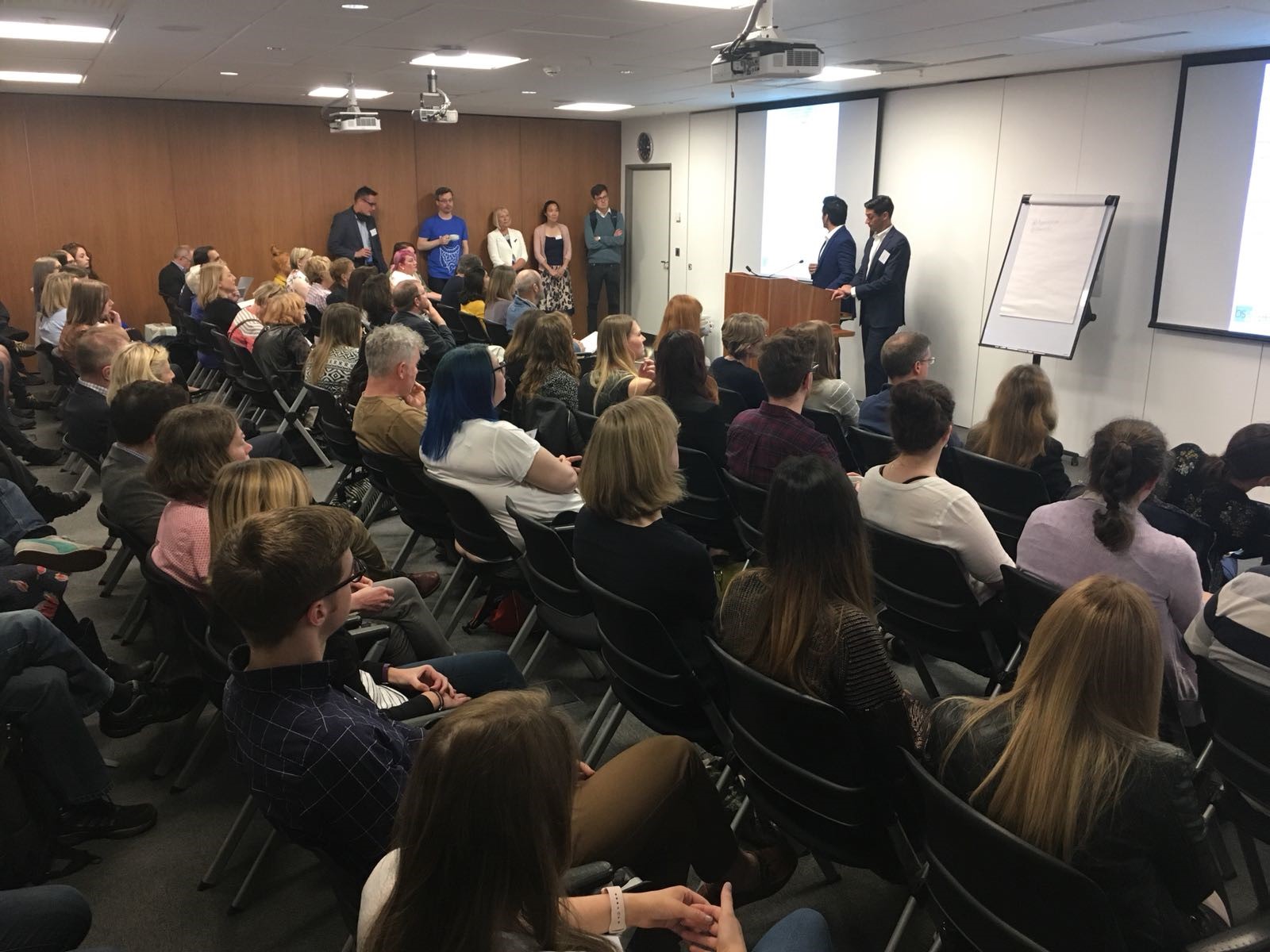 Why did you decide to organise a Patient Involvement in Research Day?
Research studies should incorporate the views of patients to ensure they are patient-centred and acceptable to patients. The conference aimed to provide basic information on IBD and to update patients on existing research. Patients were then able to shape current and future clinical trials. This type of conference was valuable to IBD patients and researchers alike to improve trial design and to create a network to keep patients informed of on-going studies and ways to get involved in future research. The event was supported by the ACPGBI, the BSG, the BDRF, Crohn's & Colitis UK (CCUK), and NIHR Imperial BRC's Patient Experience Research Centre (PERC).
How did you recruit people to attend?
Mark and I both have experience of working with people with IBD and have always found them engaging and motivated to be part of IBD research. We approached CCUK, the largest IBD charity in the UK, and used their network to issue an open invite. We were keen to get a spread of demographics and representation from across the UK and were delighted that we achieved that.
How did you pitch the background and introduction talks?
Great question! We worked hard with the researchers beforehand and gave them examples of appropriate ways to present their research. We worked with a few teams on an individual basis to ensure they were pitching to a lay audience to help shape and guide the presentations.
We were keen however not be too prescriptive and during each of the talks we had a number of our team facilitating. Azmina, in particularly, was fantastic at helping the researchers re-word their questions to be better understood by the patients.
How did you decide on the format?
We decided to use two rooms throughout the day to allow for small group sessions. In the morning we had talks about "Fertility" and "Fatigue". We assumed that as we had worked to ensure relatively equal demographics between the 2 groups, that the younger patients would head towards the fertility session and the older ones to the session about fatigue. However, we in fact had rather an eclectic mix of ages, which allowed for a fascinating discussion in each of the rooms. For the rest of the day we split the attendees into sessions focusing on "Research in Crohn's disease" and "Ulcerative colitis" and again we had a relatively even split.
How did you run the small groups sessions and did they work?
Each of the researchers delivered a 5-10 minute interactive presentation on the proposed research and 'comperes' were selected from the researchers present – either Azmina/Sue and one of the organising committee. The comperes discussed points during the presentation and helped field questions from the audience. Our attendees were really motivated and engaged, and small group sessions were definitely the best format for our day.
How did you analyse the feedback and what will you do with it?
We took permission from the attendees beforehand to document any discussion during the day. Essentially, we recorded salient discussion-points/soundbites during the day and when appropriate we also conducted informal polls by using anonymous voting slips.
For each research study we are creating a short document detailing the demographics of the attendees in the room and the key points from the discussion. The aim is that these can be used for funding submissions and future publications. We are in the process of disseminating the results, after which we will be able to see how the research has changed accordingly.
We then plan to send these documents to all those who attended on the day and tweet the content of these documents on twitter. We are also working on analysing the activity from our hashtag #IBDPRD over the next 6 months to see how far the reach of our conference was – so please tweet lots and use the #IBDPRD!
What next for the IBD Patient Involvement in Research Day?
Mark and I are planning on running the conference again next year to once again mark World IBD Day. We are also in discussions with a number of international collaborators to help set up PPI conferences in other countries. If anyone is interested in collaborating then please let us know!