At the 2018 Imperial Festival we opened the Patient and Public Involvement (PPI) Café for the first time. A new PPI methodology – a hybrid between a science café and a more typical PPI workshop – it was designed by five Imperial research centres in partnership with Patient and Public members.
Our aim was simple: to give the public a flavour of PPI by contributing to real-life research projects. As well as getting fresh public input into some projects, we wanted to try something novel in PPI and to have some fun.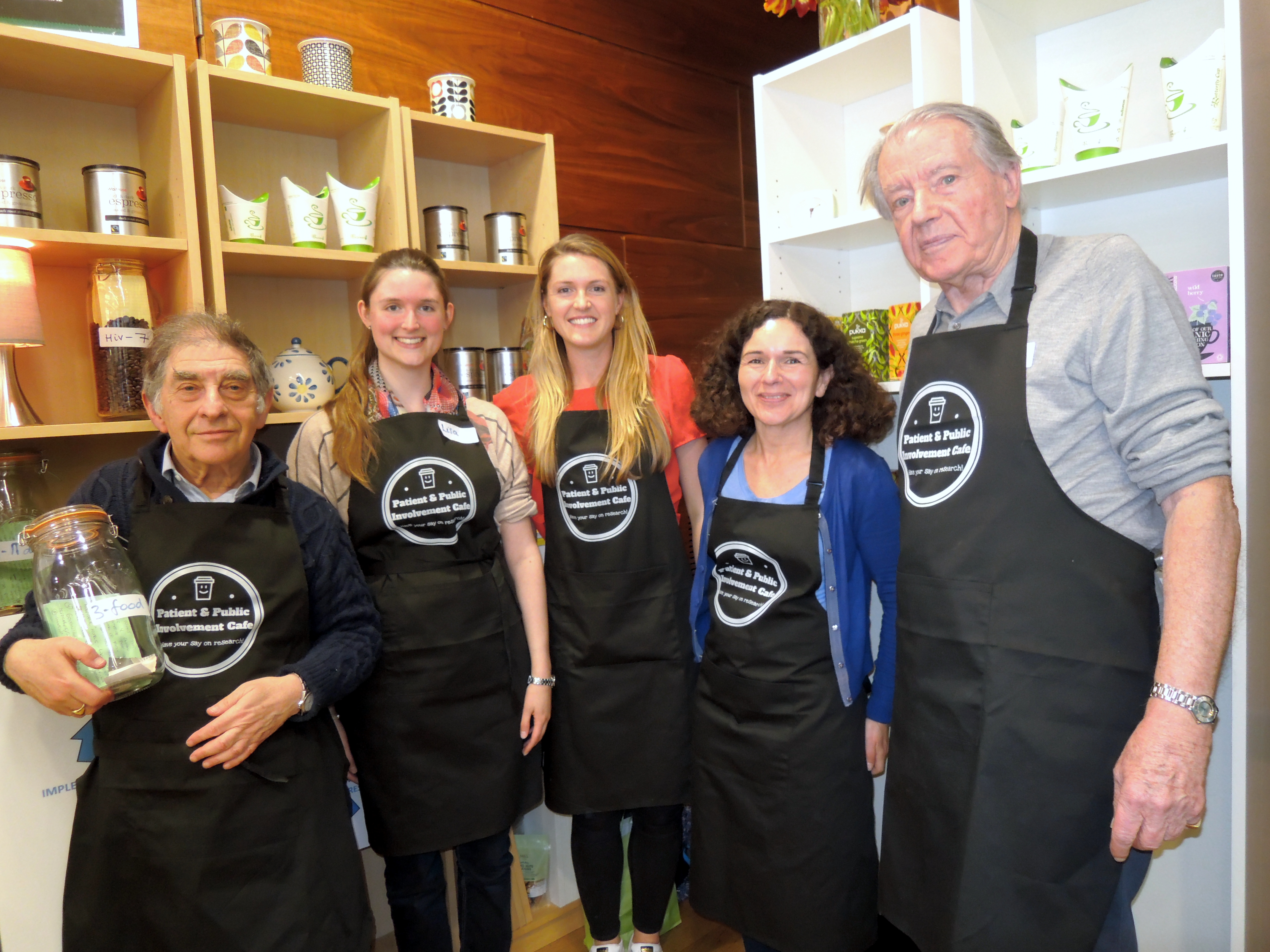 Why a café?
Despite their modern association with tax-dodging and precarious labour, coffee houses have for centuries been associated with free discussion and the exchange of ideas. We wanted to set up a café that would make for a welcoming environment in which people felt able to discuss research openly. Cafés also have a degree of universality, meaning that in future we could apply the concept across different sites and diverse audiences.
Our wonderful baristas brewing up some public research ideas #PPI #ImpFest pic.twitter.com/5E84j3fjra

— Imperial PERC (@Imperial_PERC) April 28, 2018
How does the PPI Café work?
The café "baristas" – both researchers and public partners – gave the public a brief overview of PPI before inviting them to join a table in the café. A facilitator would introduce the public to the background and aims of a real-life Imperial research project. The public were then posed questions the researcher wanted feedback on and invited to make suggestions on how to improve the study.
In conversation with researchers, our café visitors filled up our coffee jars full of comments and suggestions. Public input was welcomed across the research cycle, from study design to implementing. Our research teams are now analysing the comments and looking at how these can be incorporated into their studies.
Research questions included:
Influences of a computerised diagnostic decision aids on GPs' thinking
The art and science of food
Parental consent for teenagers' involvement in mobile phone research
The value of remote diagnosis
What worked?
Visitors – Visitors to the café seemed to both enjoy it and learn something. 91% of respondents enjoyed the café 'a great deal' or 'a lot'; 84% of respondents learnt 'a great deal' or 'a lot'.
Insights – We are still collating the public ideas and insights, but the format seemed to allow for useful insights from the public for our research. We are now looking at how we can improve the process to optimise insights.
Informal atmosphere – The "vibe" of the café allowed visitors to talk openly and freely. It was a far more relaxed environment than a focus group or workshop so may be more appealing to audiences unfamiliar with PPI.
Lay members – The presence of our lay members was essential for creating an atmosphere of informality and making PPI feel accessible and inclusive. It was important to practice what we preach, with the café a true partnership between researchers and the public.
Uniting PPI across Imperial – It brought together research teams from across Imperial who are doing PPI – we have lots to learn from each other!
What can be improved?
Communication – We could be clearer in our definitions both of (a) what PPI is as people approach the café, perhaps a sign with greater clarity such as "your voice in research" and (b) introducing the research projects.
Festival practicalities – Doing it in an actual coffee shop in future should give us more space and prove a less chaotic environment!
Researcher involvement – It is crucial to have the researchers themselves attending and facilitating, rather than outsourcing their PPI activities to PPI practitioners. This would also help with communicating research projects.
Planning – It was the first time some of these research centres had worked together, so a clearer division of labour would have helped us, utilising the cloud to make sharing information simpler.
Capturing insights – A scribe to ensure that we are capturing all insights from the public, allowing the facilitators more time to focus on stimulating discussion.
Decoration – Actual coffee (!) and more research-focused paraphernalia for the shelves.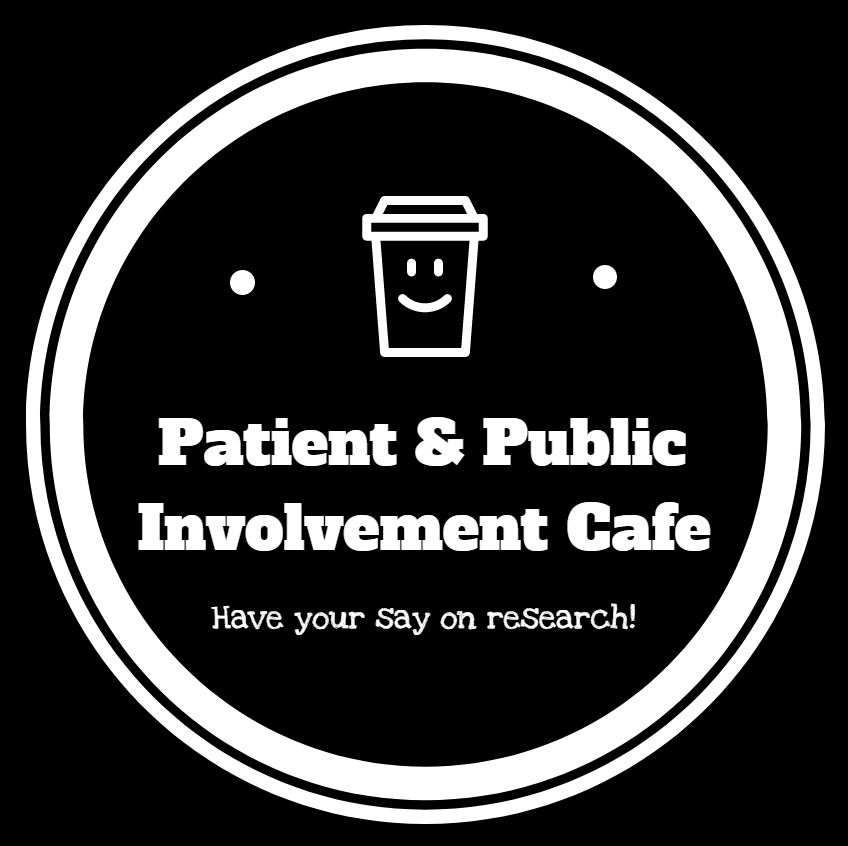 How do you brew up a PPI café in 5 steps?
In the coming months we hope to do more work on developing the PPI Café, perhaps even creating a "How to" guide to share with the participatory research community. In the meantime, for those of you who would like to run one, here are five simple steps to get you started:
Find some researchers who want to involve the public in their research.
Ask your friends, family and colleagues for all the coffee-related paraphernalia they can find. Empty coffee jars, bags of coffee beans, and recyclable cups are all essential.
This is the crucial step – work out how the public can contribute to your study. What do you want them to help you with? It could be priority-setting, study-design, recruitment, or dissemination. It could be something else, just make sure you define this clearly at the outset.
Set up at a suitable venue – a science festival, a community venue, or even your local independent coffee retailer.
Talk to the public about your research. Ask them for their ideas and insights, capturing what they say by writing it down and putting them in coffee jars. Keep researchers and the public well-caffeinated.
 What is the future of the café?
We hope to take the café on tour to locations across London, fuelling caffeinated discussions about research. Another idea is to turn the café into a "backpack" resource that researchers can pick up and take out to coffee shops.
Get in touch with us at ppi@imperial.ac.uk if you would like to talk to us more about the PPI Café!
The PPI Cafe was run by Imperial Clinical Trials Unit (ICTU), NIHR/Wellcome Trust Imperial Clinical Research Facility (CRF), NIHR Imperial Patient Safety Translational Research Centre (PSTRC), NIHR London IVD Co-operative at Imperial College London, and NIHR Imperial BRC Patient Experience Research Centre (PERC).
What a fab team & so many other volunteers to thank! Our coffee bean jars are filling up with comments on research projects, spanning from clinical trials to the art & science of food for cancer patients #PPIcafe #ImpFest @Imperial_PSTRC @monsey_mcleod @DewaLindsay @PigginMaria pic.twitter.com/B6SfcZLczT

— Anna Lawrence-Jones (@AnnaLJswede) April 28, 2018
Plenty of idea-caff on the menu today!! #PPI #PPICafe pic.twitter.com/F2DG6CNkth

— Imperial PERC (@Imperial_PERC) April 29, 2018
Sounds brill. Looking forward to hearing about the themed coffees – cappicini, the lay latte, the Engagement Espresso….. #impFest hope it goes well https://t.co/z6i8395kRf

— Simon Denegri (@SDenegri) April 28, 2018
Great visiting the Patient and Public Involvement stall at #impfest, having finally convinced @baaanedict to stay away from the cake stalls yet again! Great talking with you & you've truly converted us! Looking forward to hear more about it!! #PPICafe #PPI pic.twitter.com/02I3ZWEgfU

— Kiu Sum (@KiuSum) April 29, 2018
More baristas ready to serve up discussions on research for visitors to the #PPICafe! #ImpFest @Imperial_PERC @Imperial_PSTRC @ImperialSPH pic.twitter.com/rXSgXU64yj

— Helen Ward (@profhelenward) April 29, 2018
More co-puccino at the #PPICafe – come give us your views before it's too latte #ImpFest pic.twitter.com/nGGiHEX4lH

— Imperial PERC (@Imperial_PERC) April 29, 2018