The Young People in Psych Research Group: helping scientists iMAGine better research for self-harm
---
In conversation with: Dr Martina Di Simplicio, Clinical Senior Lecturer in Psychiatry, and Rachel Rodrigues, PhD Student. Working within the Mood Instability Research Group, Centre for Psychiatry, Department of Medicine, Imperial College London.
---
What did you do?
Our research project called iMAGine looks at the psychological processes contributing to maintenance of self-harm behaviour in young people, including whether aspects of 'reward' or positive reinforcement underlie self-harm. From the very start of the study, we've been collaborating with a group of six young people (17 to 25-year-olds) with and without experience of self-harm.
Across five months, we met seven times, including one meeting over Skype. The dates and times of the sessions were decided in advance using a doodle poll that we'd circulate to the group via email.  Each session lasted about 2 hours with time for a break halfway through. We would book a meeting room in the South Kensington campus as this was the most convenient for everyone. The sessions were very relaxed and involved various discussions around a table with snacks.

What were you trying to achieve?
Our research may help to inform new interventions for self-harm, so we wanted to make sure:
we were asking research questions that were relevant and of most benefit to people with personal experience of self-harm;
we had addressed all ethical issues that might arise during the study from the perspective of young people with and without experience of self-harm;
that the research processes, such as recruitment, were as efficient as possible.

Who did you involve and how did you find the right people?  
We recruited members of the public into the group by advertising on McPin's Facebook page and through word of mouth to other public involvement groups and mental health clinics. We created an online form that young people could fill out to express their interest and give their contact details and availability. Nine people signed up within a couple of weeks! Initially we contacted people who had the most availability while still making sure that there was a spread of different ages and genders. It was great that the young people in our group had varying experiences and backgrounds, representing the diversity of London.

Were the people you involved given any training?
In terms of training, we created handouts, which contained information on the scientific theory behind the study and research processes involved and sent these to the group before the sessions. We also spent time at the start of each session speaking to the group about the subject area and research processes and giving them the opportunity to ask questions.

Did you achieve what you set out to do?
The group have been hugely important in shaping many different aspects of this project – they had a good sceptical eye and we appreciated that they were never afraid to challenge us when they felt the research could be improved.
During the first couple of sessions the group helped us to decide on the research questions. The remaining sessions involved in depth discussions about ethical issues, commenting on and re-working the screening forms, participant information sheets and consent form, and designing the study website (www.imaginestudy.org) and social media posts.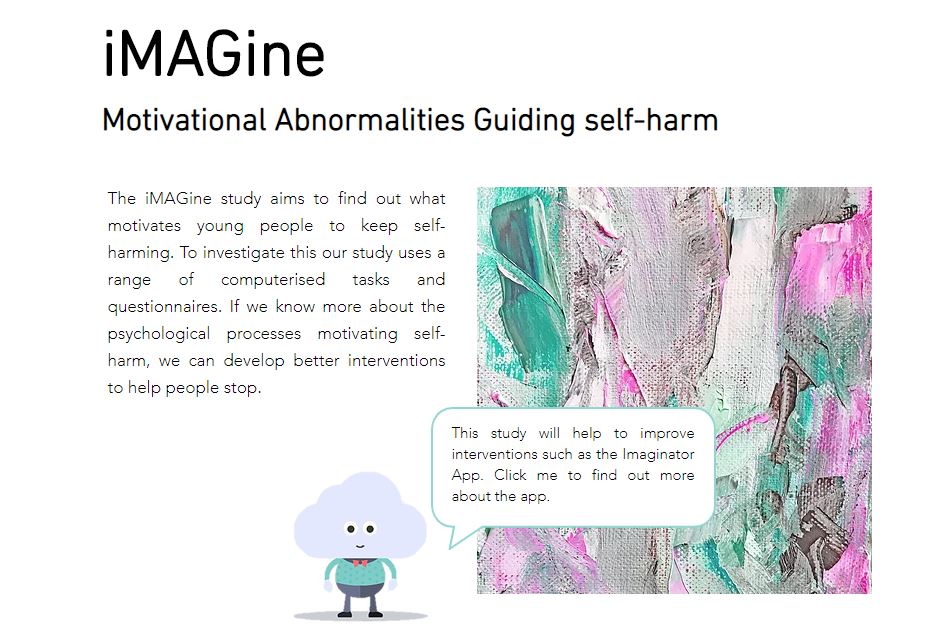 Involving the group in our research has helped us to see things from the perspective of the participant, meaning we were able to shape the research around this. For example, one of the ground rules set by the group was 'Don't mention any methods of self-harm' and this later informed the self-harm interview for our study. The group decided that in the interview, it would be better to ask an open question about how people self-harm rather than listing specific methods to participants.

What impact did this activity have on the people involved?
We think that being involved in the group was a very empowering experience for the young people, particularly when they could see that their expertise was making a real difference to the research, and that their feedback was being listened to and acted on. The young people were particularly happy with the final website design and they really enjoyed collaborating on this! Being involved in a research group may have also given participants more experience and insight into how to develop research.
One of the group members said:
"I really enjoyed having the opportunity to use my own difficult experience for good to help other people who may be going through something similar."

What was the most challenging part and how did you overcome it?
It was difficult finding a time during the week when all the young people could attend due to their other commitments, so we arranged to have the meetings on a Sunday and booked these well in advance.

What advice would you give others interested in doing something like this?
The group always really liked having a selection of nice food and drinks available during the sessions! Including healthy snacks and fruit (unlike the researchers). When the seven sessions were coming towards an end we all went out for a meal to show our appreciation and to thank them for their involvement in the project. We have stayed in touch with the group since the sessions have finished and they are always very happy to collaborate on any other upcoming projects.

So, what's next?
Once we've collected and analysed the data, we plan to apply for more funding so we can work with the group to decide on the best ways to share our findings with the public. We'd especially like to collaborate on creating a booklet on 'What we know about self-harm'.
We've also been thinking about ways in which we could continue to involve the public and patients in our research – maybe we could make the research process less passive for participants by asking if they'd be interested in collaborating on communicating and sharing the findings to a wider audience after they've participated?
To learn more about the research behind this project, read Rachel's article on the Imperial Medicine Blog "How research is helping to understand and break the self-harm cycle".