John Norton, Public Contributor and Halle Johnson, Public Involvement Officer at Imperial Patient Experience Research Centre reflect on their recent experience of participating in a tweet chat aiming to raise awareness and increase public understanding of the benefits of responsible health data sharing to improve health outcomes.
On the 27th of April 2021, Data Saves Lives  (a multi-stakeholder initiative led by the European Patients' Forum and the European Institute for Innovation through Health Data) held a live tweet chat which posed the question:  "How can we manage the tension between individual privacy rights and the wider societal good of health data use?"
A tweet chat (or twitter chat) are scheduled 'chats' that take place on Twitter at a specific time usually related to a specific theme or topic using a hashtag (#) as a way to connect tweets around that topic. You could think of it as a digital conversation or 'meet up' around a specific topic through Twitter.
One of the main benefits of a tweet chat is that you can 'chat' with people outside of your own networks. Those who participate can share learning, offer different perspectives, and form new connections with others across the world with a shared interest in a particular topic.
The aims of the Data Saves Lives tweet chat were to bring together stakeholders across twitter to:
Raise awareness regarding the importance of responsible health data sharing and;
Increase public understanding of the benefits of responsible health data sharing to ultimately improve health outcomes.
John Norton, public contributor who works closely with the Imperial Patient Experience Research Centre was invited to be an expert panellist during the tweet chat due to his interest and experience in this area. John was also joined by two other panellists from the patient-led Irish Platform for Patient Organisations, Science, and Industry (IPPOSI) and the patient support group HungerNdThirst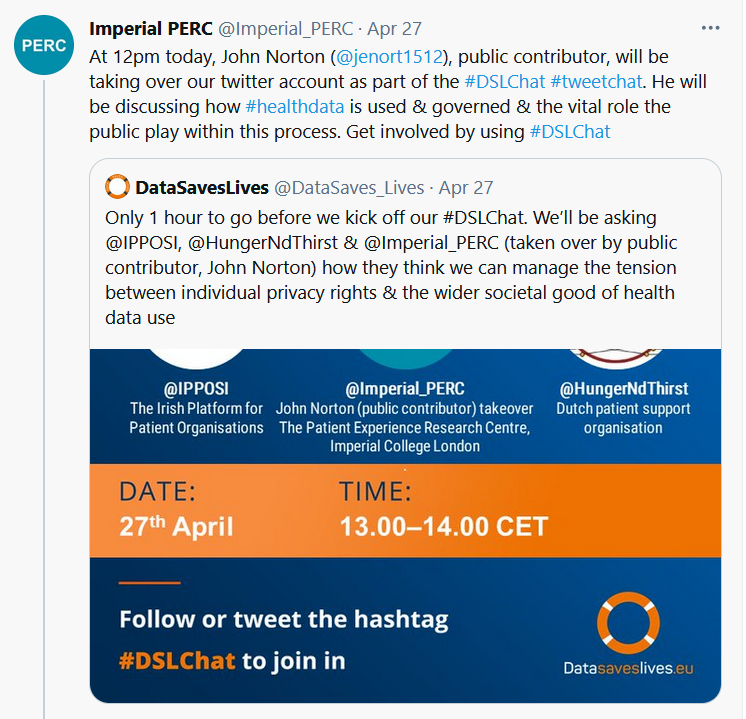 In this blog we reflect on our impressions of participating in our first ever tweet chat, our advice to others wanting to run or participate in a tweet chat and some of the key messages which came from the event.
What was your first impression when you were invited to take part?
John: Being well-aware from my experience as a public contributor that lack of information on data sharing, and its benefits, results in a lack of trust and confidence in the sector, I was pleased to be invited to take part in this activity to share some of my knowledge and experience.  At the same time, as participating in a tweet chat would be a novelty for me, I was somewhat nervous and apprehensive.
How did you promote the tweet chat?

Halle: In the lead up to the tweet chat, we promoted the event widely through both our research and public networks. The Data Saves Lives team had put together a flyer which we could share, which made promotion much easier.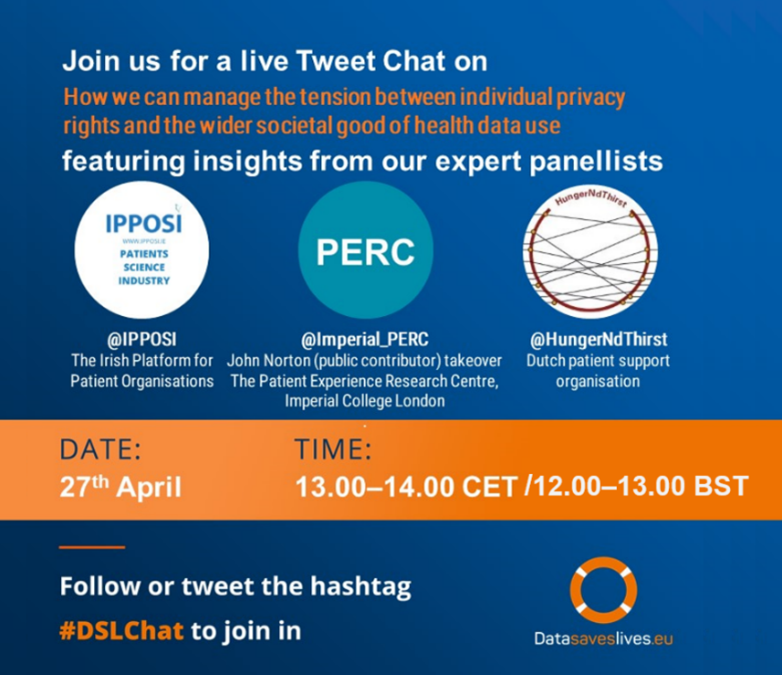 What challenges, if any, did you face participating in the tweet chat?
Halle: Although anyone across the world can take part in a Twitter chat, it does require that you have a twitter account, a means to access the internet and some digital literacy and understanding of how to use Twitter. This was the first challenge we faced, as John was not a regular user of Twitter we had to plan carefully and put strategies in place to ensure he was able to involved in the event.
John: While I have a twitter account, I am not overly familiar with the platform, and I was not prepared to undertake a Twitter chat on my own. I was lucky to have both the Data Saves Lives team and Halle from PERC to guide me through the process. We had some initial planning meetings where we talked through the process of the tweet chat and agreed that we could use the Imperial PERC twitter account which Halle would use to post on my behalf on the day. Whilst I was happy to produce wording for replies to questions and closely follow the progress of the chat, I could not have taken part without the expert advice and help I received.
What worked well?

Halle: In advance of the tweet chat, the Data Saves Lives team provided us with a clear plan for the day, including sharing some of the questions which they would be asking each of the panellists during the tweet chat.
Developing our response to each of the questions (3 in total) required significant planning. We found it challenging to ensure we were getting the key messages we wanted across within the 280-character limit on twitter.  John and I were in regular contact in the weeks leading up to the event constructing our 'ready-to-go' responses.
When it came to the day of the tweet chat, we joined an online Teams meeting with the Data Saves Lives team and the other panellists. This online meeting ran throughout the tweet chat so the panellists and the organisers could stay in touch and raise any technical issues or concerns. This online meeting also ensured that John and I could stay in touch throughout the tweet chat.
Taking the time to prepare in advance of the chat definitely paid off, as it meant that during the tweet chat, we could focus on responding to comments posted by other panellists and other participants of the tweet chat.
What did we learn from the tweet chat?
Halle: During the tweet chat we were involved in a number of interesting discussions. John shared his recommendations on how we can build public trust in the use of patient data for research, citing the use of the 5 safes provided by the UK Data Service.
He also raised the important role that patient data had played during the COVID-19 pandemic, with it being invaluable to researchers across the UK to understand the virus, reduce infection rates, hospital admissions and deaths – research that would have taken much longer without the availability of such data.
One of the best parts of the tweet chat, from my perspective, was hearing about and sharing examples of good practice around the involvement of patients and the public in the access and governance of health data used for research.
John: I felt it was an important and valuable opportunity to provide information about the very considerable efforts that have recently been made in London in regard to health data use and, more specifically, in North West London where I am mainly involved.  Of particular mention is an initiative from early 2020, where 100 diverse citizens of London came together over two consecutive weekends to be informed about and to debate issues that unless better understood with solutions co-produced by citizen contributors, would continue to foster the tensions between individual privacy rights and wider societal good of health data use – the exact theme of the Data Saves Lives tweet chat.
This local debate and co-production has been carried forward in a series of virtual sessions attended by 40 diverse residents of North West London to guide the Board of Discover-NOW in coming to decisions on the conditions of accessing the de-personalised data on 2.6 million patients for research purposes.
Overall, the tweet chat was a very rewarding experience and enabled us to reach out to new audiences who we previously would not have engaged.
How many people did the tweet chat reach?
The tweet chat had a reach of over 103,000 people with a total of 100 posts using the #DSLChat hashtag creating a varied and dynamic discussion.
The tweet chat also remains publicly available, so may also have further reach following the live event.
Our takeaway messages
Tweet chats are a great way to reach new audiences (including professional and public audiences) and provides a different way of sharing examples of good practice and discussing current 'hot' topics in research.
Careful consideration of digital exclusion however is needed to ensure individuals who may benefit from, or are interested in, being involved in a tweet chat who don't have access to the internet, or the required technology, are not excluded. The issue of digital exclusion may be mitigated by the provision of appropriate support including providing Wi-Fi/data dongles to individuals who would like to participate, reserved computers at a local library, or a Twitter training session in advance of the tweet chat.
In addition to the above, relying on technology for a live event can have its downfalls. While we only experienced a slight hiccup of not being able to access our online teams meeting at the start of the tweet chat, a laptop or tablet crash could hinder participation so a backup plan should be considered.
Last, but not least, we would recommend allocating ample time for planning. The support provided by Data Saves Lives really made a difference to our tweet chat experience. We had a clear idea of how the 'chat' would go in advance of the live event and had ongoing communication with them throughout the tweet chat which was invaluable.
More about the authors:
John Norton
John is a member of the NIHR Imperial College London Biomedical Research Centre Public Advisory Panel, a Public Partner of the NIHR North West London Applied Research Collaborative, a member of the Research Partners Group of the Imperial Patient Safety Translational Research Centre and a member of the Imperial College Healthcare NHS Trust Strategic Lay Forum. He is also a Citizen Partner on the Imperial Discover-NOW real-world evidence health data research Hub Board and has an interest and passion in promoting the use of patient data for improving health and social care.
Halle Johnson
Halle is a public involvement officer working within the NIHR Imperial Biomedical Research Centre Patient Experience Research Centre. She supports both researchers and members of the public with involvement in research.
For any further information about the above please contact Halle at publicinvolvement@imperial.ac.uk