In conversation with: Dr Saleem Ansari, Registrar in Metabolic Medicine and Chemical Pathology, working within the Department of Metabolism, Digestion and Reproduction, imperial College London

What is your research project about and what stage are you at?
My research aims to answer the question 'What is the preferred weight-loss operation for women with obesity who are of child-bearing age.'
There are two main weight loss-operations, the 'gastric bypass 'and sleeve gastrectomy'. The gastric bypass operation is associated with complications during pregnancy such as early delivery and small babies, but whether these complications occur after sleeve gastrectomy is currently unknown.
My research will benefit women with obesity who are considering weight-loss surgery and improve the antenatal care for pregnant women with previous weight-loss surgery.
I have collected preliminary data and hope to continue my research through a formal PhD training programme.
What were you trying to achieve?
I wanted to undertake a public involvement activity, in advance of applying for a formal PhD training programme, to find out if my research aims and study design aligned with the priorities and preferences of women with obesity who are planning weight-loss surgery, and for women that had become pregnant after weight-loss surgery.
What did you do?
With the help of the Imperial Patient Experience Research Centre, I designed an invitation flyer (PERC provides a template here) to identify and recruit women (or partners of women) that had become pregnant following either gastric bypass or sleeve gastrectomy surgery.
I was able to invite 6 women from diverse backgrounds who were keen to share their views and ideas on my research project, to a 1-hour online Zoom Discussion. This discussion was co-chaired by our one of PERC's Public Involvement Officers, Professor Tricia Tan and myself. The purpose of the discussion was to make sure that my research aligned with the priorities of women with obesity who are planning weight-loss surgery and women who became pregnant after weight-loss surgery. I also wanted to gain feedback on whether the design of my project was acceptable for patients'.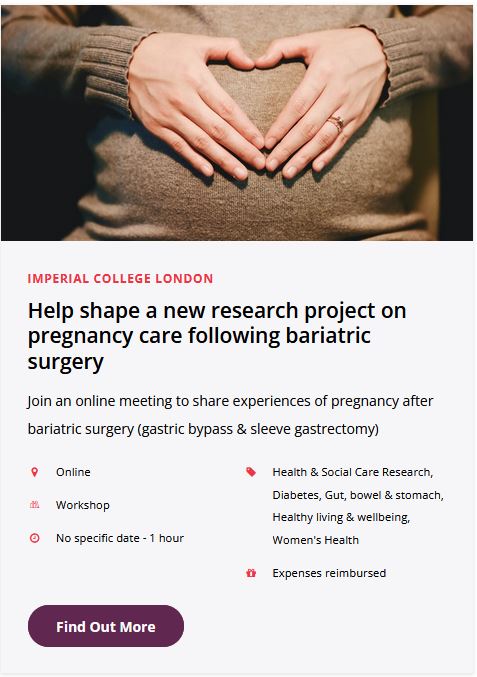 Who did you involve and how did you find them?
The involvement opportunity was advertised through PERC's public involvement networks, including the online platform, VOICE. I also contacted colleagues working in the Bariatric and Obstetric departments at Imperial College Healthcare NHS Trust and Chelsea & Westminster Hospital NHS Trust. By using two different channels to advertise my involvement opportunity, I was able to recruit a diverse group of women relevant to my project.
Was any training provided to the people you involved?
We did not provide formal training for those involved in this session as I purely wanted to listen and better understand the experience of patients.
The focus group was co-chaired by one of the Public Involvement Officers at PERC who explained the importance of public involvement for my research and she guided the session. All women were made to feel comfortable to speak, we ensured that they all had the opportunity to speak without feeling pressured because of the sensitivity of the topic. To help the session run smoothly, clear objectives for the session, ground rules and what was expected of patients were outlined.
For the future, I will certainly use the various online public involvement training resources from the Imperial PERC website.
What impact did the public involvement have on yourself, your research and those involved?
 After the online discussion, I watched the recording and reviewed the transcript notes. This allowed me to summarise the points that were important to patients that my research needed to address.
Listening to the experience of partners and women that have experienced pregnancy after bariatric surgery confirmed that my research was relevant to patients. All of the women also provided positive feedback on the design of my research. The study visits in my research project are integrated into routine NHS antenatal or bariatric clinic appointments which avoids additional visits to hospital for pregnant women, which those involved felt was critical to successful recruitment.
During the discussion, those involved also expressed concern on the lack of available information regarding pregnancy complications after weight-loss surgery. They unanimously declared that this information would have influenced their choice of weight-loss surgery and would have been invaluable when they were counselled on the advantages and disadvantages of weight-loss surgery.
"It's good for me to have some information and some more knowledge, so I can use that in terms of when I care for her" – partner of a women who was currently pregnant after undergoing a sleeve gastrectomy operation 3 years ago

'There just wasn't a lot of knowledge on the complications of bariatric surgery for pregnant women….so hopefully with this we can get some clarity to help future pregnant women,' – women who underwent a sleeve gastrectomy 5 years ago
The women involved also commented (as highlighted below) that they would like this information to be made available to healthcare professionals caring for pregnant women that have undergone weight-loss surgery, so that the pregnancy complications can be diagnosed and treated promptly. Because of this, my research findings will be made available to bariatric and antenatal services within the NHS and publicised through patient groups (British Obesity Surgery) charities for pregnant women (Tommy's, Borne, Bliss).
One women also very helpfully suggested the following during the session:
'We could create a bariatric support group for pregnant women after weight-loss surgery…. it's definitely something we should look into,'
This involvement activity made me realise that there is a lack of support groups for pregnant women with previous weight-loss surgery. Based on this, I also now plan to work closely with these women as part of my research to establish a support group, involving pregnancy charities such as Tommy's, Bliss and Borne, where ideas and discussion can be had between patients but also with healthcare professionals looking after these women.
Overall, this public involvement activity has had a long-lasting positive impact not only on my research but for my desire to continue work in this area.
The women from the public involvement session were able to gain a greater understanding of the pregnancy complications associated with gastric bypass and sleeve gastrectomy surgery and they also felt valued because they could share their views. They also felt motivated to set up a support group to help future women working alongside myself.
What was the most challenging part of doing public involvement and how did you overcome it?
Undertaking public involvement, and identifying individuals to be involved, during the COVID-19 pandemic was a challenge, as not everyone is comfortable or able to join an online meeting. In addition, some women with bariatric surgery may experience miscarriage or stillbirth during pregnancy, which is a sensitive topic, and had to be managed adequately in this online format.  While traditionally, we would have held this session in person, the online format did provide flexibility so attendees can participate from the comfort of their own home. In terms of sensitive topics, all women were made to feel comfortable to speak freely without feeling pressured to do so. Women were told at the start of the meeting that they could also leave the discussion, or step away from their device at any point and a support signposting document was sent to those in attendance following the session.
What advice would you give other researchers interested in doing something like this?
I would suggest starting your involvement activities early in the research process. Understanding the priorities of patients is critical to ensure the aims and objectives of the research project align with those of patients. Patients can also help with the design of the project including advising on how study visits should be arranged to ensure these are acceptable to the particular patient group you are working with. This will also improve recruitment and reduce patient drop-out. My experience is that patients are happy to be involved in helping to shape research and their input will be invaluable throughout the project, as well as once the research is also complete because they can help with creating a plain English summary of the research and sharing this with relevant patient groups.
So, what's next?
 I have applied for a 3-year doctoral training fellowship for Novo Nordisk and the National Institute for Health Research so I can formally continue my research. When my research is hopefully up and running, I will create a study steering group, consisting of patients and the research team, who will meet regularly to review and advise on the conduct of the research project. I will also enrol in the public involvement online training course developed by PERC to increase my knowledge and skills when working with patients' and the public. Throughout my research project, I will continue to work with the Imperial PERC team and utilise their public involvement resource hub.