The Imperial Heroes project.
I am constantly surprised during my travels around the campuses by not only what is achieved within the walls of Imperial, but what the students (and staff) also manage to achieve outside of them.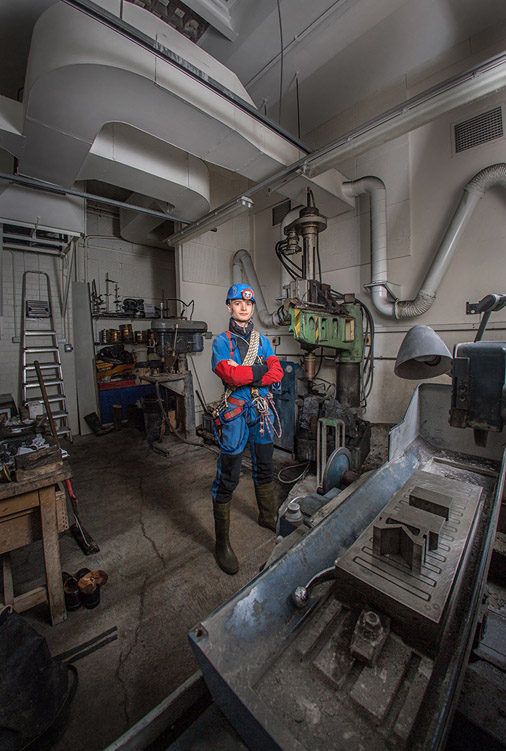 Image © Thomas Angus / Imperial College London  [Click Image to expand]
I wanted to put those worlds together photographically for a project, while also showcasing some of the College's more striking locations. These original Heroes were featured in an exhibition in the Blythe Gallery in June 2017 at their intended size of 1 metre high prints.

Racine Tanguy
Fourth year, MSci Geology
Caving, international expeditions
Photographed in the Cores Laboratory underneath the Department of Earth Science and Engineering

"It was never an epiphany for me that I was going to study science, but rather a slow realisation that I really liked science subjects. I particularly enjoy geology, as this fits really well with my 'outdoors' predisposition. During my degree I have been able to visit European countries for both geological field trips and caving trips in equal measure.
Princes' Gardens, just opposite Ethos gym, has strong sentimental value to me. This is where I've trained would-be speleologists (cave explorers), teaching vertical caving techniques and how to use the ropes safely, and where I've met caving novices who've become really good friends. I really like baking in my spare time, so once I spent a couple of days baking hundreds of oat biscuits just before our annual summer expedition. It was really fun to dig into the stash of biscuits on the top of a mountain − more than a 1000km from where they were made!"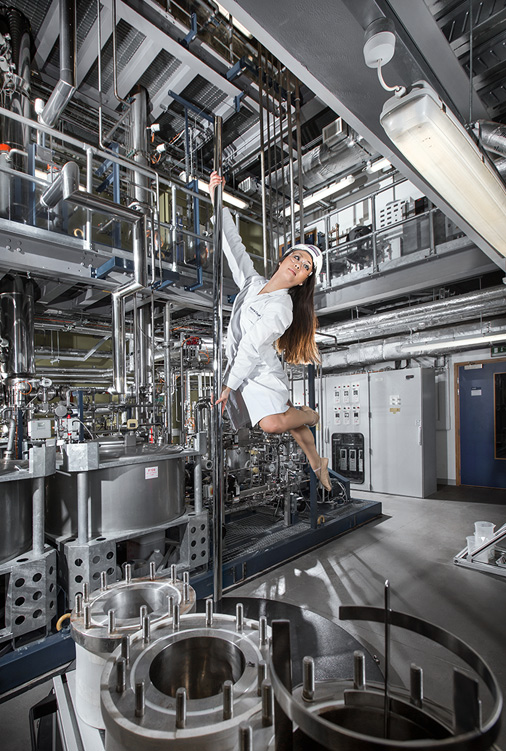 Image © Thomas Angus / Imperial College London  [Click Image to expand]
Melissa Lee
Third year, MEng Chemical Engineering
Pole Fitness, competing at a national level for Imperial College London
Photographed at Imperial's Carbon Capture Plant

"During my childhood I was a gymnast. When I saw the pole fitness performances at my fresher's fair I saw a parallel between the two sports – both requiring immense strength, grace, stamina and flexibility. I was captivated by the beauty of the pole fitness and signed up on the spot. I now teach weekly classes for Imperial's Pole and Ariel Society, and can train up to 12 hours a week in the lead up to a competition.
Recently, I placed second in the Inter-University Pole Dance Competition – out of over 50 universities across the Great Britain. I am inspired daily by my friends at ICU Pole and Aerial. Whilst we are all pole dancers, we are also aerospace engineers, materials scientists, and mathematicians. Seeing them succeed both in their degree specialisations and in sport is a great motivator that you really can have the best of both worlds."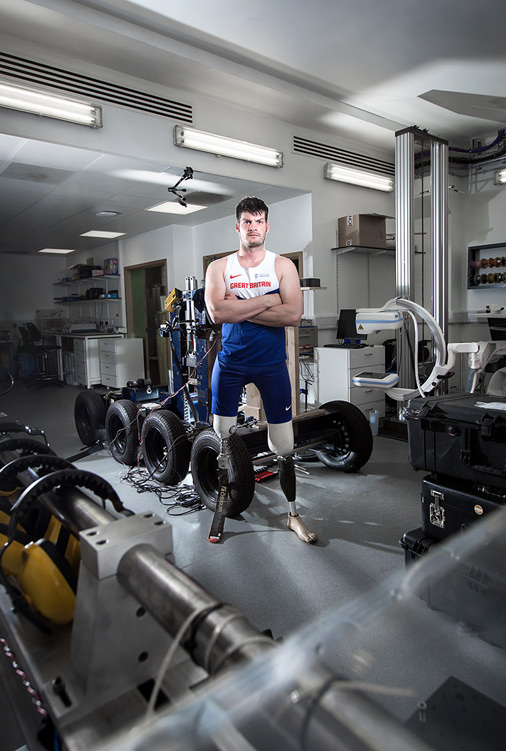 Image © Thomas Angus / Imperial College London  [Click Image to expand]
Dave Henson
PhD in Prosthetics Research
Athletics, competing at an International level at the Paralympics
Photographed in the Royal British Legion Centre for Blast Injury Studies

"Finding ways to make things better for blast victims past, present and future is one of my key drivers. I've always been interested in engineering. Its problem solving at its finest and that's what I love about my PhD − I'm constantly outside of my comfort zone, learning every day. As for sport, I originally used it to complement my rehabilitation, but then I became good at it! I am now a funded athlete on the UK Sport World Class Performance Programme, have competed at the Rio 2016 Paralympics, and have captained the British Armed Forces team at the Invictus Games.
I love the challenge and discipline that training requires, but equally, the thrill of competition in the summer season is a massive draw. The balance has been tough, particularly with both a PhD and full-time athletics having such heavy time requirements. But by maintaining discipline, and planning my time properly, it has become manageable. I'm constantly inspired by the people I went through rehab with − what they're doing and how they're achieving really pushes me to be the best I can be."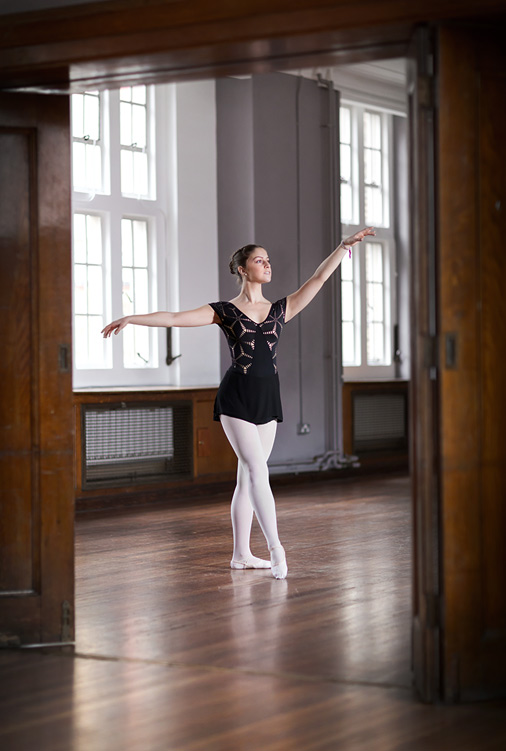 Image © Thomas Angus / Imperial College London  [Click Image to expand]
Carmen Martin Alonso
Third Year, MEng Biomedical Engineering
Ballet, competing at a national level for Imperial College London
Photographed in the Beit Hall of the Imperial College Union.

"It's important to me to become a well-rounded individual. I have always enjoyed dancing and have been practising ballet since the age of seven – it was something that always felt natural to me. Thanks to my President's Scholarship, I am able to attend weekly lessons at the English National Ballet. My ballet lessons provide a break from hectic student life, which I feel enhances my academic performance.
As a Biomedical Engineer, I enjoy the year-long projects that allow us to connect to the real world to tackle the problems of today. Last year the construction of a throwing frame for the Paralympic athlete Ellie Simpson was a real success! Alongside my ballet training and degree, I am also learning Greek, and have been awarded the IROP bursary from MIT-Imperial, for an exchange research programme at Massachusetts Institute of Technology in Boston next summer."
>>More from Carmen's shoot here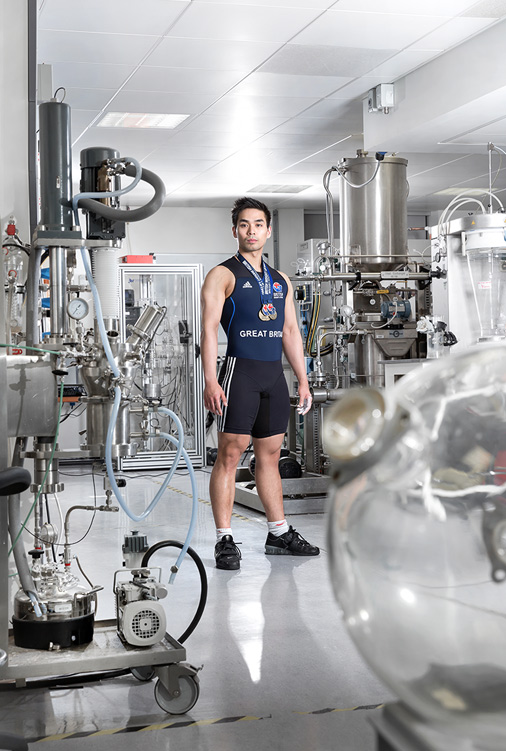 Image © Thomas Angus / Imperial College London  [Click Image to expand]
Liem Bui-Le
First year, PhD Chemical Engineering
Olympic weightlifter, competing at international level for Great Britain.
Photographed in the Department of Chemical Engineering, South Kensington Campus

"I began weightlifting to improve my strength and conditioning for karate, but I picked it up quickly and enjoyed being able to measure my progress, so I changed sports. I've been competing for six years now. I try to train with people better than me, as it's motivating and helps me see ways of improving my technique.
Often major competitions have fallen in the summer, when I've had exams or project deadlines, but stressing and rushing my training could result in an injury, so I focus on maintaining my strength and prioritising my university work. Where are you most likely to find me on campus? Probably the Chemical Engineering kitchen, preparing one of the meals that helps me maintain my 5,000 calorie-a-day diet."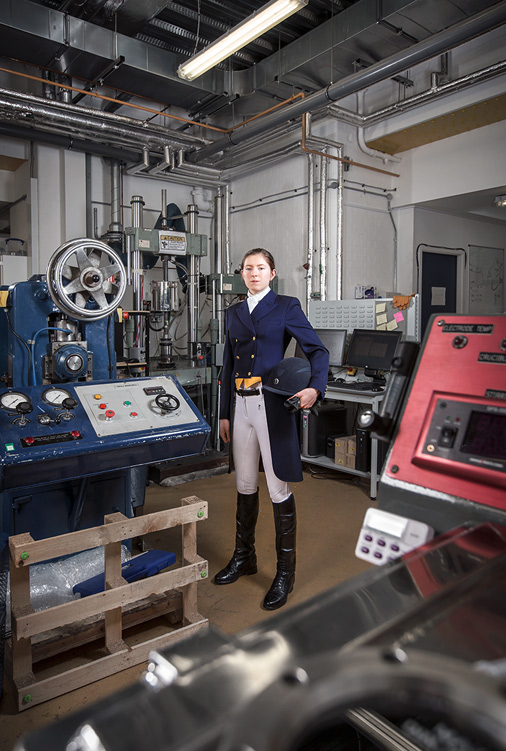 Image © Thomas Angus / Imperial College London  [Click Image to expand]
Alexandra van Randwyck
MSc Petroleum Geoscience
Equestrian (Eventing), competes internationally
"What I love about my degree is the wide variety that it covers, from volcanoes to fossils to ancient river systems. The biggest challenge is that my course is full time 9–5, and my horse lives 1.5 hours from London. Luckily this year we have Wednesday afternoons off which allows me to get back and ride. I started riding when I was 10 at a local riding school, where I helped out at weekends and holidays for two years before managing to persuade my parents to buy me a pony!
I now compete internationally on the Dutch Student Riding Squad, and was selected for the World University Championships in 2016, where I finished fourth in the show jumping. Something that might surprise people? I have passed my HGV test and at weekends drive a 7.5ton truck!"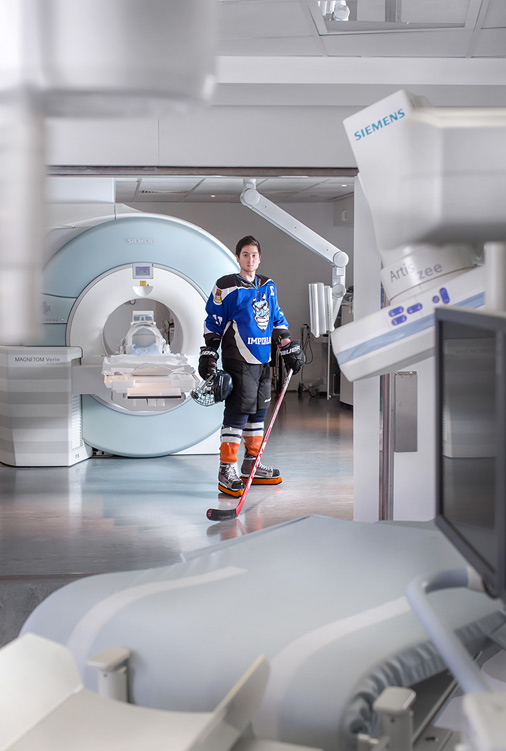 Image © Thomas Angus / Imperial College London  [Click Image to expand]
Karl Zimmerman
PhD Clinical Medicine, staff researcher
Ice Hockey, competes nationally for Imperial College London and with a local team
Photographed in the MRI room of the Clinical Imaging Facility

"I love that I can investigate and push the boundaries of our neuroscience knowledge, whilst seeing first-hand how our research can improve the quality of life for individuals who've experienced a brain injury. One of the biggest challenges is the late night commitments required by my sport. Ice hockey is normally played late in the evenings due to public skating and figure skating taking up the earlier time slots at ice rinks.
This means that training can start as late as 11pm, and finish in the early hours of the morning when trains aren't always running. Mornings the next day are hard work – coffee is necessary! This season has been pretty special; I was part of the university team who won a division title at a national competition, which was followed by winning the playoffs with my local team. I also trained with my national team, before winning the London Ice Varsity for the third time in front of 650 people − including my family who just happened to be around!"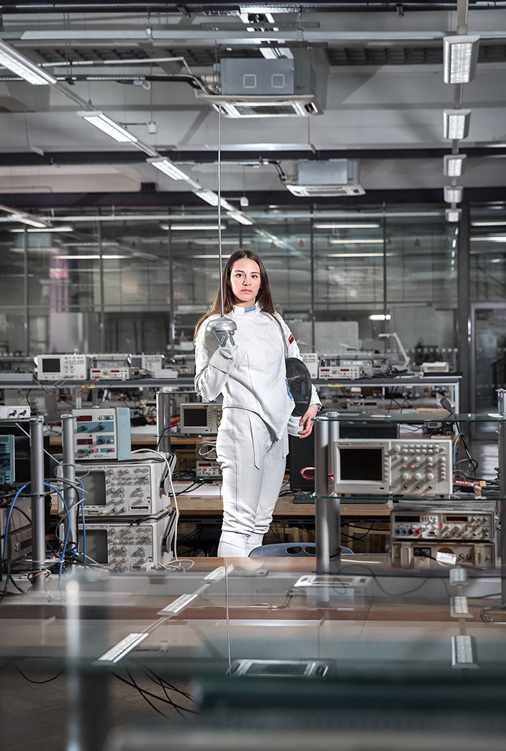 Image © Thomas Angus / Imperial College London  [Click Image to expand]
Francesca Cavallo
Third year MEng Electrical and Electronics Engineering
Fencing, competing at a national level
Photographed in the Department of Electrical and Electronic Engineering's Undergraduate Lab

"I am part of the women's first team at Imperial, and I occasionally participate in competitions on the British circuit. Fencing is a sport that requires lots of thinking, which can be hard after a whole day spent on books. It is also very time consuming, as we are often required to travel around the country for matches and competitions.
Being at Imperial, it is quite hard to keep a high standard in your sport because university takes all your energy and time. Therefore, I try to make the most of every training session I attend, even if sometimes it is only once a week. Probably my proudest moment as a sportsperson was getting individual bronze at BUCS in my first year at Imperial. I had just started fencing again after four years, and I managed to achieve such a good result with a few months of hard work; I really proved to myself that with training and confidence I can achieve a lot."
Imperial staff and students can view the original image along with the others from this set on the College's Asset Library
Learn more about photography
Watch this introduction to photography video course on Lynda.com (College users have free access to Lynda courses)