London, known to many as "The Big Smoke" has historically, and still today, been synonymous with air pollution, traffic jams and intense urban hustle and bustle. BUT, there is another side to the city – its "greener" side. London, despite the nicknames and assumptions, actually boasts 8 Royal Parks and countless smaller green spaces. So, if you need an escape from city life – the parks are a perfect saviour!
Hyde Park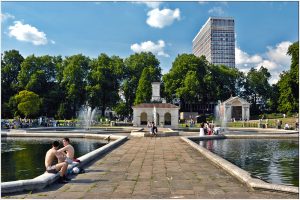 In my opinion, probably one of the best known parks in London for multiple reasons. Found in the Paddington area, this park is HUGE  – 142 hectares to be exact. Hyde Park is home to many events including an annual music concert and the popular winter attraction; Winter Wonderland. Speaker's Corner is an especially famous spot in the park – filled with soapbox speakers talking (often at the top of their lungs) about a huge variety of things from religion all the way to free hugs – if you want controversial/unique views then this is the place for you. Hyde Park is wonderful in the summer; pull up a deckchair with a good book and an ice-cream, enjoying the sun and heat in central London – what could be better! Plus, if you fancy it, you can hire a  pedalo on the water amongst the swans and other birds.
Kensington Gardens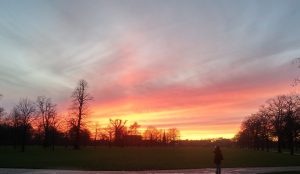 Adjacent to Hyde Park, Kensington Gardens is the definition of a Royal Park – home to Kensington Palace which has been/is home to some of the Royals. Imperial students are also well acquainted with the park, often walking through it to get to campus from Paddington. In the early morning, it is often filled with dogs and their owners frolicking around (the dogs that is, owners not so much) which certainly makes the bleary eyed walk to university a little better – bringing smiles to many. The colours of the trees in summer and autumn are truly stunning, as are the parakeets that fly around, often perching on individuals that hold their hands out. Interestingly though, no-one I've met knows where they came from, there are many different theories…
Holland Park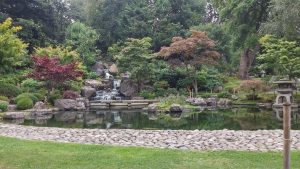 HANDS DOWN MY FAVOURITE PARK IN LONDON. Found around High Street Kensington, this park is another favourite with dog owners (no surprise really – it's a park in a city…) Home Opera in Holland Park in the summer, this park is full of little surprises. My personal favourite is the Kyoto Garden, complete with a small waterfall, pristine colourful trees and koi carp, this little slice of Japan is my favourite place to take time out when it all gets too much. Also, the park has peacocks! Beautiful, especially in summertime when the males are in full plumage often displaying at passers-by. Honestly, they act like celebrities in front of the paparazzi – unbelievable!
Regent's Park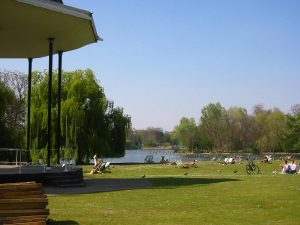 Found in the Camden area, this park is home to an open air theatre and ZSL London Zoo. I haven't properly visited, but it is on my to do list! It is also home to Primrose Hill – a huge hill at one side of the park with legendary views of London – perfect for a romantic summer evening picnic 😉
Richmond Park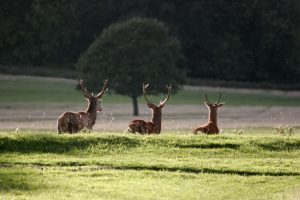 The largest of the Royal Parks (edging out Hyde Park for the top spot) at 955 hectares – HUGER.  It is also home to a large amount of wildlife, therefore rightly designated as a Site of Special Scientific Interest, National Nature Reserve and Special Area of Conservation. Richmond Park is famous for its fallow deer (and a pug called Fenton, but that's another story…) and many rare beetles. On another interesting note, for those who aren't nature nerds – it is also home to the Royal School of Ballet.
So that's a round up of the many green spaces in London, of course there are many more parks – all steeped in history and cultural significance, but since I'm not a historian I won't discuss that here…