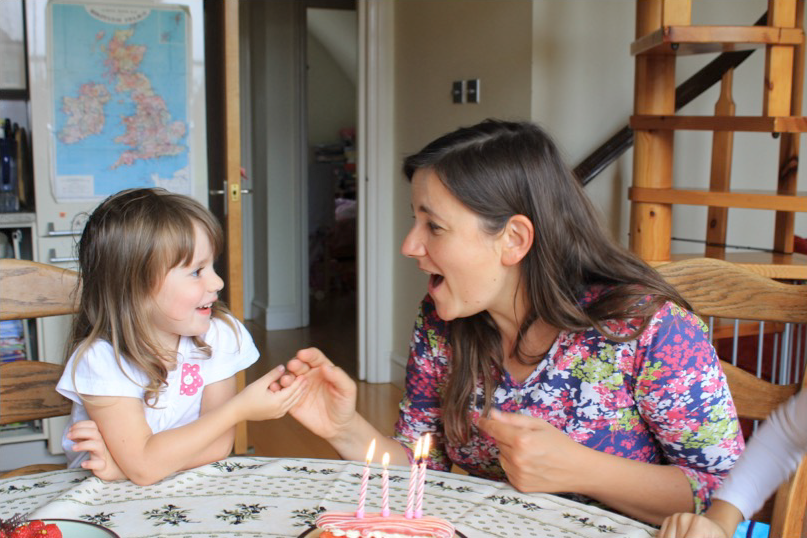 It's Women@Imperial Week – an opportunity for us to celebrate the work and resilience of some of the women within our Department.
Taking maternity leave in an academic institution can often prove to be a bit of a Balancing Act. In our first piece in the series we talk to Dr Véronique Azuara, Reader in Stem Cell Biology. She has been working in the Department of Surgery and Cancer for over 12 years and, in that time, she has taken two career breaks in the form of maternity leave. In this blog, she discusses her experience of balancing academic and home life, improvements in return to work support and importance of female mentors.
It was a challenge to start a family back to 2006 at the very same time as establishing my research group in my first academic post, but with the incredible support of many colleagues in 2009 I was awarded a BBSRC New Investigator Award. On the basis of this and outputs from the group I was successfully promoted to Senior Lecturer in 2012.
Returning from my second maternity leave was more challenging from the perspective of work life balance. After my BBSRC award ended in 2012, I experienced several years where funding was tight. Yet I always felt supported by my Head of Division, who never added any pressure from above, at least not on top of that which I already put upon myself! Stability and true excitement returned when winning a large BBSRC collaborative grant between Warwick and Imperial, which I am happily leading.
During these funding shortages, I have received dedicated mentoring from senior female colleagues (Prof Charlotte Bevan & Prof Kate Hardy). They spent invaluable time helping me to prepare my applications and giving me mock interviews. Kate was also my 'supporter' in my recent promotion interview to Reader – it was reassuring to have another female colleague with me. I believe that their support and engagement made a real difference, in helping me successfully settle back into work after my second child and make the next step as an academic and head of a flourishing research group.
Changes to the promotions process have made a real difference too. Compared to the past, the process and expectations are much clearer, and support from administrative staff was excellent, providing the right info at the right time. I was also pleased that the evaluation took a more balanced account of research, teaching and 'good citizenship'. This more holistic view of academic contribution was backed by senior colleagues at every level of the process.
In 2013, I was invited to join the Department's People & Culture committee and became more involved in activities relating to Athena SWAN, focusing on championing the needs of Post-Doctoral Research Assistants and Fellows. As result of our initiatives I have witnessed positive changes within the Department with respect to inclusiveness, and support for work-life balance.
The key lesson I have learned about succeeding in academia as a woman who has taken multiple career breaks, is that the impact of these interruptions is very long-lasting and that you need to be patient and grow personal resilience over several years. However, things are changing, especially within Surgery and Cancer. As mentioned, processes are improving, support is increasing and new mothers are more able to achieve a good work-life balance.
This year I have joined the Faculty of Medicine's new Equality, Diversity and Inclusion committee and will take forward my experiences in the Department to help ensure that the wider College is supportive of women who take career breaks and then return to continue their world-class research.