Wednesday 23rd June 2021 is the 8th global annual celebration of International Women in Engineering Day, an international campaign of visibility on social media, that aims to shine a light on our diverse engineering role models, and encourage more people to consider engineering as a profession for all.
This year, women students and staff from EEE have been sharing their journey into engineering and their proudest achievements, along with some words of advice to girls and young women who are thinking about a career in STEM.
---
Dr Kristel Fobelets is a Reader in Microelectronics and our Director of Undergraduate Studies. She is also a member of Senate. Cycling, gardening and knitting are among her hobbies – and she has found a way to combine knitting with electronic engineering in one of her current projects: wearable vests which can measure and monitor a patient's breathing.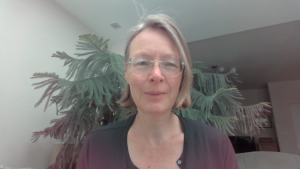 What engineering challenge are you working on right now?
"There are five things I am working on at this moment:
one is to make a new respiratory inductive plethysmography system based around my 3D knitted helical coils,
another one is the study of methods to cool nano-sized field effect transistors,
the third one is to work with colleagues in other departments on making conductive electrodes from low temperature biochar,
the fourth one is to work with another team of colleagues on the accreditation of universities in Sierra Leone and Nigeria
and the fifth one is to plan undergraduate teaching in our Department for the Autumn term."
What inspires you as an engineer?
"Innovation, creativity and thinking out-of-the-box. I also love working with our students, they are creative, inquisitive, and wonderful engineers-to-be."
What piece of advice would you give to a girl who is thinking about studying EEE ?
"Let nothing stop you! Electrical Engineering is one of the most diverse studies you can do and that will give you opportunities to interact with people from all disciplines. Just look at me, I am knitting coils with the purpose of using them in medicine in an area where social reluctance for uptake needs to be resolved and machine learning can help."
What activities do you take part in outside of engineering – at Imperial and beyond?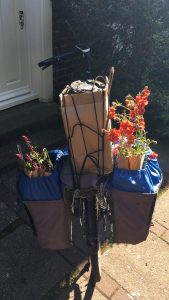 "For a long time, I played badminton with Imperial staff from all possible departments. I did karate in my neighborhood. I am a keen cyclist and in this time of covid I have been cycling long distances, at the moment, 120 km is my long-distance record in one day. I also love knitting and gardening. I have to admit that my vegetable garden is mainly full of flowers… This is a consequence of cycling to Wisley Gardens and coming back with lovely plants in my panier that attract a lot of stares from passers-by and lots of bees in my garden.
These are my paniers ? when arriving back cycling from Wisley to Putney."