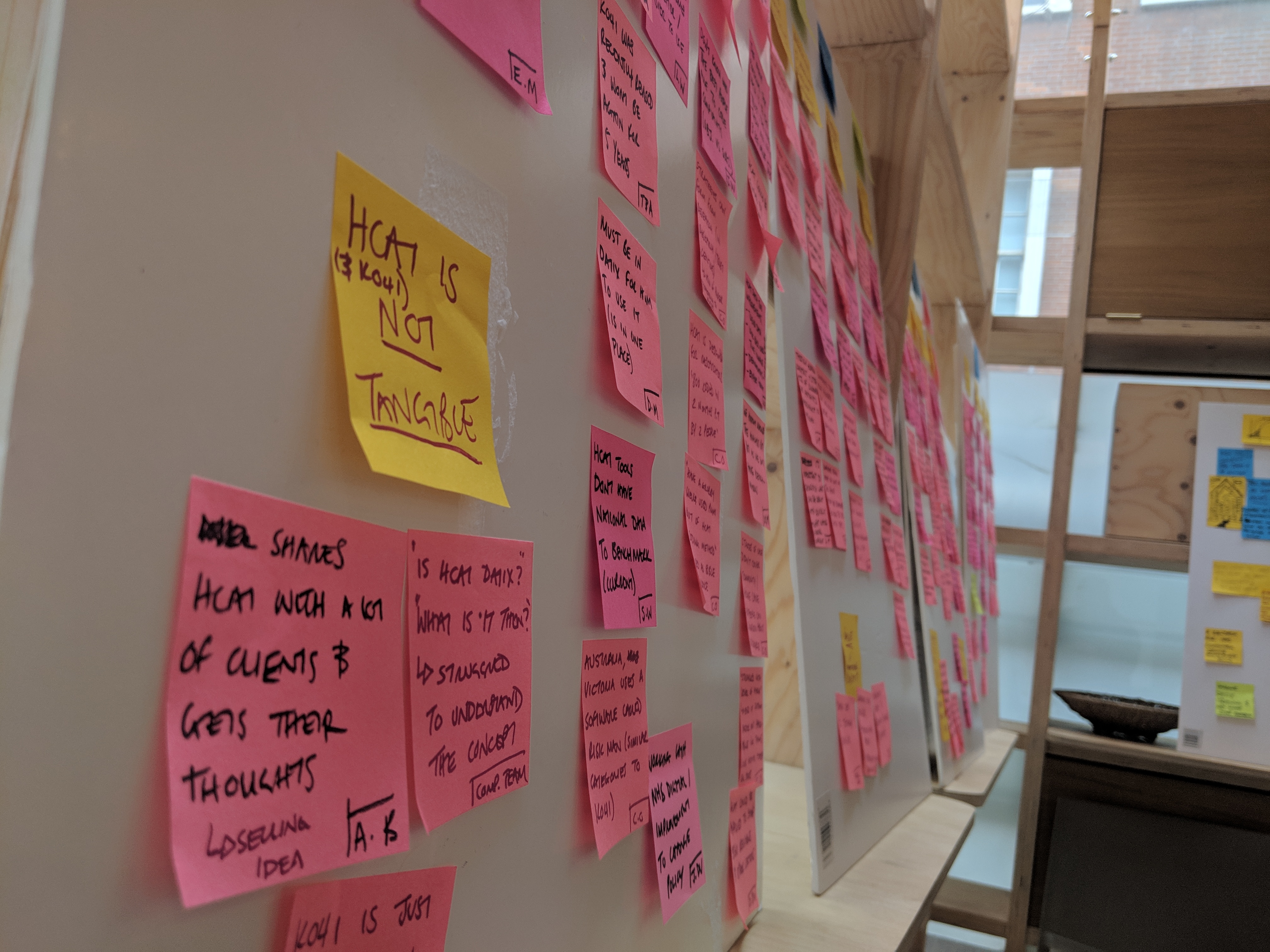 People complain for a variety of reasons. But international evidence consistently finds that most people complain to prevent incidents from happening to others – they want to see change as a result, when they feel something isn't right. Making a complaint can therefore be an empowering process, if people know – or feel – that their actions could make a difference.
Dealing with complaints is an important learning process for those that the complaint is directed against, but also the institution more widely. They can highlight problems that may have otherwise slipped through the net, prompting action that can prevent the same mistakes happening again and affecting more people.
That's why complaints are such a valuable resource for health systems. They're a gold mine of information that represents people's unfettered thoughts, feelings and real experiences with health care, representing an important opportunity to reflect, learn and improve.
But they can also be messy.
People's unstructured feedback is difficult to navigate and laborious to extract meaningful insights from, particularly since the NHS receives some 570 written complaints every single day. Arguably, though, this is part of what makes the feedback so valuable.
"The unstructured nature of feedback is what provides the complexity," says Pip Batey, designer at our Helix Centre. "But this complexity is also the value. Written feedback, especially complaints, are a rich narrative of personal experiences across multiple touchpoints within the system; hospitals, GP surgeries, community services, etc."
So how do healthcare professionals begin to make sense of this melting pot of data?
"One solution is to categorise or 'code' this data to make it structured, so that it can be analysed more efficiently and, in turn, fed back to hospital wards in a meaningful way that can prompt change," says Jackie van Dael, PhD student at IGHI's NIHR Imperial Patient Safety Translational Research Centre.
"This is exactly what the Healthcare Complaints Analysis Tool does. The issue is, it's a well-kept secret among the complaints community. We want to drive greater engagement with this tool so that patients and families can have a greater impact on health systems, and we hope our new platform, Feedback First, will help towards that goal."
A catalyst for change
Developed at the London School of Economics, the Healthcare Complaints Analysis Tool (HCAT) is a coding method that allows organisations to standardise the way they analyse patient complaints, and thus turn them into an effective springboard for improvement. It's a powerful tool with great potential, yet this has yet to be realised across much of the healthcare community.
Many professionals aren't aware of HCAT, which is in part due to the fragmented nature of the complaints community.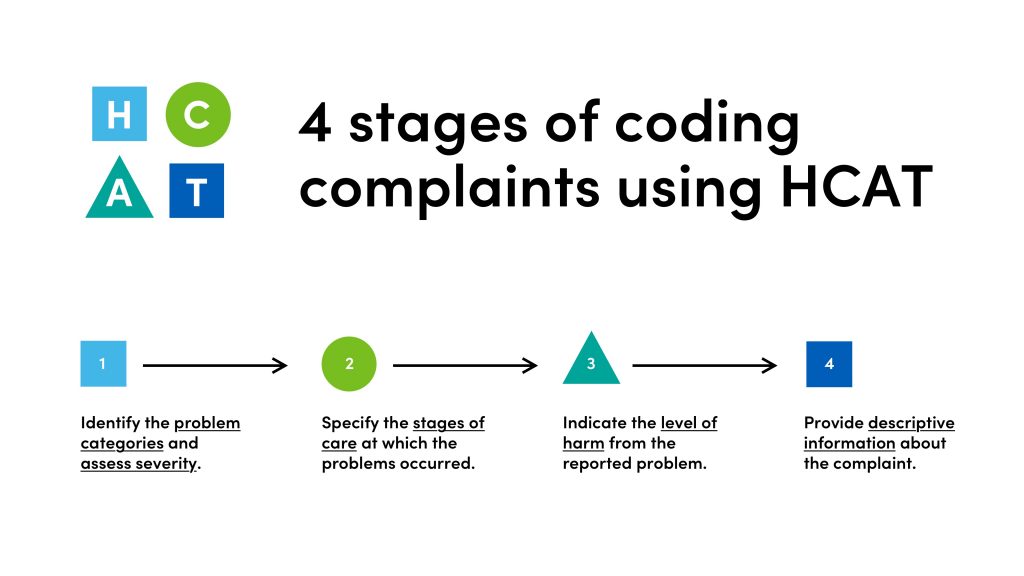 Professionals therefore have little opportunity to come together to share best practices, meaning few people know what works well and what doesn't. Added to this is the fact that patient experience data exists in siloes across the NHS, taking many different forms such as complaints, PALS, social media comments, the Friends and Family Test, among others.
Cognisant of these issues, Jackie's and Pip's teams came together to find a solution that could help leverage HCAT and increase its potential as a driver of quality improvement.
The researchers interviewed and shadowed a range of people, from HCAT users to patient complaints teams, and coalesced all of this information to identify emerging themes and pain points.
"We then ran a number of workshops with different users and stakeholders – clinicians, members of complaints teams, patients and the public – to try to figure out people's priorities and needs," says Pip.
"We started off just looking at patient complaints, but then we realised these are part of a much wider world of patient feedback."
One major finding, Jackie says, was that staff didn't feel empowered to give feedback to their colleagues because there was a lack of consistency and clear policies on doing so.
"This work highlighted the need for a common language that can align the feedback process and profession, and a way to highlight existing evidence on best practices to give them credibility," she adds. "This will, in turn, provide patients and families reassurance that their concerns are listened to, and learned from."
A spotlight on patient complaints
The team's solution is simple. They've created a web-based platform for the feedback community – a toolbox for Trusts, researchers, and patient experience organisations to unite, share and learn. The idea is that this website, Feedback First, is a one-stop-shop for users to discover best practice tools, like HCAT; explore evidence that demonstrates the value of these tools, and connect with others who are seeking to make the most of patient feedback.
"By including a community section on the website, we hope to encourage people to take ownership of feedback, recognising that it's everyone's responsibility," Pip says. "We're also aiming to be a collaborative hub so that partners can join and bring in their analytical tools, enabling people to make sense of lots of different types of feedback data."
No longer is the task of crunching thousands of comments seemingly impossible. But the end goal goes further than analysis. Ultimately, the team wants to use this data to trigger positive change in hospitals.
"In addition to traditional case-by-case complaint resolution, we want to help Trusts to systematically monitor trends in complaints data so that they can identify, for example, recurring or high severity complaints across the board," Jackie says. "A tool like HCAT can help hospitals to visualise patient complaints data they get from using these tools. We call this 'spotlight' analysis."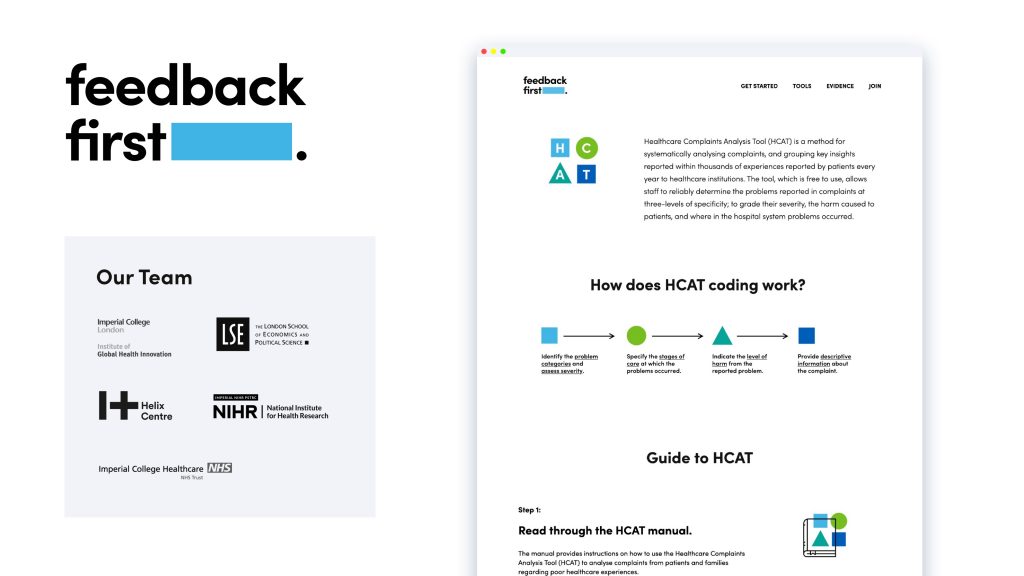 Scan, zoom, dissect
Spotlight analysis allows researchers to scan the high-level trends to spot areas that should be probed in finer detail. By performing further in-depth analyses of patients' journeys through care, teams can then pick out lessons that Trusts can learn from and act on to prevent similar situations from happening in the future.
"It's an antidote to the often fragmented and clinically-focused quality and safety data that is used in healthcare," says Jackie, "which can be somewhat limited in providing a comprehensive picture of incidents or negligence."
Our researchers hope these tools and techniques can enable Trusts to tangibly show how they're responding to patients' voices, and track the impact that resulting changes are having. It's about listening, learning and improving.
It's still early days for Feedback First, but the team hopes that growing this community is one important step towards safer, better quality healthcare.
If you're interested in partnering with Feedback First, please contact Jackie (j.van-dael18@imperial.ac.uk) or Pip (pip@helixcentre.com) to find out more about this opportunity.