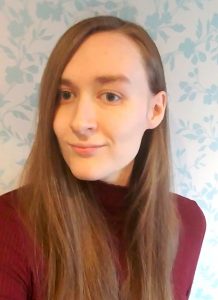 The Mary Lister McCammon Summer Research (MLMC) Fellowship gives female university students a funded opportunity to spend the summer before their final year at university working on a ten-week research project with a leading mathematician or statistician. Participants get the chance to spend time with current PhD students to find out what studying a PhD is actually like, plus briefings on how to apply for a PhD and the kinds of programmes and funding streams which are available.
Katherine Holmes was a participant on the programme in summer 2019, and is now studying a PhD in Quantum Dynamics in the Department of Mathematics. In this blog post she reflects on how the Fellowship influenced her – both academically, and also on much more personal level.
A little about me
Hello, my name is Katherine and I am a first year PhD student studying Quantum Dynamics with my supervisor Dr Eva-Maria Graefe.
Before Imperial, I studied on the MMath (Maths with Masters) course at the University of Nottingham (UoN). My undergraduate degree there was very positive – it was, after all, where I discovered my passion for Quantum Mechanics. I feel very thankful that UoN provided many opportunities to study the different branches of Quantum, and also thankful to be able to continue learning about the field as part of a PhD at Imperial. I've been doing the PhD for about four months now,  and am genuinely loving it. (more…)