A team of Physics undergraduate students recently travelled to the USA to compete in ENERGYHACK 2022, an annual competition at MIT, with support coming from the Dean's Fund.
Read more about the team's experiences and stateside success!
By George Su and Xavier Keogh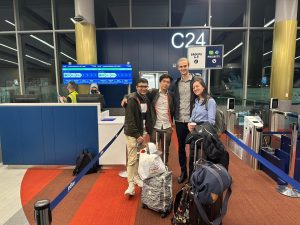 Over the weekend of 11-13 November we, a team of four 3rd year students comprised of two theoretical physicists (George Su and Xavier Keogh), a material scientist (Zanna Buckland) and a computer scientist (Tanish Goel), attended the MIT EnergyHack 2022.
The EnergyHack is an annual competition at MIT where teams of students from elite universities across the world spend 36 continuous hours working towards creating solutions for various sustainability challenges our world currently faces.
Reflective of the difficulties of the world's low carbon transition, the challenges require multidisciplinary skills. Scientific, engineering and computational ingenuity was required to come up with the solutions, but business strategy and public speaking was required to make the solution practical and economically viable. (more…)