In this blog post Helen Walkey, Education Insight and Evaluation Analyst from the FoNS Ed Tech team, reflects on how Microsoft Teams has not only become an integral part of staff collaboration, but also the ways in which it has underpinned Imperial's teaching activities over the past year.
By Helen Walkey
With the shift to multi-modal delivery of teaching and learning, interactions that would have taken place in lecture theatres, tutorial rooms and physical groupwork spaces needed to be recreated online. Into the spotlight came MS Teams, used previously in College as a tool for collaboration, but new to the suite of supported tools for teaching and learning.
Students responded positively to its introduction for summer term teaching, during the first lockdown, frequently listing it as one of the tools that worked best to support different learning activities.
A teams effort
For the academic year 2020-2021, the ICT Student Lifecycle Product Team led a successful cross-College project to create standardised MS Teams sites for teaching and learning for each taught module. The aim was to support the delivery of synchronous and interactive sessions designed by teaching staff, and to provide a consistent experience for students.
ICT, EdTech teams, the Central Timetabling Support Office and Curriculum Data Management Team worked effectively to define requirements, create and test an automated process for generating standardised MS Teams sites for modules, with membership fed from the student information system, Banner. Links were made with the timetabling software, Celcat and the virtual learning environment, Blackboard, to provide a joined-up experience for students. Moira Sarsfield and I, from the FoNS EdTech team, represented the Faculty on the project team. Additional manual tailoring requested by departments was done by EdTech team staff and Graduate Teaching Assistants. Departmental Education Office teams helped to troubleshoot issues with data from Banner. The ICT team produced and published extensive help material describing how MS Teams can be used to support remote teaching and learning, based on input from Faculty EdTech and teaching staff.
A huge impact
The automated Teams set-up process has been used by all departments in the Faculty of Natural Sciences and has had a huge impact on both staff and students, who have used Teams for many different learning activities, for example: live Q&A sessions covering taught content, tutorials, problem classes, seminars, team-based learning sessions and even online poster sessions.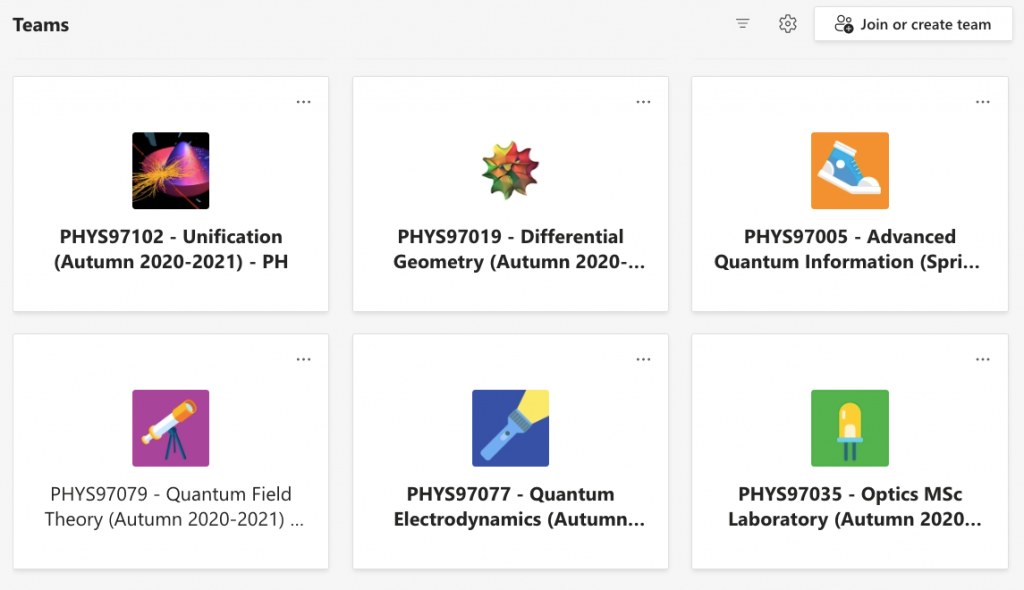 Euan Doidge, Senior Teaching Fellow, Department of Chemistry reported the benefits for staff: "The process developed was a great time-saver at a busy time of the academic year. By instantly generating Teams and applying our template across our 30+ modules we avoided the manual and repetitive creation of individual Teams/channels and potential errors when doing this. The auto-enrolment of specific students and staff as Team members reassured us that people would have the correct access immediately avoiding many careful user additions. The Teams were easily maintained centrally, giving us an overview of all remote/synchronous teaching, and allowed individual modules to focus on teaching knowing everything was already set up properly. The consistent format of channels and Breakout Rooms across all module Teams made training of staff and students easy and allowed everyone to quickly get on with teaching and learning instead of navigating or creating several unique Teams".
This was echoed by Jerzy Snelling van Buren, Undergraduate Administrator, Department of Life Sciences, who said: "Having processes to automatically generate Teams sites and Blackboard courses for modules then populate them with the relevant student lists from Banner has been really useful. It's been hassle free and has saved us time".
The student perspective
From a student perspective, when asked about activities they had found most interesting, one reported: "The Q&A sessions [in Teams] have been helpful and in fact likely increased lecturer/student contact compared to a normal term – it's also a good way to see and interact with the other students on the course."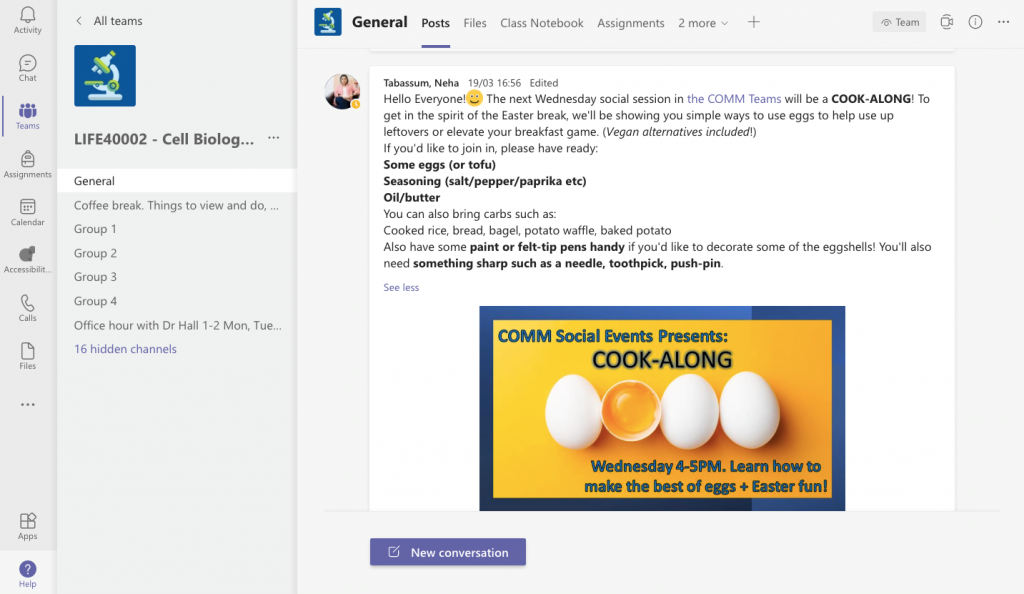 From this and other student feedback, it is clear that students have really missed social interactions during the pandemic and another positive outcome of using Teams for teaching and learning is that it is playing an important part in keeping them connected.
Find out more