This blog is part of a series showcasing the People's Research Cafe which took place on the 18th and 19th June 2022 in South Kensington, London as part of the Great Exhibition Road Festival.
What is a People's Research Café?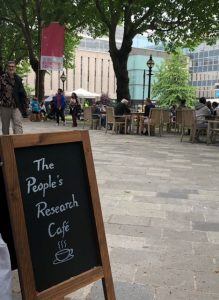 The People's Research Cafe is a café with a twist. Visitors are welcomed to sit down at a table co-hosted by an Imperial College researcher and a public contributor whose role is to help the conversation flow freely. Over a free hot drink, visitors find out about the researcher's project and will be asked for their opinions on it. The researchers are then expected to use this feedback from visitors to improve their projects. The People's Research Café has been run previously at two Imperial Festivals (2018 and 2019) and also in four community venues. It was previously called the "PPI Café" and you can read about the one at the Imperial Festival 2018 here.
When did this People's Research Café take place?
A People's Research Café was hosted at the Great Exhibition Road Festival held on 18 and 19 June 2022 and was a collaboration between the following teams/centres: Imperial Biomedical Research Centre, Imperial Clinical Trials Unit, Imperial Clinical Research Facility, London In-Vitro Diagnostics Cooperative, North West London Applied Research Collaboration, MRC Centre for Environmental and Health, HPRU in Healthcare Associated Infections and Antimicrobial Resistance. Researchers from each centre were given the opportunity to apply to host a table at the Café for 2 hours where they would explain their research in plain language and ask visitors 3 questions with the help of a public contributor. It was a requirement that the research project was at a stage where visitor feedback could still influence the project. Researchers and public contributors were offered training about how the Café would work and how to maximise conversations with visitors. Ahead of the Café, researchers refined their plain language summaries and three questions to pose to visitors with the help of public involvement leads and a public contributor.
---
In conversation with: Dr Shanshan Zhou, Public and Patient Involvement lead, Department of Surgery and Cancer, NIHR London In Vitro Diagnostic Cooperative
What research project did you bring to the People's Research Café and what is it about?
Around five thousand babies a year in the UK suffer from a virus called Human Cytomegalovirus or HCMV. This is the most common cause of a condition called congenital malformation, which can result in problems such as hearing loss. HCMV can be treated with antiviral medication and/or surgery if discovered early. However, more than 50% of infected new-born babies show no symptoms at birth. A solution would be to check all new-borns for the virus. However, currently, diagnosis is performed by a lab method called qPCR, which is expensive and time-consuming. We developed a nano biosensor, a sensing device made of nano materials. Nano materials are those using the smallest particles, individual atoms and molecules. To give some scale, one nanometre is one billionth of a metre.
This device is low-cost, easy-to-use and can detect HCMV in urine or saliva samples. The new device aims to help diagnose babies quickly and early on. It would significantly reduce the cost of routine diagnosis while enabling the screening of new-born babies. Along with the healthcare benefits, it could greatly benefit society by reducing the number of patients who might develop disabilities.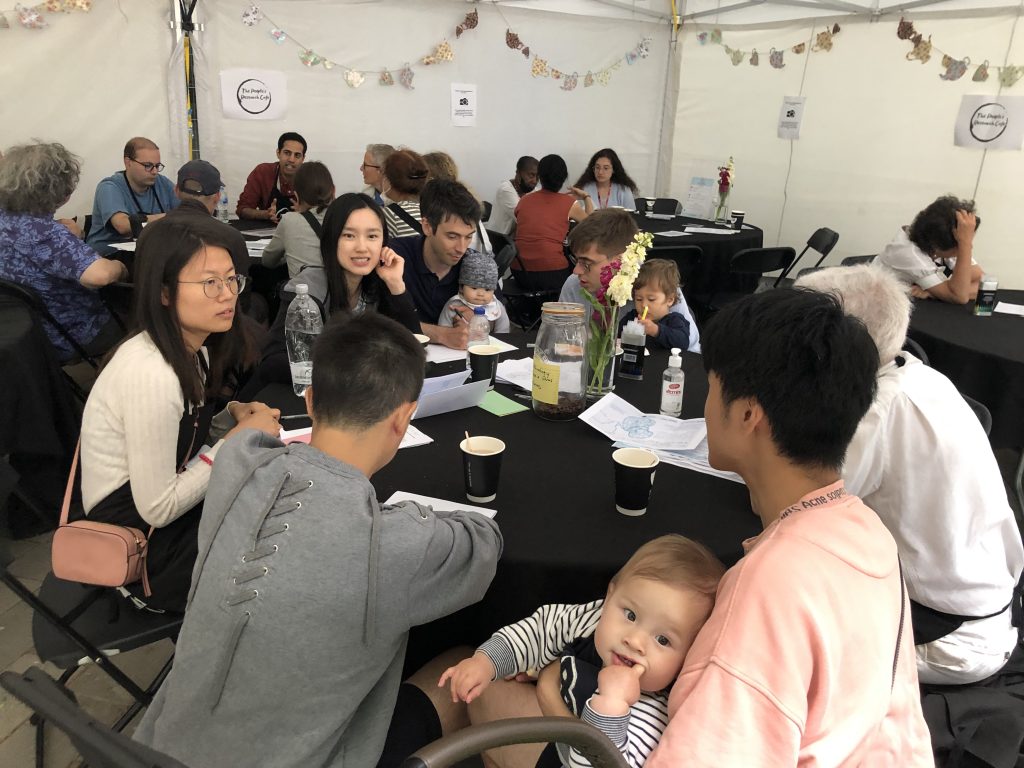 What questions did you ask visitors to the People's Research Café about your project?
The questions I asked visitors are as follows:
What do you think about having new-born babies screened with this new biosensor device within 21 days of birth?
Where would you think it would be best for the screening to occur? At a hospital or community care centre during a midwife/health visitor's visit or elsewhere
Do you think you or other people would be able to take samples of urine or saliva yourself/themselves (saliva sample will be taken using a cotton bud in a baby's mouth and then into a pot; urine sample can be collected from nappies)?
What did visitors tell you?
All visitors believe the new-born screening is necessary. Some visitors (parents of new-born babies) mentioned they'd like to pay for the screening privately, if they are well informed and if the test will be available.
Visitors think the screening could be combined with the other tests needed to be done for new-borns within 21 days. Community settings could be good since mothers are usually discharged from maternity wards fairly quickly.
Opposite to what researchers believed, almost all visitors mentioned they would not be able to take samples by themselves. Parents are very tired immediately after babies are born and said they would not be able to have the mental capacity to perform the test themselves.
One visitor whose wife is a midwife said it would be necessary to consult with midwives to understand their acceptance to "another innovative test" as they are currently overloaded.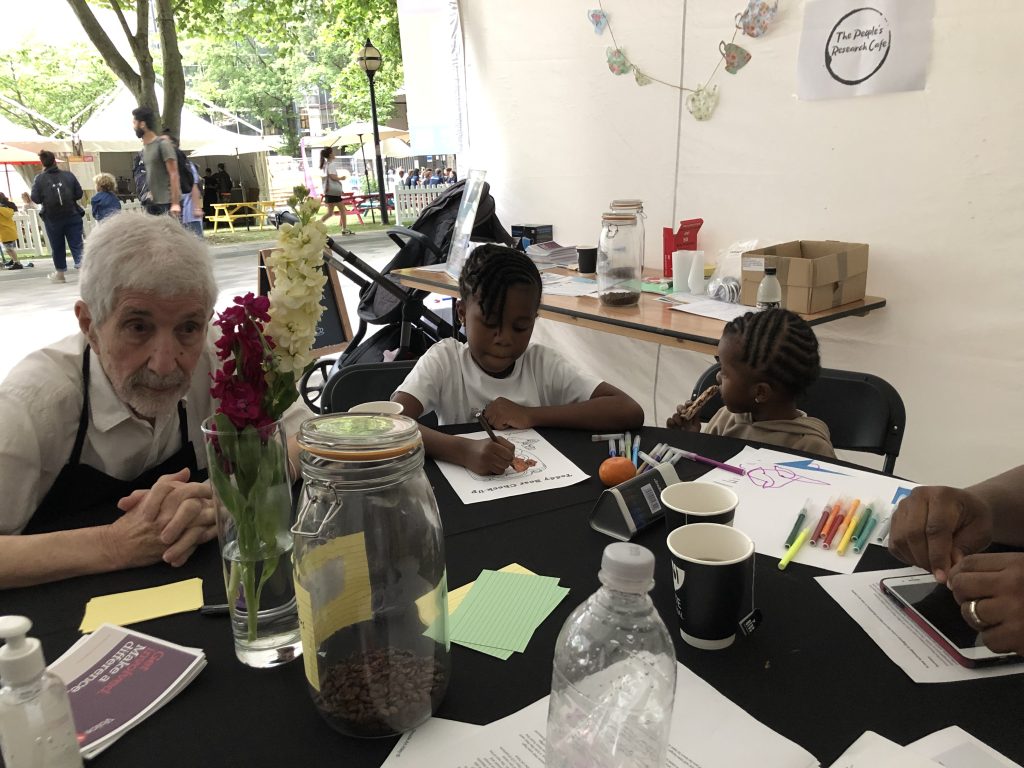 How will what visitors told you impact and/or change your project?
The visitors provided confirmation that this technology is of interest.
We would recommend the test to be done by healthcare professionals rather than parents doing by themselves.
We will involve midwives who are important stakeholders in delivering the service
What was your personal experience of taking part in the People's Research Café?
I would highly recommend it to all researchers. It's great to hear what the public says. It's surprising to me how much interest in healthcare there is from the public. Most of the visitors were actually very "sciencey" and curious of new research. I would strongly recommend clinical leads attending this event because there were some very technical questions that I was not able to answer as I am not involved in the whole project.