This blog is part of a series showcasing the People's Research Cafe which took place on the 18th and 19th June 2022 in South Kensington, London as part of the Great Exhibition Road Festival.
What is a People's Research Café?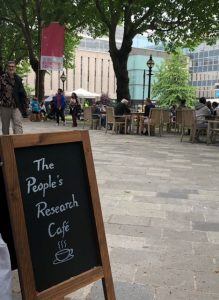 The People's Research Cafe is a café with a twist. Visitors are welcomed to sit down at a table co-hosted by an Imperial College researcher and a public contributor whose role is to help the conversation flow freely. Over a free hot drink, visitors find out about the researcher's project and will be asked for their opinions on it. The researchers are then expected to use this feedback from visitors to improve their projects. The People's Research Café has been run previously at two Imperial Festivals (2018 and 2019) and also in four community venues. It was previously called the "PPI Café" and you can read about the one at the Imperial Festival 2018 here.
When did this People's Research Café take place?
A People's Research Café was hosted at the Great Exhibition Road Festival held on 18 and 19 June 2022 and was a collaboration between the following teams/centres: Imperial Biomedical Research Centre, Imperial Clinical Trials Unit, Imperial Clinical Research Facility, London In-Vitro Diagnostics Cooperative, North West London Applied Research Collaboration, MRC Centre for Environmental and Health, HPRU in Healthcare Associated Infections and Antimicrobial Resistance. Researchers from each centre were given the opportunity to apply to host a table at the Café for 2 hours where they would explain their research in plain language and ask visitors 3 questions with the help of a public contributor. It was a requirement that the research project was at a stage where visitor feedback could still influence the project. Researchers and public contributors were offered training about how the Café would work and how to maximise conversations with visitors. Ahead of the Café, researchers refined their plain language summaries and three questions to pose to visitors with the help of public involvement leads and a public contributor.
---
In conversation with: Naoko Jones, Programme Manager, NIHR London In Vitro Diagnostics Co-operative, Department of Surgery & Cancer
What research project did you bring to the People's Research Café and what is it about?
A new ultrasound scan for detecting breast cancer that has spread to armpit lymph nodes
Invasive breast cancer (breast cancers that have spread out of the milk ducts into surrounding breast tissue) affects 46,000 women every year in the UK. Lymph nodes are small bean-shaped structures that are part of the body's immune system. They are found all over the body along the course of tissue fluid channels. Breast cancer can spread to the lymph nodes in the armpit (on the same side as the breast cancer).
Currently, the best way to find whether lymph nodes have cancerous deposits is to remove them by surgery to be looked at by a pathologist under the microscope. Most armpit surgery involves the removal of the first lymph nodes to receive tissue fluid from the breast and these are called sentinel lymph nodes. If the sentinel lymph nodes are clear of cancer, the rest of the armpit lymph nodes are also likely to be cancer free. Sentinel lymph node removal can cause infections (1 in 10 people) and long-term arm swelling (1 in 20 people). As less than 1/3 of patients have cancer deposits (metastases) in lymph nodes, about 32,500 patients in the UK have unnecessary surgery every year costing the NHS around £26 million.
The aim of this research is to develop a new ultrasound test (a procedure that uses high-frequency sound waves to create an image of part of the inside of the body like that used to check babies are growing in the womb) to replace armpit surgery. The idea came from front-line clinical staff and patients living with problems caused by armpit surgery. New cutting-edge technology has been developed by engineers at Imperial College and builds on existing ultrasound tests that are already in use in some NHS trusts.
What questions did you ask visitors to the People's Research Café about your project?
The questions I asked visitors are as follows:
If you had breast cancer, would you be keen to have regular ultrasound scans to monitor your armpit in the same way that mammograms are used to monitor the breast after treatment?
If you had breast cancer and your doctors wanted you to have treatment to shrink the tumour in the breast before surgery, would you be keen to have an ultrasound test to monitor your armpit in the same way that ultrasound is used to monitor the tumour in the breast?
The new ultrasound test will take longer than the standard ultrasound scan (45 minutes opposed to 10-15 minutes). Would you be keen to take longer ultrasound tests if it gave your doctors more information?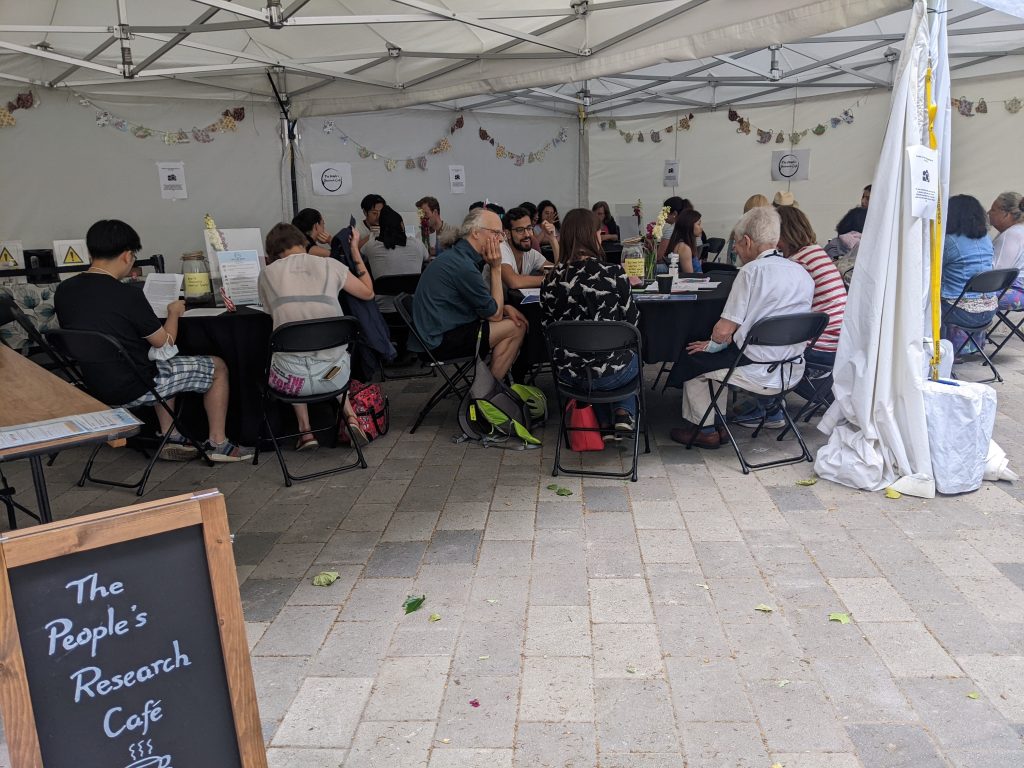 What did visitors tell you?
Overall visitors said they would appreciate the new technology and would be happy to try it.
They said they care about "accuracy" most, so as long as the new technology is accurate and causes no physical harm they wouldn't particularly feel there are barriers to trying the new technology.
Visitors suggested that applying the same technology to other type of cancer diagnostics could be considered.
They asked whether NHS clinics have enough staff to operate the new technology procedure. Not only the number of staff, but also any barriers for the current staff to learn how to operate the new technology. They asked whether there would be enough room to keep the equipment and the space to operate the full procedure comfortably.
They suggested that it would be helpful if doctors could explain the new technology to patients, comparing to the current ultrasound (used in other areas e.g. pregnant women) so that patients wouldn't feel any barriers to the new technology. They also felt it would be helpful if there would be an explanation of how this new technology is different to the existing one and whether there are any risks compared to the existing technology.
Some people were concerned about the frequency of the check-ups after the treatment. If there were less frequent check-ups problems could be missed. If there were more frequent check-ups there was a concern that this could cause false positives or false alarms.
One visitor suggested creating a video describing the project for patients as he had seen something similar previously which was very informative and useful.
How will what visitors told you impact and/or change your project?
Overall, the feedbacks from visitors were very positive and confirmed the importance of the study and willingness of the acceptance of the technology. Visitors raised concerns over logistics in clinic, and we will ensure these points will be studied and examined at the sites, and our team will be directly working on too! Visitors' concern about frequency of check-ups (in both ways) was a concept the research team haven't discussed in detail, so this point is a new addition to the project to consider.
We will consider a redesign of the patient information sheet and also rethink what kind of information should be explained. For example, we will try to provide only necessary information so that the patients won't be overloaded when they are under stress as it is. We will think about any materials such as existing TV programmes and/or educational website/apps for patients to have a look so that they feel they more comfortable with the information.
What was your personal experience of taking part in the People's Research Café?
It was such a great experience and I enjoyed very much engaging with visitors. They were very interested in and enthusiastic about the health care system. I think the concept of "People's research café" is such a great invention, as providing refreshment encourages people to relax and talk. I received some emails from visitors after the event, and they could become our collaborators! I recommend this activity for those who are already experienced in PPI, as this is something different from how we normally conduct PPI and a great opportunity to get know different people. I also recommend for those who are not familiar with PPI as well, as this experience could be an eye opener and game changer for their research, and they could learn practically how important and crucial PPI is for research!