This blog is part of a series showcasing the People's Research Cafe which took place on the 18th and 19th June 2022 in South Kensington, London as part of the Great Exhibition Road Festival.
What is a People's Research Café?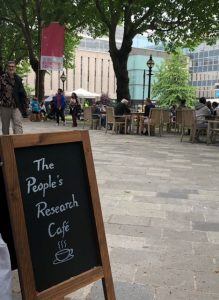 The People's Research Cafe is a café with a twist. Visitors are welcomed to sit down at a table co-hosted by an Imperial College researcher and a public contributor whose role is to help the conversation flow freely. Over a free hot drink, visitors find out about the researcher's project and will be asked for their opinions on it. The researchers are then expected to use this feedback from visitors to improve their projects. The People's Research Café has been run previously at two Imperial Festivals (2018 and 2019) and also in four community venues. It was previously called the "PPI Café" and you can read about the one at the Imperial Festival 2018 here.
When did this People's Research Café take place?
A People's Research Café was hosted at the Great Exhibition Road Festival held on 18 and 19 June 2022 and was a collaboration between the following teams/centres: Imperial Biomedical Research Centre, Imperial Clinical Trials Unit, Imperial Clinical Research Facility, London In-Vitro Diagnostics Cooperative, North West London Applied Research Collaboration, MRC Centre for Environmental and Health, HPRU in Healthcare Associated Infections and Antimicrobial Resistance. Researchers from each centre were given the opportunity to apply to host a table at the Café for 2 hours where they would explain their research in plain language and ask visitors 3 questions with the help of a public contributor. It was a requirement that the research project was at a stage where visitor feedback could still influence the project. Researchers and public contributors were offered training about how the Café would work and how to maximise conversations with visitors. Ahead of the Café, researchers refined their plain language summaries and three questions to pose to visitors with the help of public involvement leads and a public contributor.
---
In conversation with: Dr Raghav Bhargava, Clinical Research Fellow, PsychoNeuroEndocrinology Research Group, Division of Psychiatry, Department of Brain Sciences, Imperial College London
What research project did you bring to the People's Research Café and what is it about?
Liver-enriched antimicrobial peptide-2 (LEAP2) is a recently discovered hormone produced by the liver and intestine that increases in the blood after eating. It blocks the action of ghrelin, another hormone produced by the stomach, which stimulates appetite. It is unknown how LEAP2 increases after a meal and if it makes people feel less hungry when it blocks ghrelin. Changes in these hormones when people diet may contribute to them putting weight back on. In this project, we will measure blood levels of LEAP2 and ghrelin, and appetite, in response to eating meals of different size. Building from our previous project where volunteers were given ghrelin as an injection and its effects were assessed using brain scans, now in this current project, we will be giving LEAP2 as a slow injection into a vein (intravenous) for several hours to healthy human participants. We will assess the effects of LEAP2 on appetite, eating behaviour and reward using computer-based tests, questionnaires and brain scans including rating pictures of food and alcohol, and games to win food, alcohol or money. Volunteers will receive compensation of £100 per visit for their time participating in this study. Previous human studies giving ghrelin and LEAP2 injections have been well tolerated with no reported side effects.
What questions did you ask visitors to the People's Research Café about your project?
The questions I asked visitors were as follows:
How would you feel about having a slow injection (infusion) into your vein of a new hormone for 6 hours assessing its effects using computer-based tests, questionnaires and including a brain scan in the middle of the infusion for 1.5 hours in 4 visits over 4-6 weeks?
 In what format would you prefer to receive food, alcohol and money rewards won during the computer-based games played in the brain scanner?
What images or videos of food and alcohol in the brain scanner would you find appealing to look at?
What did visitors tell you?
Many visitors were interested in our new research project measuring LEAP2 after having different meals and giving LEAP2 as an injection to see its effect on appetite including having brain scans.
The project was well received, and we recorded responses from 18 participants on the feedback forms distributed. Some participants also asked us to contact them when recruitment starts.
Examples of what visitors told us:
Overall study design– Informative, good discussion, well explained experiment and interactive.
Receiving food, alcohol and monetary rewards– Food vouchers like Deliveroo or hampers. Instead of sweet foods, maybe mini cheddar or breadsticks or 'Pringles' as savory foods. Chocolate 'Celebrations' or Oreo cookies. Movie tickets or Love2shop vouchers. Would prefer 'real' alcohol rather than vouchers to purchase them.
Appealing food and monetary cues- Like M&S adverts. Images showing warm apple crumble with ice cream, roasted beef, pancakes with maple syrup, bacon. Seeing people cook food. Can use YouTube or TikTok videos.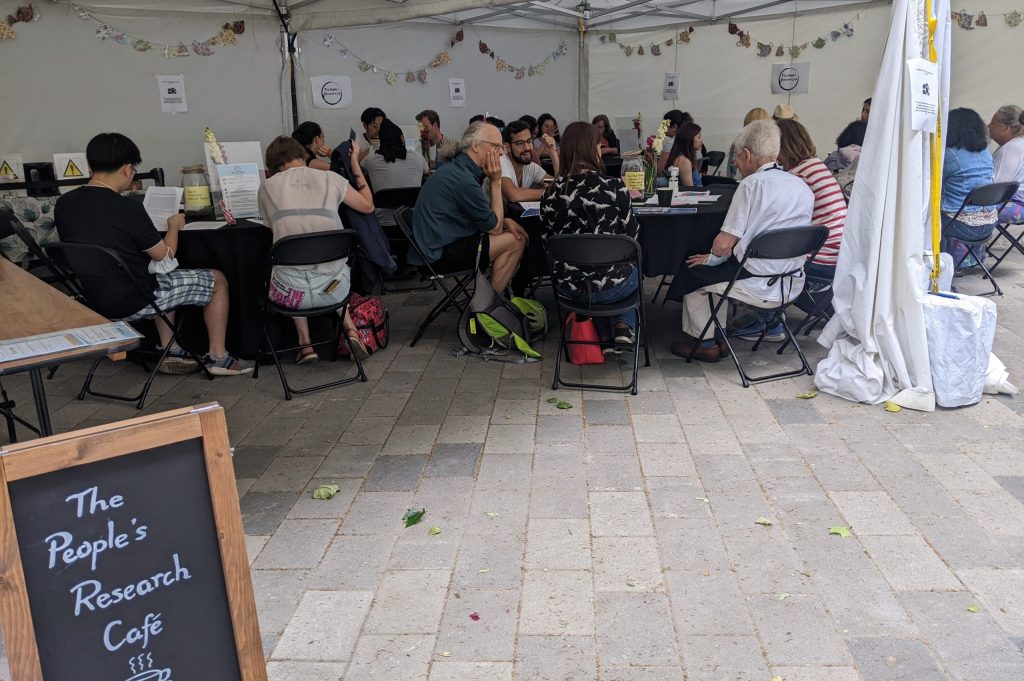 How will what visitors told you impact and/or change your project?
Visitors' feedback has immensely helped us perfect the questions that we will ask. We will be most likely be using chocolate 'Celebrations' as a food reward at the end of the study day. We also aim to use videos rather than images for food and monetary cues.
What was your personal experience of taking part in the People's Research Café?
The People's Research Café is a fascinating concept to involve the public in science research. This was my first-time taking part. As it was a sit-down affair, our research group got more time to explain our project and hear from visitors. I also enjoyed the dialogue with the public and appreciate the diversity of opinions to help us shape our experiments better to be more inclusive. The staff at the PRC were exceptional and I would recommend all researchers who are thinking of recruiting participants to engage with the festival and showcase their projects.