Dr Jonathan Eastwood is a senior lecturer at Imperial's Department of Physics.
Access to and use of Space is of increasing national significance, identified as a key technological, research and strategic priority for the UK. In part this is due to the growing dependence on space services and systems as an integral part of the national infrastructure for communication, finance, transport, navigation and more, affecting every aspect of our economy, wellbeing and security. Rapidly developing technology and private investment in space will add to this significance.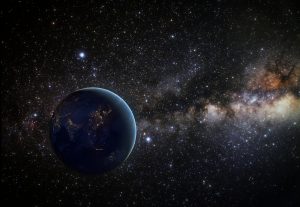 A strong evidence-based space policy and law is therefore crucial to navigating the fluid and dynamic challenges posed by these developments. The anticipated dramatic expansion of space activities and reliance on them in the next decade brings environmental and social impact, shining new light on the critical issue of space safety.
Alongside colleagues at Imperial's Space Lab Network of Excellence and the London Institute of Space Policy and Law, we have published a report which outlines that although there is a large amount of research interest in the topic, space safety is receiving inadequate attention in national space policy.
The report examined:
The current state of UK Space Safety Policy
The capabilities and expertise of Imperial in Space Safety
The potential for Imperial to contribute to the evidence-based development of UK Space Safety Policy
We found that "although Space Safety is an area of growing international importance and fundamental to the UK's aspirations in space generally, there is no dedicated reference to Space Safety in current UK Space Policy documents. However, the UK has been active in different degrees in the following five Space Safety subject areas: Terrestrial Environmental Impacts of Space Activities; Space Debris; Planetary Defence; Space Weather; and Space Traffic Management (STM)."
The examination of Imperial's capabilities in these areas shows that Imperial has considerable technical capabilities to inform policy challenges in all five areas, in alignment with the college's new Academic Strategy.
To deliver this policy impact, we believe that the Space Lab Network of Excellence is very well placed to coordinate and streamline efforts to bring together relevant departments and researchers, and the fruitful collaboration between ISPL and Space Lab provides excellent further opportunities for Imperial to achieve impact in the area of UK Space Safety Policy development.