Dr Gbemi Oluleye, is a Lecturer in Energy and Environmental Technology and Policy, within the Centre for Environmental Policy, Faculty of Natural Sciences.
Dr Gbemi has worked as the lead researcher in a range of projects in both academic and industry, covering emerging strategies for decarbonising energy intensive industries, including serving as a member of the BEIS strategy board for the Industrial Decarbonisation Strategy. In this blog post, Dr Gbemi writes about her experiences taking part in Evidence Week in Parliament earlier this year.
Evidence Week is an annual event held in the UK Parliament and organised by the charity Sense About Science. Evidence Week brings together academics and parliamentarians to share ideas about research and policy, promote scientific understanding and increase the visibility of researchers.
I was excited about the opportunity to present my research on achieving cost-effective industrial decarbonisation during Evidence Week 2021. I had previously attended training by the Forum such as a policy engagement seminar in 2019 and a policy engagement development opportunity with Institute for Government in 2020. Both these pieces of training played key roles in preparing me for the event especially in communicating complex science and engaging with policymakers.
Preparing for Evidence Week also involved recording a three-minute video where I introduced myself, my research, the need for industrial decarbonisation, and the key findings of my research with tangible examples and discussed how to monitor progress in decarbonising industry.
Emissions from industry currently contribute 40% of global CO2 emissions and 16% of UK CO2 emissions. These figures underlined for my audience the importance of the work my research group is engaged in, synthesising cost-effective ways to accelerate the adoption of new ideas for industrial decarbonisation. We need to make the UK's transition to net zero cost-effective for society, government, and industry.
The industrial sector is not only a big emitter but plays a crucial role in developing low carbon solutions for other sectors of the economy like transport, electricity and agriculture, therefore achieving net-zero in industry is key to achieving net-zero for the UK economy.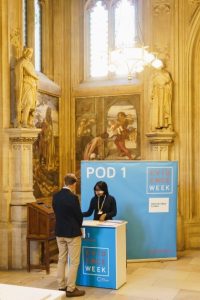 One critical finding of my research is that no single technological solution can decarbonise industry. A distinctive and complex combination of several technological solutions will be required for every particular industrial plant, site, or cluster. There are no 'one size fits all' solutions to the challenge of decarbonisation.
Another finding is creating or adapting existing policies to allow new industrial business models to be trialled can accelerate the transition faster and more cost-effectively than creating policy interventions to directly increase the uptake of technological solutions.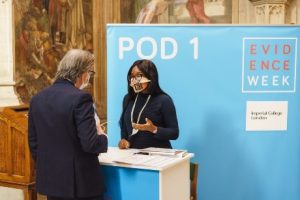 Progress in getting the UK's industrial sector to net zero can be monitored by periodic reports on emissions and fuel use in this sector which can be tabled and reviewed in parliament.Parliament could then evaluate what is the necessary budget to be spent on interventions for this sector alongside the emissions reduction/ uptake of alternative solutions and the creation of clean industrial products.
On the day in parliament, I hosted an exhibition 'pod' to share insights and resources with MPs and peers and answered questions. I had on average three minutes to share research findings with each visitor to my pod. MPs, peers, and their staff were very receptive to my research findings, and some of them booked a one-to-one to discuss further. It was a good experience for me, and the interactions were greatly appreciated by both sides. MPs, peers and their staff had a positive attitude towards input from scientists, which I found really encouraging.
An excellent opportunity like Evidence Week provides a platform for researchers to inform and shape policy with scientific evidence, and I encourage academics and researchers to attend.
Recent engagement with policymakers