For our first Women on Wednesdays this academic year, we've talked to Trinity Stenhouse, a third-year student on the MSci Physics with Theoretical Physics course. She's also currently Vice-President (Activities) of the RCSU and is involved in the IC WNBiP committee!
Describe your path into physics, what kickstarted it?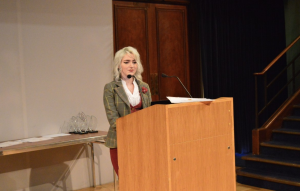 I've always been interested in how things work, but I've also always had really broad interests. For me, physics was a way to understand how, fundamentally, everything works.
I was also really lucky to have a teacher at my high school who took me under his wing and taught me physics content well above A level. He saw that I was always bored and doodling in lessons so gave me a project to do investigating dynamical theories above the standard model that could explain the Higgs hierarchy problem. I got really invested in it and spent a lot of time researching theories. This helped me recognise my passion for research and establish that I would like to do a PhD one day in particle physics.