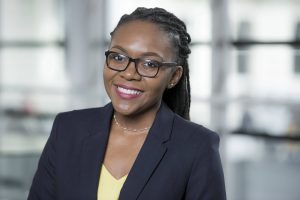 Courtnae Bailey is a PhD student at the Centre for Environmental Policy, and part of the Imperial delegation heading to COP26.
My research is on climate change adaptation finance, more specifically, trying to increase private investment in climate change adaptation solutions.
This focus stems from more of a personal background – I'm from the Caribbean, from Saint Vincent and the Grenadines. For us, climate change isn't something on a future horizon, it's what we're experiencing now, yet small island developing states are responsible for less than 1% of global greenhouse gas emissions. My work looks specifically at mobilising private finance to adapt; a lot of countries facing the biggest immediate threats from the climate crisis don't have the capacity to both deal with development issues locally, and also adapt to climate change.
My research was born out of identifying the need for finance based on what we're currently experiencing. It fits into all four of the COP26 goals, in terms of working towards adaptation, mobilising finance and doing this with cooperation. We have to work together – the public sector, the private sector and government all working together to identify the risks – including the financial risks – of climate change, drawing up policies and making sure the policies are adhered to. One of the problems we have currently is that financial markets currently mis-price physical climate risk in investment decision making, and it's hard to quantify the benefits of adaptation which are usually socioeconomic. So, my work is looking at how can we capture those benefits and put them into financially material terms so that the private sector is more aligned and engaged.
Find out more about the other FoNS students heading to COP26