A team of Physics undergraduate students recently travelled to the USA to compete in ENERGYHACK 2022, an annual competition at MIT, with support coming from the Dean's Fund.
Read more about the team's experiences and stateside success!
By George Su and Xavier Keogh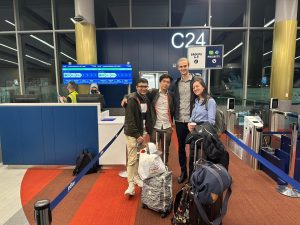 Over the weekend of 11-13 November we, a team of four 3rd year students comprised of two theoretical physicists (George Su and Xavier Keogh), a material scientist (Zanna Buckland) and a computer scientist (Tanish Goel), attended the MIT EnergyHack 2022.
The EnergyHack is an annual competition at MIT where teams of students from elite universities across the world spend 36 continuous hours working towards creating solutions for various sustainability challenges our world currently faces.
Reflective of the difficulties of the world's low carbon transition, the challenges require multidisciplinary skills. Scientific, engineering and computational ingenuity was required to come up with the solutions, but business strategy and public speaking was required to make the solution practical and economically viable.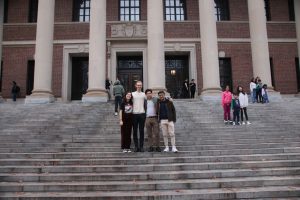 This year thousands of students ranging from undergraduates to post doctoral researchers applied for the event, and 100 teams were chosen.
The theme this year was 'Decarbonising the Built Environment' and the challenges were set by industry partners of the event from sectors including materials manufacturing, commercial development, renewable energy and consulting, with partners including big names such as McKinsey & Company, Skansa AB and Nucor, the biggest steel producer in the US.
Despite the tough competition, our team managed to win our category of the event! Furthermore, the team was also awarded for best team comradery. More about what we did to obtain this achievement is below:
Our challenge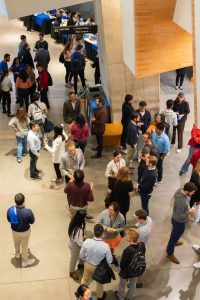 The challenge we worked on was set by Tangible Materials, a Harvard University startup that hoped to provide a 'one stop shop' platform for sustainable materials, where property developers are able to find materials that are both practical but also socially conscious in terms of their embodied carbon and other metrics of societal impact. Our solution comprised of three overall stages:
Creating a web-scraper powered by machine learning techniques (Optical Character Recognition and Natural Language Processing) that is able to gather data from EPD (Environmental Product Declaration) and HPD (Health Product Declaration) certificates for a specific construction product. We also collected ISO certificates regarding the treatment of workers in the manufacturing process of the product.
Creating a multi-indexed database with an architecture that facilitates easy comparison and ranking of the products. The database produces and leverages 'compound parameters" which are weighted indices constructed from the data gathered using the method mentioned above. These indices provide at a glance metrics about the material's sustainability, social accountability and health impact, but also allows for multi-lateral considerations such as the benefits weighed by the cost of the material. The team used our insights gained from our environmental physics and material science background to generate suitable indices.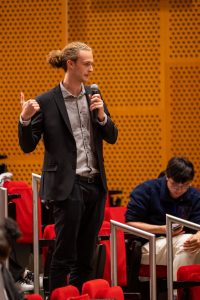 Examining the current shortcomings in the market where we expect opportunities to grow, then map out a strategy for how to capitalize on those opportunities. As an example, we recognised that not only does a marketplace make it easier for the developer, but it also enables new manufacturers to advertise materials. Much of the materials sources by major property developers today come from the same incumbent manufacturers that are often slow to meet ESG requirements and keep up to date with the latest tech. By building a comprehensive and accessible marketplace, new manufacturers have a platform to be directly benchmarked against incumbents. We identified this as a way to accelerate innovation and clean tech uptake.
Spare time shenanigans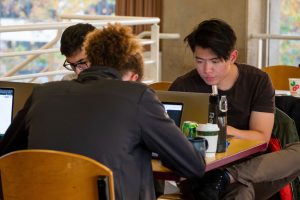 Although, as was the nature of the challenge, we did spend much of our time with our heads down, we still managed to get out and explore.
Cambridge, just across the Charles river from Boston city center, is home to both MIT and Harvard. As hacking didn't commence until Friday 5pm, we spent the day exploring these famed institutions, amazed by their sheer scale and gravitas.
Walking the grounds of Kendall Square we, nonetheless, felt a sense of pride and excitement for the opportunity to compete at this top level.
But it wasn't all institutions and academia – considering 3 out of the 4 in our group had never visited Boston before, we made it a priority to consume as many IHOP pancakes as possible, and drink the filter coffee dry at the classic American diners.
In a fever dream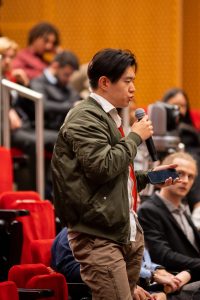 In hindsight, we were in a complete microcosm – a fever dream. There wasn't a moment where we thought about coursework, exams, or lectures; we were just going with the flow and soaking it all in.
These opportunities to develop outside of our degree are everywhere. Us and many other Imperial students are often so worried about falling behind, that these sorts of experiences are put down as nothing more than a waste of time away from problem sheets.
To that we say: think back to a lecture you attended a year ago, think about what it was on, who you were with, and whether your attendance majorly impacted your life? Because, one year from now, 11 November 2023, we will be reminded of the wonderfully challenging, formative, and inspiring opportunity we had the privilege of seizing.
We would like to thank Yasmin Andrew, Ingo Muller, and Kayleigh Murphy for their support in securing the Dean's fund scholarship to support our trip. And with that, our personal tutors Chris Carr and Dave Clement for providing references to support our application and encouraging us to take the opportunity!