The #thesisthursday infographic was produced for Open Access Week 2018 to provide statistics of Imperial College theses collection in Spiral, the College's repository. The infographic includes the top ten most downloaded theses in Spiral (from Sept 2013-Sept 2018) including the total number of downloads.
This is the first Thesis Thursday and was begun to commemorate the anniversary of Professor Hawking's 1966 doctoral thesis 'Properties of expanding universes' being made available by the University of Cambridge for the first time and which received so many downloads it crashed their site. (1,089,008 views so far).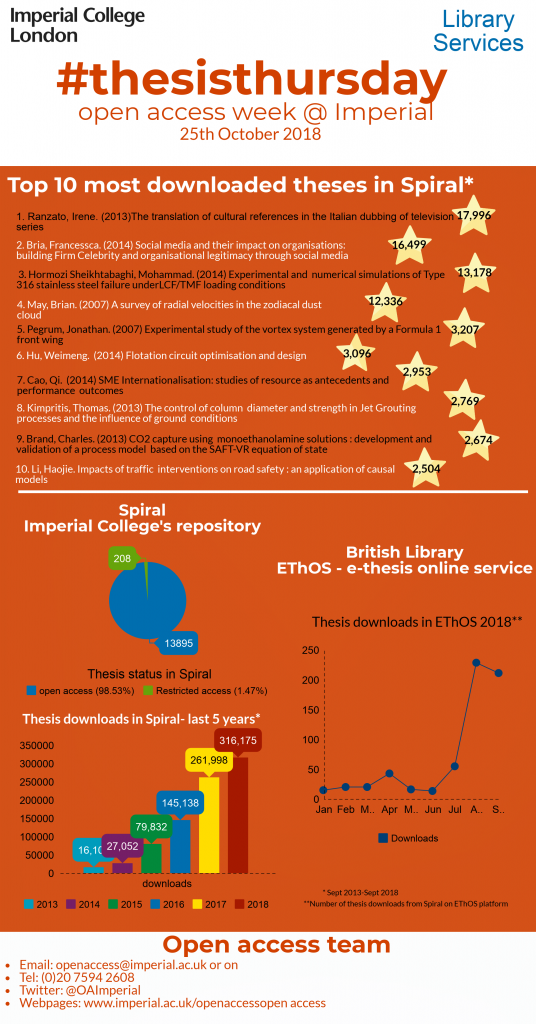 You can view the infographic online and click on the hyperlinked theses which will take you to the Spiral record, where you will be able to download the thesis.
The infographic also includes three graphs:
Theses numbers and their status in Spiral – showing the percentages of open access theses and restricted access theses in Spiral.
Thesis downloads in Spiral – showing the increase of downloads to Spiral over a 5 year period (from Sept 2013-Sept 2018).
Thesis downloads in British Library EThOS (e-theses online service) – presents the projection of the number of thesis downloads from Spiral on the EThOS platform
Happy inaugural Thesis Thursday!
Most downloaded theses: 1; 2; 3; 4; 5; 6; 7; 8; 9; 10
Spiral download statistics supplied by IRUS and British Library EThOS