This year's International Open Access Week takes place 25–31 October, and the theme is It Matters How We Open Knowledge: Building Structural Equity.
This theme aligns with the UNESCO Recommendation on Open Science, which was released in draft in May, and will be put forward for adoption by UNESCO's General Conference in November. Since it is the first global standard-setting framework on Open Science, it presents an important opportunity to build equity into the foundations of new policies.
Here at Imperial, we continue to provide advice and guidance on an ever more rapidly changing open access landscape. The last 12 months have seen:
Our year in statistics
(Download statistics are from https://irus.jisc.ac.uk/; other statistics are from Imperial College London's records)
85% of Imperial College research in 2021 is open access.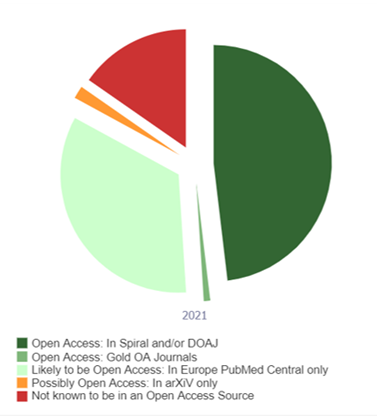 The Imperial Open Access Fund for unfunded researchers paid for open access for 367 papers between October 2020 and September 2021.
More than 700 research outputs have been published through Imperial's transformative agreements with publishers in the last 12 months.
There were 200,000 downloads of COVID-19 publications in Spiral between March 2020 and October 2021.
There are 841 Imperial authored COVID-19 research publications in Spiral (https://spiral.imperial.ac.uk/handle/10044/1/78555)
The average monthly downloads of publications from Spiral is 175,000 (between October 2020 and September 2021).
The top three most downloaded research outputs from Spiral from October 2020 – September 2021 are:
| | | |
| --- | --- | --- |
| How many downloads | Title | URL |
| 79,128 | REACT-1 round 13 final report: exponential growth, high prevalence of SARS-CoV-2 and vaccine effectiveness associated with Delta variant in England during May to July 2021​ | http://hdl.handle.net/10044/1/90800 ​ |
| 22,592 | Report 9: Impact of non-pharmaceutical interventions (NPIs) to reduce COVID19 mortality and healthcare demand​ | http://hdl.handle.net/10044/1/77482  ​ |
| 16,400 | REACT-1 round 7 updated report: regional heterogeneity in changes in prevalence of SARS-CoV-2 infection during the second national COVID-19 lockdown in England​ | http://hdl.handle.net/10044/1/84879 ​ |
Monthly Spiral downloads (the top 4 downloaded research output types) October 2020 – September 2021


Downloads of reports and preprints between January 2017 and September 2021

There are 19,500 PhD theses available in Spiral.
There were 741,248 Imperial PhD theses downloads between October 2020 and September 2021.
The number of research items in Spiral by output type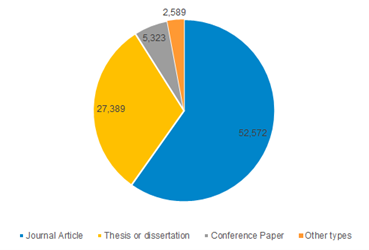 For open access advice, guidance and updates, email openaccess@imperial.ac.uk or visit the open access website. You can also request a one to one either via Teams or in person, or a training session for your group or team. You can also sign up to the Imperial Open Research Newsletter (requires an Imperial email address), and follow us on Twitter at @OAImperial and Yammer at Open Access publishing – LI.