Publisher Agreements
As was highlighted by Imperial's Director of Library Services Chris Banks in her blog post earlier in this International Open Access Week 2022, the past few years have seen a rapid increase in the number of publisher agreements that Imperial College has signed up to. We now have 33 agreements in place that allow for open access (OA) fees to be fully covered for corresponding authors affiliated with imperial College London at no further cost. 
This has unsurprisingly led to a significant increase in the number of papers being made OA through such agreements. The below graph shows the number of papers covered over the last year via four of the most used Read & Publish agreements that we currently have: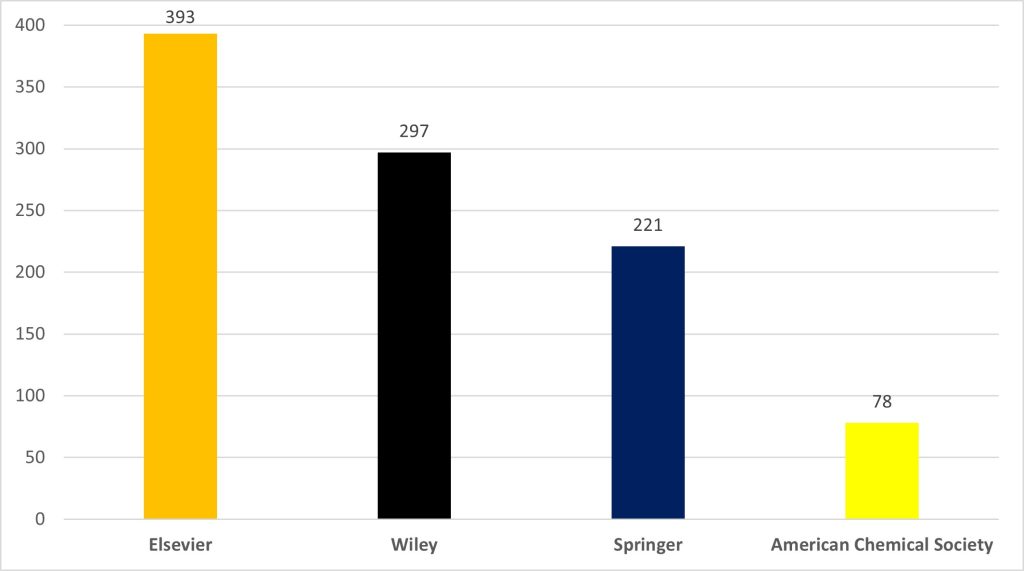 This adds up to almost 1000 OA papers from these four agreements alone, which does not include the figures from other publishers we have agreements with such as SAGE, Oxford University Press, Taylor & Francis, and Cambridge University Press.
A shift away from individual APC payments?
As was predicted in an earlier blog post from OA Week 2020, the number of papers now being covered through publisher agreements has now overtaken the number of individual Article Processing Charges (APCs) that we pay for from the OA funds that we administer. For the period from 1 October 2021 to 30 September 2022 we paid for a total of 759 APCs, compared to well over 1000 covered through the agreements.
While we have only seen a slight drop in the total number of individual APCs paid for compared to last year, the most significant change has been an ongoing reduction in the number of APCs we have paid for papers in hybrid journals specifically (i.e. subscription journals that have an OA option) as shown in the below graph: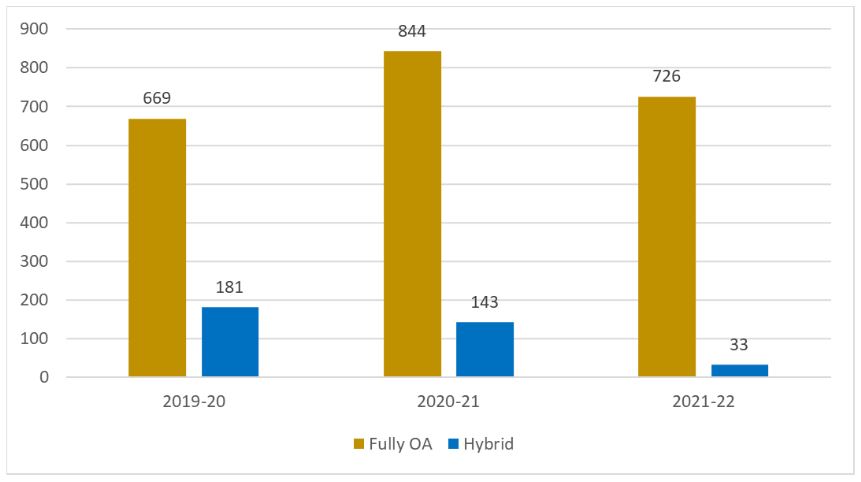 This reduction in individual payments for APCs in hybrid journals should not be attributed to the increase in publisher agreements alone, as changes to funder policies in recent years have also introduced tighter restrictions on hybrid APC payments, and have offered authors alternative routes to compliance via the green OA route through rights retention. However, it is certainly one of the main reasons behind this shift and is a desired outcome in the transition away from a publishing model that allowed for 'double-dipping'.
Imperial Open Access Fund
As most publisher agreements do not require authors to be funded, they have allowed many papers to be made OA via the gold route that would otherwise not have been eligible. As well as our funder OA block grants, we are also fortunate to be able to offer our authors the Imperial Open Access Fund. This is available for those without alternative funds available, and can be used to pay APCs for original research papers in fully OA journals listed in the Directory of Open Access Journals.
Although some of our publisher agreements do cover fully OA as well as hybrid journals (e.g. Wiley's), most of them do not, and there are many publishers who exclusively offer fully OA journals with compulsory APCs. This means the Imperial OA Fund continues to have a big part to play in enabling our authors to publish OA and covered 363 APCs in the last year (nearly half of the total amount):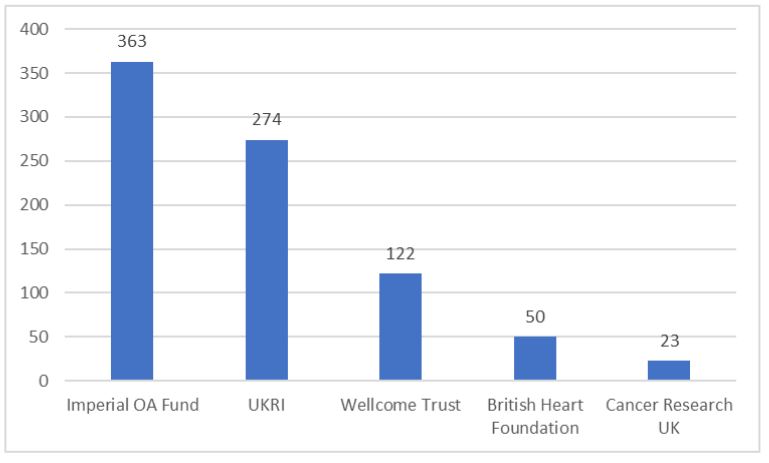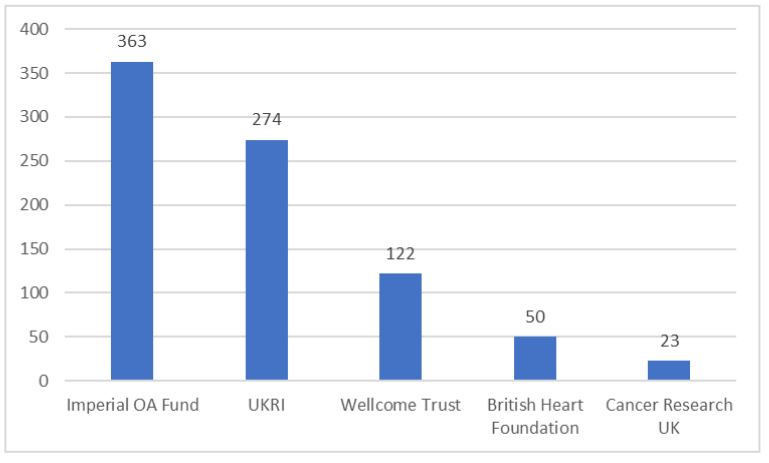 For details on Imperial's current publisher agreements, please see our newly revamped Publisher agreements and discounts page, and for details on our OA funds and how Imperial authors can apply for APC funding please see our Applying for funding page.