Camaraderie and Collaboration Essential!
New Imperial Essentials staff dashboard
A collaboration to improve health, safety and data protection and information security awareness at work.
What is so essential? 
Imperial Essentials are a set of 6 mandatory online courses that staff must complete every 2 years to ensure we are not only legally compliant, but that we are creating and maintaining high standards of health, safety and welfare across the College. 
Essential to success 
With the new centralised training dashboard, we have seen a massive increase in compliance from 3% to 67+%, in the last 12 months!  
Through collaboration with POD, ICT, HR and the Faculties we have achieved an amazing success. Not forgetting the great support and effort from staff across the College!
Hear from some of the team involved in this activity to see how the best tech, collaboration and camaraderie has set us firmly on the road to compliance:
Why did you create the Imperial Essentials dashboard?
Nichola Stallwood, Head of Learning and Organisational Development, said "the main aim of the activity was to achieve 75% completion of all Imperial Essentials courses by 31 May 2022.
We needed a central reporting process on Imperial Essentials courses. But more than this we also needed confirmation of the compliance topics that needed to be completed by all core staff.
The new reporting system also had to ensure Imperial leadership could see the compliance gaps for new starters and existing staff.
As well as the dashboard we also created a policy to establish requirements, exemption criteria and consequences of non-completion."
Simon Etherton, Information Insight Analyst ICT, said "There wasn't a central automated system for staff to check these records and be informed when to take the refresher by. The old ICIS OLM system had to be manually updated. One of the aims was to create a tool to enable the business to increase compliance across the College. It would also offer Course Owners to accurately report to their respective Boards on their compliance topic (i.e. Fire Safety)."

Nicholas Wood, Programme Manager, Faculty of Medicine, said:

"The dashboard supports de-risking us as an organisation through building awareness of critical topics to help us adopt safe working practices and create a safer working environment for all colleagues."
What was the best thing about working on this activity?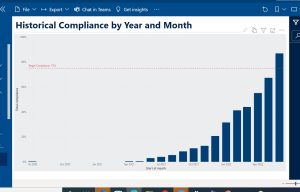 Juliet O'Rourke -Technology Delivery Manager ICT, said –  "It's great to work with a team with representation from different sections of Imperial and getting to know new faces.
There was a strong sense of engagement and level of trust in the team's ability and commitment to succeed. Communication was open and transparent and all decisions making was by consensus with everyone having a voice and all suggestions and solutions considered."
There was a good sense of camaraderie within the team and a feeling that everyone was enjoying the role with all challenges openly discussed and debated.
Simon said "I enjoyed working with the business and cross collaboration between teams in ICT across several Product Lines, Service Operations, Infrastructure & Shared Services, Business Operations and Technology Office. Colleagues within ICT were very helpful, responsive, enthusiastic and supported me when we spotted 'gremlins' in the system."
Kia Wnuk, HR Information and Insight Manager, said – "There was strong buy in from the project team to develop a viable solution.  We were able to draw on each other's knowledge and expertise to deliver a successful product.  This would not have been achievable without a multifunctional team."
What was the most challenging thing about working on this activity?
Juliet said -"At the beginning of this activity, we setup a support email for end users and as this activity progressed and the compliance rate increased, the in box began to fill up which, was challenging but equally rewarding.  It was good to be able to reach out and communicate on an individual level to staff members and help resolve and field any issues or concerns they might have while completing their Imperial Essential courses.  In addition staff comments and queries provided vital information for the content of Frequent Ask Questions (FAQ), targeting communication and the presentation of information on the Imperial Essentials web page.
This activity also presented a number of technical and user base challenges.  From the initial data extraction, manipulation, and presentation for the dashboards, to the construction of the employee only dashboard, and working with new software platforms and automation tools to devise the email workflows and attachments for both the employee and line managers emails.
A number of the systems relied on free text fields to gather staff identifiers which lead to a variable quality in the data. This presented problems with recording course completion dates on the dashboards.  Establishing course data ownership and most recently call for user exemption from courses which, is an ongoing task forming part of next steps."
Kia said – "Focussing our messaging to deal with the variable data quality issues and translating how the technical processes work to help the team and end users understand how the data is recorded."
How did collaboration help you achieve your goals?
Juliet said "The business had clear objectives and ambitious targets to improve the College Imperial Essentials compliance rate from 3% to 75% within one year.  This set the agenda for collaboration and as a team we were all focused around creating key deliverables in order to achieve these objectives.
There was a lot of collaboration among the team in knowledge sharing, (e.g., Microsoft Power BI and the new Power Platform Automate tools) where highly skilled members who were willing to share their knowledge and expertise with others, allowing them to take on lead roles in delivering new tasks.
Collaboration was also fostered by having a well-structured plan with a sense of direction and the use of progress monitoring tools e.g. JIRA – which helped provide momentum.  Microsoft Teams is used for central communication, planning and documentation and open chat for discussion points. Collaboration, openness, and transparency provided a good level of team engagement and harmony."
What will you do next?
Juliet said – "We will continue to work on improvements including; refresh the communication to encourage senior management and HR partners to review the dashboards they have access to and highlight accountabilities, review exemption requests and apply any update changes to the dashboards and increase the reminder emails for individual employee.
And we will start work on a 'Wish List' of new features.
Nick said – "listen to the responses from the staff on how to make the system and courses better and implement improvements."
Further info on Imperial Essentials
Activity team:
Nichola Stallwood, Head of Learning and Organisational Development
Juliet O'Rourke, Technology Delivery Manager ICT
Kia Wnuk, HR Information and Insight Manager
Darshan Vigneswara, ICT Product Technology Specialist
Harpinder Virdee, ICT Product Developer
Gemma Seabrook, ICT Information Insight Analyst
Nicholas Wood, Programme Manager, Faculty of Medicine
Simon Etherton, Information Insight Analyst ICT
Rochelle Dalrymple,

People & Organisational Development Coordinator

, HR