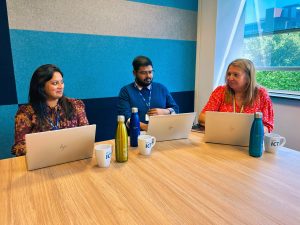 ICT collaborated with HR and departments to create a new and improved way of managing Imperial's casual worker information to ensure an amazing user experience for students (often casual workers) from start to finish, as well as ensuring compliance with the law!
There was nothing casual about the way ICT worked together with HR to create this new and useful application.
Today I am interviewing ICTs Finance and HR Product Line team – Michele, Darshan and Deepthi who have been nominated for the President's Award for Excellence for their work on the new Casual Worker app.
What is the new Casual Worker system and what does it do?
Michele – "The system brings casual worker management online, all data in one place. More importantly it monitors compliance as workers are restricted by the hours, they can work based on right to work and visa categories. The College audit had raised a risk that we were not compliant in managing our casual workforce and we had to address this."
What impact does this improvement have on our staff and students?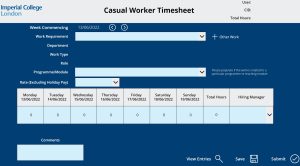 Michele –  "It improves the process, moving away from documents and spreadsheets to a more secure system, therefore it further improves the security of our data. It improves our legal compliance and monitoring. HR has greater control on approvals for payroll.
As well as this, Management Information can be generated from the apps via Power BI reports and thus HR have much improved information and understanding of our Casual Worker workforce."
How did you collaborate with the users to achieve the best solution?
Deepthi – "As well as show and tells the team came together as a single product team which allowed us to make business driven decisions and designs. Our Agile ways of working meant that we could deliver business value with each sprint cycle leading to an mvp and its iterations according to business needs."
What was the best thing about working on this activity?
Michele: "Seeing the product live and making a positive impact on this process for the business and casual workers themselves. Building new working relationships working in partnership with HR."
Darshan – "Partnering with HR and Change Management through new ways of working to deliver the Casual Worker App successfully."
Darshan – "Casual Worker App was one of the first enterprise IT solutions delivered using the Power platform which has given us a better understanding of the overall platform which will guide us in future developments."
What was the most challenging thing about the work?
Michele – "Agreeing the MVP (minimum viable product) and sticking to it."
Deepthi – "It was the first time that the product line was using Power platform along with complex business rules which resulted in a steep learning curve. However, this has helped us understand the path to adopting new technology."
Why has your work been nominated for the Presidents Award for Excellence?
Michele – "I believe it was because the teams hard work and dedication over the last year to build and deploy this product that benefits the whole college community from Hr to the students experience!"
How does it feel to be recognised / nominated?
Michele – "Fabulous 😊 Glad our work has been recognised."
What are you working on next?
Michele – "We just completed the roll out this month and we are now an the 'early life' support stage. We then need to compile a product roadmap and agree as a team how and when we enhance the product.