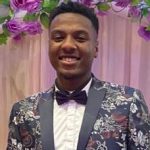 Lukau Mbolokele is a second-year undergraduate student in the Department of Materials. For Black History Month 2021, he has shared more about his journey into Materials Science, having pride in your achievements and the importance of diversity in Science.
The theme this year for Black History Month is #Proud to be (me). To find out more about events for Black History  Month and celebrations at Imperial, please visit our website.
What led you to study Materials Science at Imperial?
When I first realised the versatility of Materials Science – being interdisciplinary in Physics, Chemistry and Engineering. The concept of understanding, manipulating, and applying materials as solutions to the world's problems reinforced my desire to pursue materials as a degree. Imperial was also my preferred university due to its specialisation in STEM courses and exposure to different cultures and mindsets.
What did you enjoy about your first year at Imperial, and what are you looking forward to this year?
My first year introduced me to a range of new interconnected concepts. Learning different topics every day helped keep my interest ablaze during the pandemic, and I enjoyed learning new skills like 3D printing and coding. This year I'm looking forward to connecting with the Imperial Materials community in person and continuing projects that have built transferable skills.
The theme of Black History Month 2021 is #Proud to be (me). Can you share what you are most proud of?
Coming from a low-income background, I wasn't exposed to many opportunities to enrich my interests in STEM. There was also the challenge of overcoming the stereotypical barriers that have been imprinted on us from youth by the media.
I'm #Proudtobe a student who has reached one of the top universities in the world. My acceptance has brought so much happiness to my family and me.
What changes would you like to see for students studying STEM in the future?
I'd like to see a more diverse pool of students studying Materials Science (and STEM subjects in general!). Everyone must also strive for a place where all students can confidently attend university without feeling isolated or like an imposter.