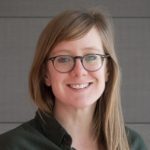 Disability History Month is celebrated every year from 18 November to 18 December, with the aim to celebrate the lives of disabled people now and in the past, challenge disablism by exploring oppression and achieve equality. 
Dr Amy Nommeots-Nomm is a Research Development Manager in the Department of Materials. She completed her PhD in the Department of Materials under the supervision of Professor Julian Jones. 
Dr Nommeots-Nomm also has a hidden disability – dyslexia.
In this blog post, she explains how dyslexia can affect her daily life and the changes she would like to see to support people with dyslexia.
Can you explain more about dyslexia?
Dyslexia is a common, lifelong, specific learning difficulty that can cause problems with reading, writing and spelling. It's estimated up to 1 in every 10 people in the UK has some degree of dyslexia! I wasn't diagnosed until the third year of my undergraduate degree, when things went a little pear-shaped when I was trying to write my undergrad thesis. Once I was diagnosed, a lot of things just made sense!
How does this impact your life at Imperial?
In my current role, I do a lot of writing, proofreading, and sending emails as with any job (and exasperated by covid)! On the surface, this doesn't seem like it goes too well with my dyslexia, but as I have gained an understanding of my specific learning difficulty, I have become equipped with several workarounds.
Compared to when I found out about my dyslexia 10 years ago to now, there are so many great and free pieces of software out there to help people like me- like using google translate to read out emails before you send them or Grammarly software to sanity check words that sound the same but are spelt differently. So, I find, less and less frequently do I accidentally ask people to bear with me!
Are there any programmes or communities at Imperial which have helped you?
I am a member of ABLE which is Imperial's staff network for disability and disability supporters. They're a wonderful community, and it has been a great way to connect with people outside of the department since being in post, learn more about the different disabilities within our community, and support others.
What would you most like to change about people's view of your disability?
Dyslexia is not related to intelligence; Albert Einstein is famously dyslexic! I like the analogue that dyslexic brains are wired differently, and just because we sometimes struggle to articulate ourselves on paper, doesn't mean we don't have other great skills!
Do you have any advice for others with a hidden disability?
Don't keep it a secret!  Be honest about your situation with colleagues/your supervisor. I've learnt that it makes the somewhat inevitable mistakes more bearable.