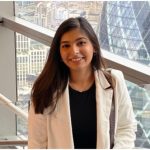 Ritika Vastani is a Research Postgraduate in the group of Professor Stephen Skinner. In Spring 2020, Ritika and her research group took part in the LEAF framework, an initiative created at UCL to improve the sustainability and efficiency of laboratories. The group received a bronze award for their efforts.
In our latest blog post, Ritika shares more about her experience and the small steps you can take to improve sustainability in the lab.
What inspired the group to get involved with the LEAF programme?
As a research group that works towards materials development for new energy technologies, we understand the growing importance of combating global warming and climate change. Whilst most people associate sustainability with the environment, I believe that becoming sustainable is a part of our daily life choices. I saw the LEAF programme as an opportunity for our group to become more sustainable because research laboratories are resource and energy-intensive. As a group, we decided to work towards achieving the bronze award, and through fortnightly group meetings, we discussed where improvements were needed in our research lab.
How did you maintain a collaborative effort towards sustainability?
All group members were involved in improving sustainability within the lab. We had two nominated people in our group to drive sustainability forward, and the remaining members were appointed to oversee one of the criteria in the framework. Frequent group meetings played a significant role to discuss and identify our areas for improvement and we were able to update each other on our progress. Most importantly, fortnightly lab cleaning allowed us to work together to achieve the criteria which we identified to take longer, i.e. tackling or discarding waste materials left by departed students and staff. These efforts combined encouraged us to work as a team and achieve the bronze award.
What changes did the group implement in the labs?
The main changes to the lab included creating a new system for sharing of chemicals. To combat this, we set up a Quartzy database to track shared chemicals in which all lab members had access to search and add new inventory. We became more sustainable through encouraging sharing and reducing potential future waste. In addition, we sorted through pre-existing samples, where we then assigned a designated area for older samples. Moving forwards, we implemented an exit form for future departing staff/students. The form allowed us to know the exact location of the stored samples in the lab. Most importantly, visible signage was placed to encourage good practice to lower fume hood sashes, discard chemical waste appropriately, turn off lights when not in use and recycle packaging where we can.
What did you learn from the programme?
Taking part in the LEAF programme has enabled us to understand how sustainability is not only dependent on reducing waste and energy consumption. Becoming a sustainable research lab has also relied upon becoming socially responsible in day-to-day life around the lab. For example, the Quartzy database allows current users to input and future lab members to search for existing chemicals. These changes have allowed us to implement sustainable practices around the lab, allowing short-term benefits from an economic prospect and long-term environmental benefits to arise.
What advice would you give staff and students looking to improve sustainability in their labs?
Taking part in the LEAF programme is an excellent opportunity to improve sustainability in your research lab. As a student who is driving sustainability forward in our group, it is important to work as a team to implement sustainable practices.
The LEAF programme is now available for any research institution looking to improve their sustainability, including outside the UK. If you are interested in taking part, please email LEAF@ucl.ac.uk for an introduction and information on how to get involved.
If you would like to learn more about sustainability at Imperial, please visit the college website for more information.