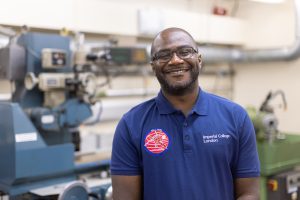 Paul Brown is Mechanical Instrumentation Workshop Manager in the Department of Physics. He's worked on projects such as the Solar Orbiter and the Interstellar Mapping Acceleration Probe (currently being built), was made a Member of the British Empire (MBE) for services to Higher Education in 2017 and has recently been shortlisted for the Lifetime Achievement Award as part of the prestigious Papin Technical Prizes.
In this blog post he reflects on his experiences as a lab and instrumentation technician within an academic environment, and gives us insight into the projects he's been involved in from a technician's perspective.
By Paul Brown
What we do
Together with my team I support the academic mission in the Department of Physics by designing and manufacturing bespoke scientific apparatus for research and teaching within the Mechanical Instrumentation workshop. We are currently building Instrumentation for the Interstellar Mapping Acceleration Probe (IMAP), which the Space and Atmospheric Physics group are collaborating with NASA on. This three-year mission is due for launch in February 2025.
It's immensely satisfying working on projects such as Solar Orbiter, which launched in February 2020 on its ten-year mission. The satellite has already taken the closest ever images of the Sun and is regularly sending magnetometer data back to the researchers here in the Department of Physics. It's very rewarding to know that technicians played a significant role in the delivery of this crucial instrumentation for the success of this mission. It can be challenging at times when we have tight deadlines to meet, and not wanting to be the group delaying a project.
In 2020 our team was also pivotal in supporting the transition to remote learning required due to the COVID-19 pandemic, by manufacturing components to complete lab-in-a-box experiments, which were then sent all over the world to our students who couldn't come to campus.
Recognising tech talents
I was very surprised and honoured to receive an email informing me that I had been short listed for a Papin Lifetime Achievement Award. I plan to attend the Higher Education Technician Summit 2021 in November, where the winner of this prize will be announced, so fingers crossed!
Technicians play a crucial role in experimental research from designing and manufacturing equipment to even running some experiments. It is right that technical staff are recognised in the correct way when scientific papers are published, if they've made a significant contribution to research projects – this can be as an author or in the acknowledgements. In 2022 the Science Museum will be opening a gallery to shine a light on the role technicians play in the world we live in.
Forging a technician career
I started my career back in 1985 in an industrial setting, making tooling for casting Dualit toasters. As a young apprentice then I would never have imagined that one day I would be managing a workshop in a world-class university, supporting world-leading research including missions into space! To top all this off, I was made a Member of the British Empire (MBE) for services to Higher Education in 2017. Considering my parents only first came to Britain in the 1960s from Jamaica, this is something I am immensely proud of.
My advice to anyone interested in becoming a technician is to try and shadow someone in the area you are interested in, maybe on a work experience programme, to get a feel for what the role involves. If you're older you might consider an apprenticeship similar to the Imperial Mechanical and Electronics technician apprentice programme.
Find out more