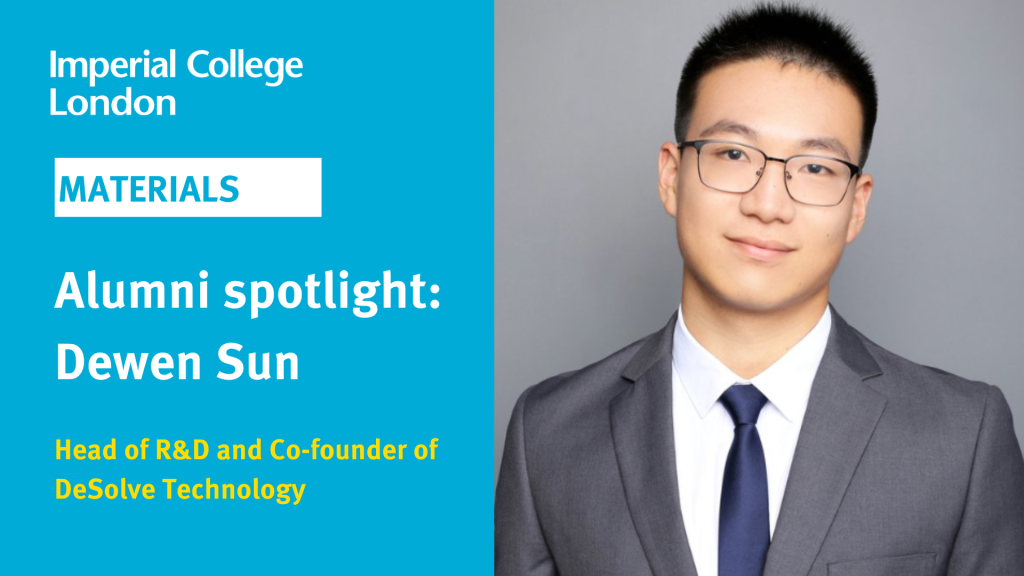 Dewen Sun completed an MEng Material Science and Engineering in the Department of Materials, graduating in 2023. He is currently Head of R&D and Co-founder of DeSolve Technology (LinkedIn), a start-up which provides software solutions for designing drug carriers, striving to enable a more streamlined and efficient drug development cycle. In this blog post, he shares more about his time at Imperial, his current role and his advice for students thinking of founding a start-up.
Can you tell us about your current occupation and company? 
I am currently continuing my study in Germany, pursing a PhD in solid state physics. My specialisation is in the area of quantum mechanical modelling and machine learning, which is also the focus of our start-up. This position not only allows me to enhance my knowledge in a structured and systematic manner, but it also provides the connection to the academic world, which is invaluable for an early-stage startup like us.
As part of the research community, we are able to retain access to all the latest publication and developments. With this platform, we have been able to connect with a number of academic partners. Through our collaboration, we will benefit greatly from their experimental data, while we provide free software services as part of our field testing.
Being in similar fields, all the knowledge and experience from my PhD feeds nicely into the work of our company. This enables me to continue to be fully involved and committed to the start-up.
What inspired you to start this company?
A casual dinner conversation. My friend from Biochemistry mentioned the issue of insolubility when developing drugs. Many promising new compounds fail due to their lack of solubility in water, preventing them to be absorbed by our body. This forces researchers to develop complex carriers, which is still done largely through trial and error. This struck a chord with me. Having spent three summers working on solvent development within our department, I realised that the techniques that we have been using could also be applied here.
Putting our ideas to work, we decided to start a company working on the development of drug carriers. More specifically, we provide a software solution that designs tailored carriers for individual drugs. Since then, we have been constantly energised by the prospect of contributing to the vital field of drug delivery and excited by the huge challenge laying ahead.
We are also firm believers of the market driven approach. The drive for profitability from the beginning focuses us on the most effective means rather than the most scientifically significant. This will allow us to have much more direct and immediate influence on our target clients and markets.
What are your ambitions for the future? 
Within our first year, we have established a multitude of partnerships with commercial and academic experts in the field and are on track to develop a fully functional demonstrator by 2024. We are now working towards two aims in the coming years. First, to begin full collaboration with our laboratory partner to validate the scientific functions of our software and gain credibility of our product. We are also looking at beginning early-stage commercial roll out of our product and concept.
This will set us on track to becoming an established company for carrier development, providing a trusted and well recognized product in the field. It will also allow us to maintain the invaluable relationships with all players in the field of pharmaceutical.
What piece of wisdom can you share with students?
The best advice I have is to make use of every available resource at Imperial. From our colleagues and lecturers to the entrepreneurship programs, I would not have even dared to do any of this without them. It was the incredible knowledge and insights of my colleagues that gave me the inspiration and the confidence to start this business. I would not have the capability to lead the research and development of such a complex product without building experiences through the Undergraduate Research Opportunity Programme.
The business, marketing and IP trainings from the Imperial Enterprise Lab were also absolutely invaluable. They helped us evaluate and re-evaluate our business and really refine our strategy, setting us on the right path.