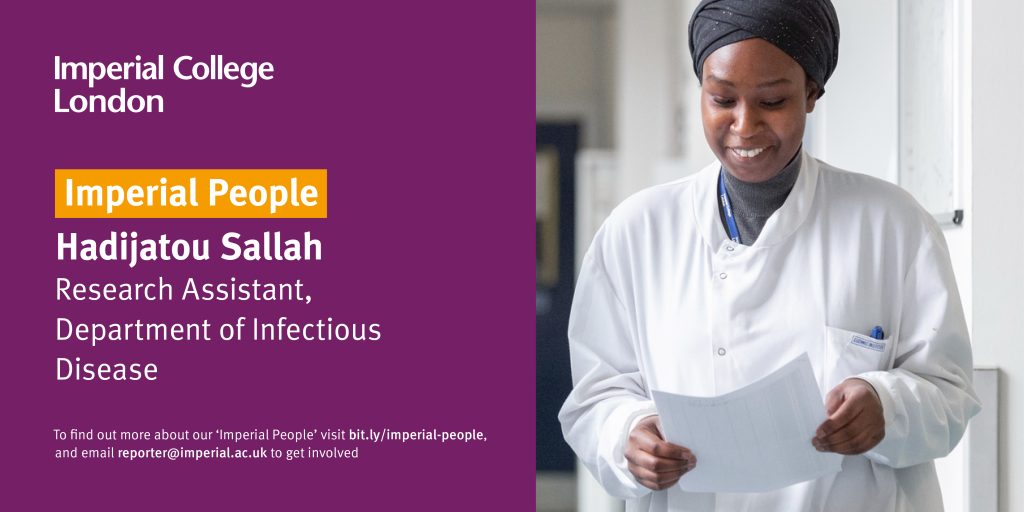 "Our COVID-19 vaccine work has been an immense team effort and within six months our group has begun a first-in-human trial of a saRNA vaccine – a great 
achievement in itself
."
I am motivated by a desire to have an impact on human health and reduce inequalities in global health. After graduating with a degree in Biomedical Science I did an internship at Imperial, where I worked on a project that assessed the role of the placenta in maternal antibody transfer and the impact of maternal pertussis immunisation in early-life immune responses.   
I then moved to The Gambia to work as a Scientific Officer on the Vaccines and Immunity theme of the MRC Unit The Gambia at London School of Hygiene and Tropical Medicine – sub-Saharan Africa has a high burden of infectious disease. My objective was to develop as a researcher and to gain experience in vaccine clinical trials. My research mainly focused on infant immunology, including how maternal antibodies and infant vaccination modulate infant immune responses against infections such as pertussis; biomarkers that may suggest tuberculosis susceptibility and mechanisms behind successful mucosal vaccination with the live attenuated influenza vaccine (LAIV).   
I recently joined Professor Robin Shattock's group as a Research Assistant on the CEPI funded RapidVac project, which aims to develop a new rapid response vaccine platform for epidemic preparedness. Coincidentally, four months later we were in the midst of a full-blown pandemic. I have been fortunate to have the opportunity to contribute to clinically translatable science that may have an impact on those affected by COVID-19. 
My role is to test new self-amplifying RNA (saRNA) vaccines designed to induce immune responses to viruses including rabies, Ebola, Lassa and Marburg. My work involves the production, validation and analysis of RNA and vaccine formulations, followed by the assessment of vaccine potency in cell transfection experiments and in vivo in small animal models.  
However, during the lockdown I have also been working to produce reagents that are critical to support our COVID-19 vaccine work needed for clinical trials, and this work has also meant that we have been able to share our Spike protein with many different research groups.  
Our COVID-19 vaccine work has been an immense team effort and within six months our group has begun a first-in-human trial of a saRNA vaccine – a great achievement in itself. One of the most promising features of our vaccine platform is the potential for better global vaccine equity, something that I know first-hand will be a game-changer for low and middle-income countries.