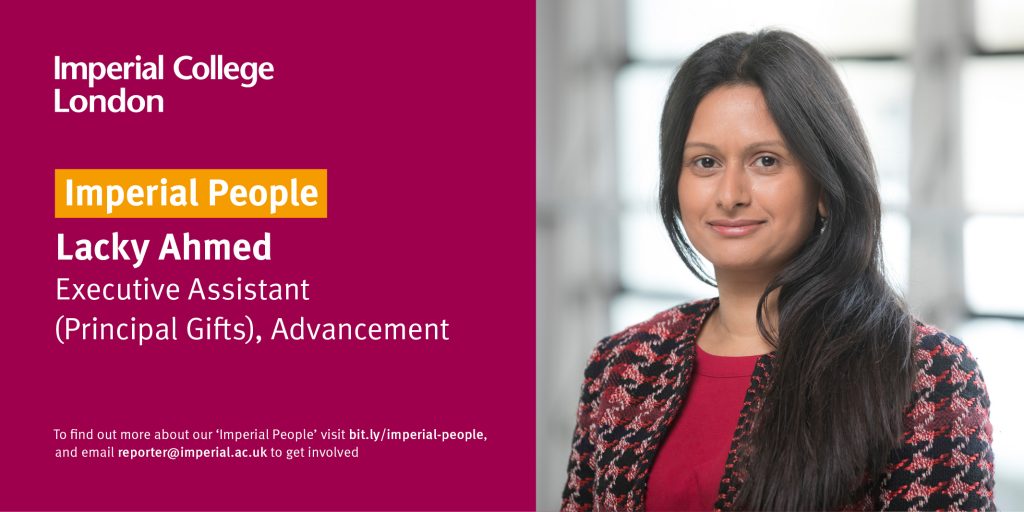 "
The entire Advancement Division have all worked incredibly hard despite all the hurdles during COVID-19. I am very proud to work for Imperial, a university at the forefront of research and developing the COVID-19 vaccine."
Before joining Imperial, I worked as a Legal Assistant for five years at Drinker Biddle & Reath LLP, a US law firm based in the City of London, where I assisted lawyers with advising US and international insurers on a range of insurance and regulatory and corporate matters.  
I joined Imperial in November 2019 and currently work as Executive Assistant for the Advancement Division, Principal Gifts. My role is varied and involves juggling a lot of different tasks. My focus is to provide fundraising support to the Principal Gifts team as well as management support to the Director, Deputy Director and supporting the Head of Principal Gifts – Medicine. I also write contact reports following meetings with prospects/donors. Establishing good relationships with Advancement team members and other staff is very crucial in my role.  
I had only worked at the South Kensington Campus for a few months when the College closed during the COVID-19 outbreak! Since the lockdown, I have been regularly communicating with my team which has been an essential tool in achieving productivity and maintaining strong working relationships. My team have been amazing and very supportive. We have rapidly gotten to grips with new software and a new way of working; it was completely novel for us to be having our team calls and meetings over Microsoft Teams, but we have adapted very well. 
COVID-19 also added a new layer of complexity to my role – changes that I would have never anticipated. Part of my role is to help facilitate meetings with academics, senior staff members, prospects/donors and also philanthropy advisors. Using new software platforms like Zoom and Microsoft Teams isn't always easy and there have been a few hiccups at times, but ICT have been our heroes and have always been able to provide us with innovative solutions. 
The entire Advancement Division have all worked incredibly hard despite all the hurdles during COVID-19. I am very proud to work for Imperial, a university at the forefront of research and developing the COVID-19 vaccine.  
I wanted to keep upbeat and positive during the COVID-19 outbreak and decided to buy a bike as I felt it was the perfect time to start cycling again. I started cycling around my neighbourhood to build my confidence and have been enjoying bike rides in the Olympic Park and Wanstead Flats. It's been one of the best things I've done during the pandemic; cycling has made me happy and it's been liberating. In August, I completed my first ever charity ride (36 miles) for the Middle East Children Alliance which was a wonderful experience. The charity focuses on providing sports activities for traumatised children, particularly girls, in Gaza and the West Bank.   
I have also decided to volunteer and become a mentor and will support a girl from a disadvantaged community across the country. I will help her overcome obstacles and seize new opportunities. I am very excited about this opportunity and I am now at the final stages of being matched with my mentee.