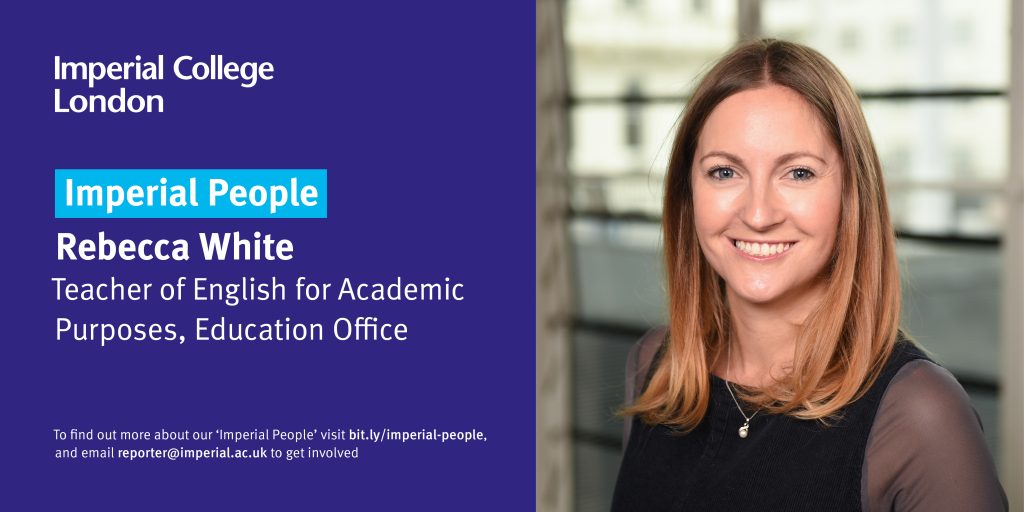 Celebrating Women at Imperial Week
Teacher of English for Academic Purposes, Education Office 
"A typical day for me might be teaching a course for doctoral students, such as Writing a Research Paper." 
I'm a Teacher of English for Academic Purposes (EAP) specialising in academic Science, Technology, Engineering, Mathematics, and Medicine (STEMM) communication. I studied Linguistics as an undergraduate and Applied Linguistics as a postgraduate, focusing on academic vocabulary development.  
I'm originally from New Zealand and I found my way to London via Brussels, where I taught EAP courses for Science and Engineering students at the Université Libre de Bruxelles. While I was initially daunted (being, at the time, Humanities through-and-through), I soon grew to love working with scientists because of their curiosity and drive. Three years later, I was delighted to get a job at Imperial's Centre for Academic English, where I could be part of a team of experts in STEMM communication. 
The Centre for Academic English (CfAE) provides courses, workshops, and consultations that cover all areas of academic communication and are available to all students and academic staff in STEMM disciplines. So, a typical day for me might be teaching a course for doctoral students, such as Writing a Research Paper, which equips them with the tools they need to write a successful research paper, followed by a meeting with a Teaching Fellow to discuss the possibility of a bespoke workshop designed to prepare a group of undergraduates in their department for a specific writing or speaking assignment. Then in the afternoon, I might focus on developing materials for our popular Communicating Science Successfully workshops, which Imperial students and academic staff can access at any time to quickly and conveniently improve their academic STEMM communication.   
Each summer we run intensive pre-sessional courses, which prepare students to communicate effectively on their Imperial degree courses before they begin their degrees in the autumn, and in 2020 I took on the role of course coordinator. This summer, we had the added challenge of moving the entire course online at a time when everyone was still coming to grips with online learning! Fortunately, I am lucky to be part of a team that is passionate about Technology Enhanced Learning, with a very supportive director, and we saw this as a great opportunity to inject innovation into the course (and indeed into our whole provision). 
One innovation that stands out is our hosting of two large-scale, interactive events online using Microsoft Teams: a research festival, and a poster event. This was back when we had all only been teaching online for a few months, so it was a big step, but we decided to give it a go. We had an overwhelmingly positive response to the events from both students and academics, and we shared it as an example of best practice at a Technology Enhanced Learning conference. 
Although in some ways it feels like the world is at a standstill, in other ways development is happening at an unprecedented rate, and it has been inspiring working with people around the College and seeing all the amazing work that is being done. Like lots of people, I've never been so busy, and the projects I am involved in have given me a sense of purpose that has really kept me going. I'm also lucky enough to live on Imperial's White City Campus in the Imperial-owned Eighty-Eight Wood Lane building, so even though I'm working from home, I still feel part of the Imperial community.