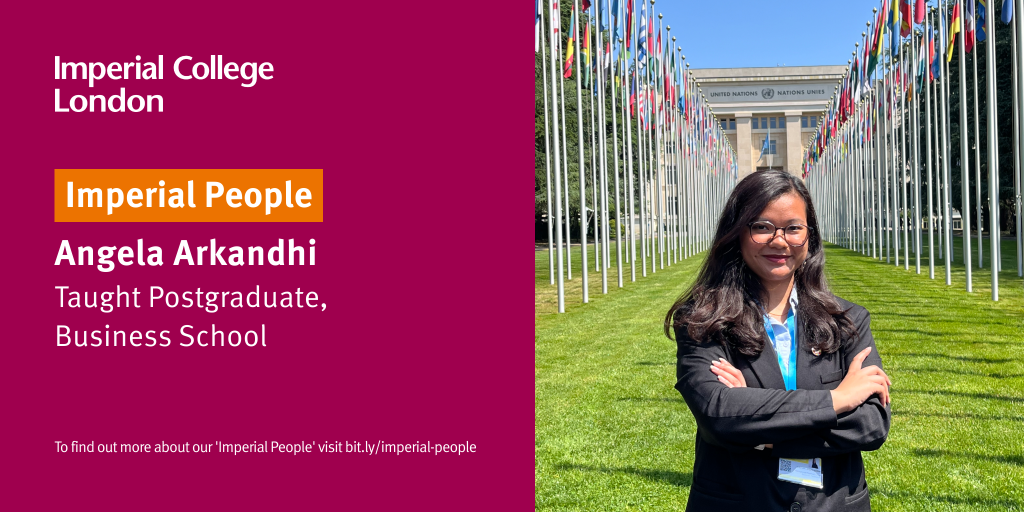 "Being at Imperial has opened doors to many new opportunities and experiences that I believed were impossible."
Back in 2021, in between finishing pharmacy school and getting into my apothecary program, I found an interest in public health, specifically in the area of environmental health. My interest and passion intensified after spending a year interning at different pharma jobs (pharmacy, community clinic, hospital, and industry) because through that experience I saw how the environment is being severely damaged and affected by healthcare practices. I was motivated to build a better healthcare system for Indonesia by initiating sustainable healthcare ideas, for example encouraging proper medical waste management, reducing energy consumption, and increasing awareness of the impact of climate change on health. Seeing Health and Environment listed as one of the modules for the International Health Management MSc was what led me to Imperial College Business School.
Being at Imperial has opened doors to many new opportunities and experiences that I believed were impossible. The Business School provided the opportunity to fund and assist student-led project initiatives, which is what led me to become one of the Co-Chairs of Sustainathon. Sustainathon was a hackathon event on sustainable consumer goods held by a collaboration of business school students from different clubs and courses. The Sustainathon committee was awarded the Imperial College Business School Dean's Community Awards for Sustainable Business Thinking.  I am very thankful to whoever nominated us and I will continue to spread awareness and encourage the people around me to consider sustainable business thinking.
My time here at Imperial is almost ending, and this year I have focused on self-improvement and networking. One of the things I love about my cohort is that 90% of the class came from diverse backgrounds and cultures, so it was nice to work and build meaningful connections with them. After finishing my studies, my dream is to initiate a sustainable and resilient healthcare system for Indonesia. I want to take part in making policy changes and strategic planning by joining healthcare-related NGOs as well as building my own organisation which aims to increase awareness and drive solutions for effective and sustainable medical waste management.