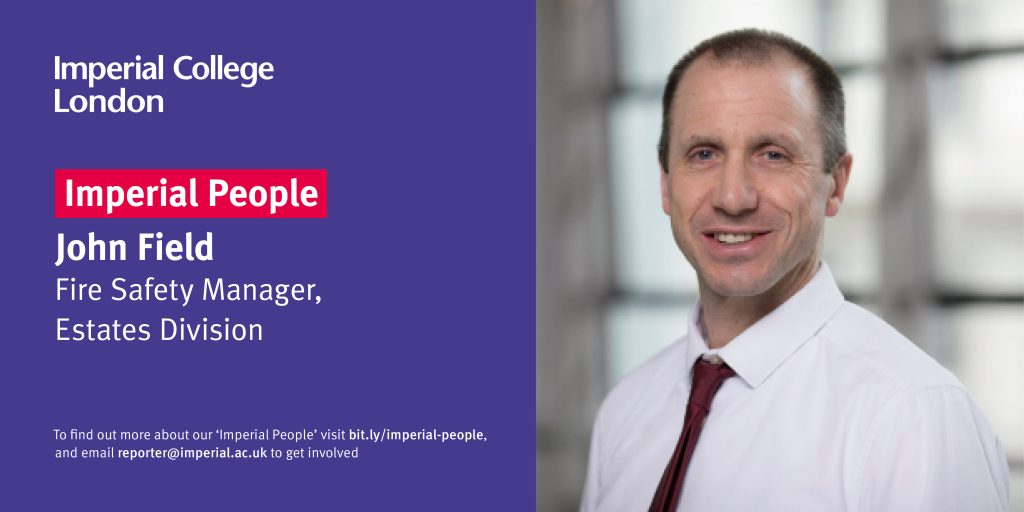 Celebrating our community during COVID-19
"I am currently writing and producing a Home Fire Safety video for our students and staff in order to ensure their safety as they work from home."
Before joining the College in 2018, I worked as a firefighter for 18 years with Bedfordshire Fire and Rescue Service. I now work in Estates Operations where my role requires me to provide fire safety training, complete fire risk assessments and audits, as well as advise on fire safety features required for new buildings.
Since lockdown began, I have applied for volunteering roles with the Imperial College Healthcare NHS Trust, the East of England's Ambulance Service and Bedfordshire Fire and Rescue Service. I have also supported College staff to prepare Wilson House student accommodation for NHS staff who are now staying there while they work at St Mary's Hospital, and produced a video in collaboration with Ali Abdall-Razak, a member of the NHS staff, covering subject matters such as what to do in the event of the fire alarm going off, extinguisher use and safety in the kitchen, among other things.
I have recently visited our campuses at White City, Hammersmith Hospital and St Mary's Hospital, as well as Wilson House, to ensure the fire safety measures within the buildings remain in good order. These measures are required for the safety of the users of the buildings who are continuing to work on site and ready for when students and staff are given the go ahead to return to work.
I am currently writing and producing a home fire safety video for our students and staff in order to ensure their safety as they work from home. I am also part of the English Conversation Forum and we have regular virtual get-togethers, to assist students with their English and their general wellbeing.
In the future, I have had funding approved for an MSc Risk and Safety Management Apprenticeship, which will be starting in September.