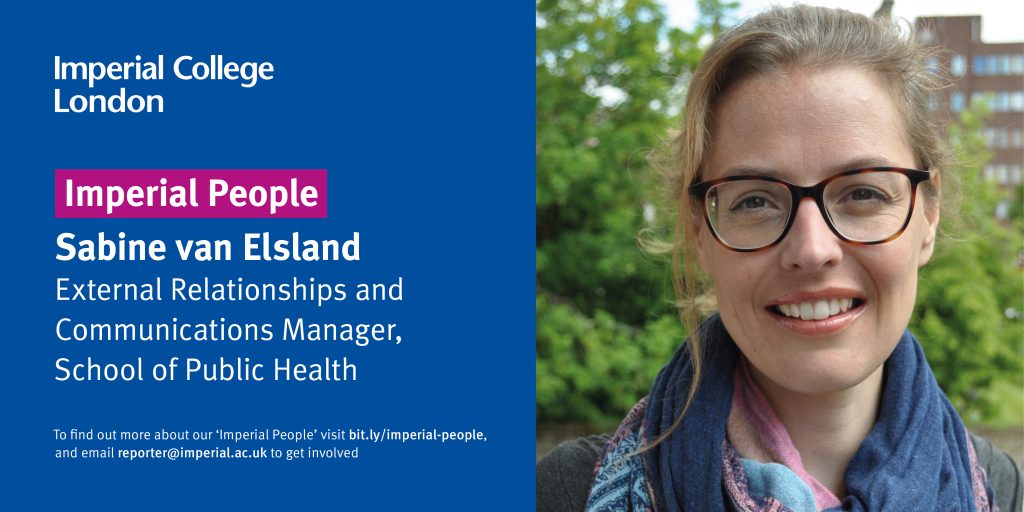 Celebrating our community during COVID-19
"It is humbling being part of Imperial's COVID-19 response team. It is amazing to see the passion, talent, expertise and experience from colleagues coming together as a team delivering high profile work amidst a global crisis."
I am an infectious disease epidemiologist and the External Relationships and Communications Manager at the MRC Centre for Global Infectious Disease Analysis, Jameel Institute (J-IDEA). It is a privilege being in a position to witness the world coming together from this up-close. We are grateful to receive support from major funders like the MRC and Community Jameel.
I studied health sciences in Amsterdam, the Netherlands (my home country) and Bandung, Indonesia. My MSc in infectious disease at the VU Amsterdam took me to Aurangabad, India and Cape Town South Africa. For 10 years, I was proud to call Cape Town my home, where I completed my PhD. It was almost two years ago that I joined the MRC Centre for Global Infectious Disease Analysis and moved to London with my family.
I remember the first time I read about the coronavirus in early January. That afternoon, I had a meeting with Professor Neil Ferguson and we discussed this new virus. The meeting was followed by a call with the World Health Organisation (WHO) and there was no turning back. It is humbling being part of Imperial's COVID-19 response team. It is amazing to see the passion, talent, expertise and experience from colleagues coming together as a team delivering high profile work amidst a global crisis.
The team informs WHO, governments and public health agencies around the globe, providing estimates for the size of the outbreak, severity, transmission and impact of interventions (and much more). I manage communications and external relationships for the team. From the very beginning we have adopted a policy of immediately sharing research findings on the developing pandemic. This includes scientific reports, planning tools, scientific and public resources, publications and video updates.
Each day is different with new reports being released, providing report summaries in seven languages to support universal access to open science, adapting the reports into Science Journal for Kids articles, doing video interviews with experts to provide insights in the work they present, supporting our Coursera course on COVID-19, working with journalists to share research findings with the wider public, and sharing the amazing work the many colleagues who do not work on COVID-19, even more so important now. None of this would be possible without the teams across the College from the Communications, Library, Media, Advancement, International relations, Digital Learning Hub, School of Public Health, to the President. It is a privilege being in a position to witness the world coming together from this up-close.
Working from home, I feel more connected with my colleagues than ever with daily online meetings. With an ever-growing inbox of e-mails pinging any time of the day or night, and a phone that does not stop ringing, my partner and son are my solid ground. They are extremely supportive and I'm ever grateful for them to be in this together.