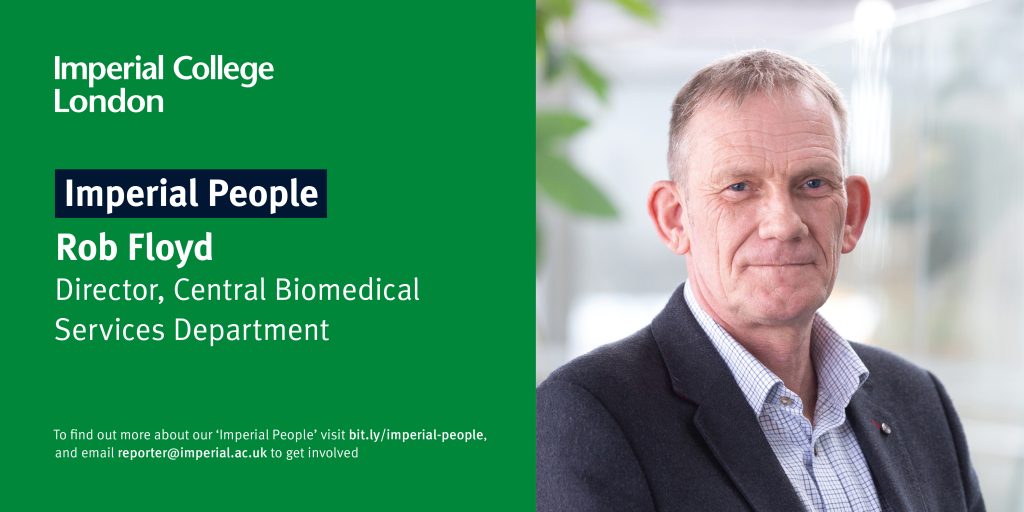 Celebrating our community COVID-19
"My heroes are those that are caring for the animals, the animal technicians who cannot work from home and must be at work to carry out their role every day of the week so that research at the College can continue. Their commitment and dedication is outstanding." 
Before joining Imperial, I worked for a global pharmaceutical company and had the opportunity to travel and work in challenging roles. These included the management of animal research facilities, quality assurance and compliance, risk management and building projects, to name a few.
I joined the College in 2014 to develop an animal care programme that would be awarded Accreditation by the Association for Assessment and Accreditation of Laboratory Animal Care (AAALAC). This is a globally recognised award that only accredits the very best animal care programmes in research establishments around the world. In 2018, Imperial became the first UK academic institution to receive this prestigious award.
In April 2019, I was appointed to the position of Director of the Central Biomedical Services Department (CBS). In my role, I'm responsible for providing research facilities that support our researchers and operate to the highest standards and within a very strict legislation framework. I love a challenge and my desire to continuously improve and develop what and how we do things, see individuals develop and grow, and see the success of our excellent research programmes is so rewarding.
However, like many, I was not expecting the COVID-19 pandemic, which turned into a rapidly changing situation. Our priority was to ensure all our facilities remained open for current research projects to be continued and new essential COVID-19 research to be started.
I work with an excellent team and management planned for the worst-case scenarios. Those who are able to can now work from home, but my heroes are those that are caring for the animals, the animal technicians who cannot work from home and must be at work to carry out their role every day of the week so that research at the College can continue. Their commitment and dedication is outstanding.
None of what we do would be possible without a network of support from the College's leadership team, Estates, Security, Occupational Health, ICT to name a few. Their support is even more important as we make plans to ease out of lockdown.
I would also like to thank the network and the support for mental health, which is as important now as ever as we adjust to new ways of working. Find what works for you. I am fortunate to live on a farm so there is always plenty to do. I have a house to finish renovating too, and because of this I have set up my office in the living section of a horse lorry – my commute is now 30 seconds and not two hours. It is working for me until we can return and be together again.
Thank you for all the support and kind messages for CBS, they are greatly appreciated.