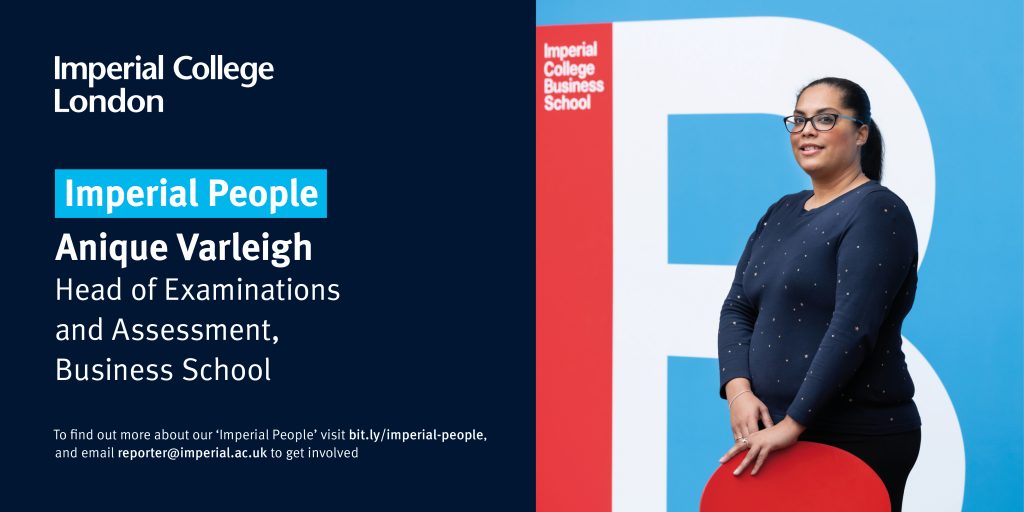 Celebrating our community during COVID-19
"We have successfully moved 70 exams and 1,400 students from April to June into the digital exam world, ran numerous student training sessions, created demos and video for students and faculty."

 
I am the Head of Exams and Assessment at Imperial College Business School and Co-Chair of the Race Equality Charter's Self-Assessment Team. I joined the Business School in 2013 after leaving a similar role at a Royal Medical College where I worked for 14 years. Throughout my career, I have worked on process and procedure improvement projects such as moving examination applications online, to moving exams online here at Imperial. 
Before the pandemic, the Business School had been working on our biggest 'bring your own device' digital exam pilot using WISEflow. Myself and my colleague Emma Stoakes, our digital exam project lead, had been working on this big moment for the past 12 months… and then the pandemic hit! 
This meant a change of plans. It was all hands on deck for me and the exams team, working all hours to move 21 paper exams and 600 students online in four days, providing instructions, guides, FAQs, videos and helpdesk emails for students to be supported in sitting their exams. I worked with Phil Tulip in Edtech to create exam submission areas on our Insendi VLE platform, created student and faculty digital exams web pages and worked with ICT to set up helpdesk email accounts for students to reach us during their exam with any queries.   
Fast forward to today and we have successfully moved 70 exams and 1,400 students from April to June into the digital exam world, ran numerous student training sessions, created demos and video for students and faculty. So far, the feedback from all stakeholders has been positive and constructive in this stressful time. I am very proud to be part of an exams team that adapts so quickly to challenging situations in the most innovative of ways, epitomising the best qualities of a team: respect and collaborative working to get the job done.   
Then on a more personal note in the chaos of the pandemic, George Floyd was brutally killed. This incident has rocked me to the core, but sadly not shocked me. It has made me question how my work on various student and staff diversity committees and as Co-Chair of the REC self-assessment team could highlight the importance of the issues being discussed in the Black Lives Matter movement, and how that translates here at Imperial (a place I love to work in) so that I can help to make an impactful difference.  
The anniversary of the Windrush generation has cemented this feeling and given me the determination to work towards having a more visibly diverse community for our staff and students to feel safe, embraced and welcomed in. We need to build a sense of community for 'all' and embrace our differences for the long term, and this should be in the fabric of everything we do and promote at Imperial.