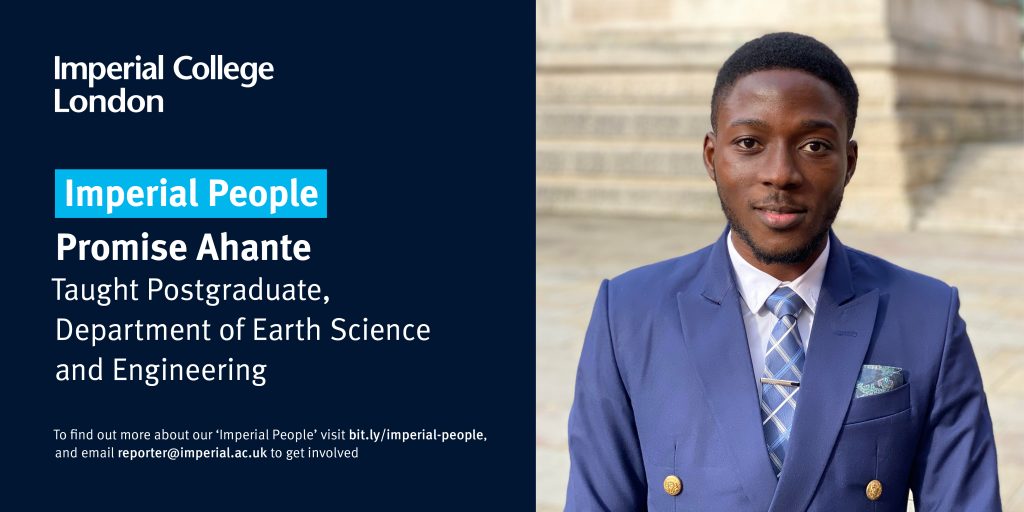 "The pandemic was initially very disruptive, but Imperial really helped to reduce the negative impact."
I'm a Master's student in Petroleum Engineering in the Department of Earth Science and Engineering. I did my first degree in Petroleum and Gas Engineering in Nigeria, which is where I'm from. The major resource we have in Nigeria is petroleum so I was influenced by my surroundings.  
When I graduated in 2016, I worked for a short while, but I wasn't able to get a job directly in the energy industry. I decided to go back to university to build some skills. As an international student the fees were very expensive but fortunately, Shell sponsored me for my Master's. Imperial is a fantastic university and particularly well-regarded in the industry, so it was a great opportunity for me.  
My course is intense and designed to transition people into specific parts of the industry so it's very focused with lots of practical skills development. That means in normal life we're in classes 9-5 almost every day.  
During my undergraduate degree, I was already heavily involved in leadership and volunteering. The Society of Petroleum Engineers (SPE) has lots of representation across universities so when I moved to London, I got involved in the Imperial branch and became president. We ended up having a really productive year. We did a lot of outreach work, particularly in promoting interest in STEM in schools, and held events to promote leadership in STEM among women. As a result of this work, the Imperial branch ultimately received the SPE Presidential Award for Outstanding Student Chapter. 
At the same time as I was doing this work, Black Impact opened nominations for their Black Impact Class of 2020 awards, designed to celebrate the Black community in the wake of the Black Lives Matter protests. I was nominated for and subsequently awarded the Leadership and All-Round Excellence Awards by the organisation for the work I have done with the Society of Petroleum Engineers to organise events, fundraise and promote diversity and inclusion. It's so important that Black Impact is shining a light on the amazing work being done by young Black people and it was an honour to receive this award. 
The pandemic was initially very disruptive, but Imperial really helped to reduce the negative impact. The point that the pandemic hit was when, ordinarily, we would have been applying to jobs to complete our MSc projects with. As we couldn't access internships, Imperial connected us with industry partners to supervise our projects I still had a great learning experience as I worked on an industry project with a career supervisor and an academic supervisor. I'm so grateful for the time I've had here.