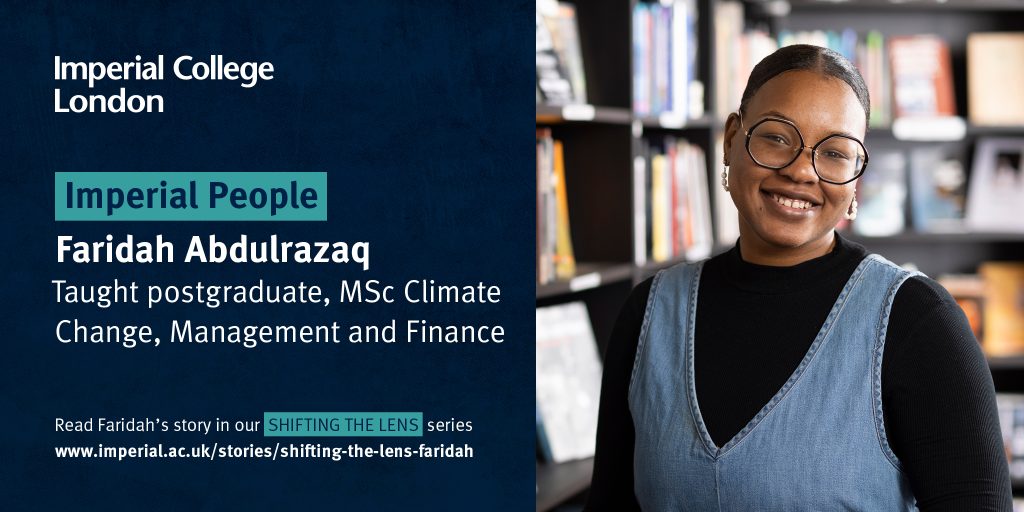 Part of Shifting the Lens: A celebration of cultural diversity at Imperial 
"I love my course at the Business School. It teaches me about the world, showing me new things as well as confirming some things I thought to be true."
I was born in London but moved to Nigeria at four or five years old. I grew up in Lagos. I would come back to the UK all the time as a child, it was where we came on holidays because my parents had a property here. It was great to visit, but it wasn't like a proper holiday – it's not as if they had a place in the Maldives! 
I properly came back to the UK when I was sixteen – I moved to Kent and did my A-Levels. From there I did a chemical engineering undergraduate degree in Sheffield, and now here I am back in London for my Master's. 
I love my course at the Business School. It teaches me about the world, showing me new things as well as confirming some things I thought to be true. It provides a lens for looking at things from a community perspective – of finding opportunities for development as well as highlighting challenges that need to be resolved. The course shows us we can change things, which is so important to me because I really want to know how I can help. I've learned so many things from my classmates too. They come from Hong Kong, America and other places. Group working is great at Imperial because everyone is really knowledgeable. 
I also take a lot from my time studying engineering. It's a discipline which is all about problem solving, and I use it every day, it really helps my thinking progress. I even use it in my house, such as fixing my vacuum cleaner!