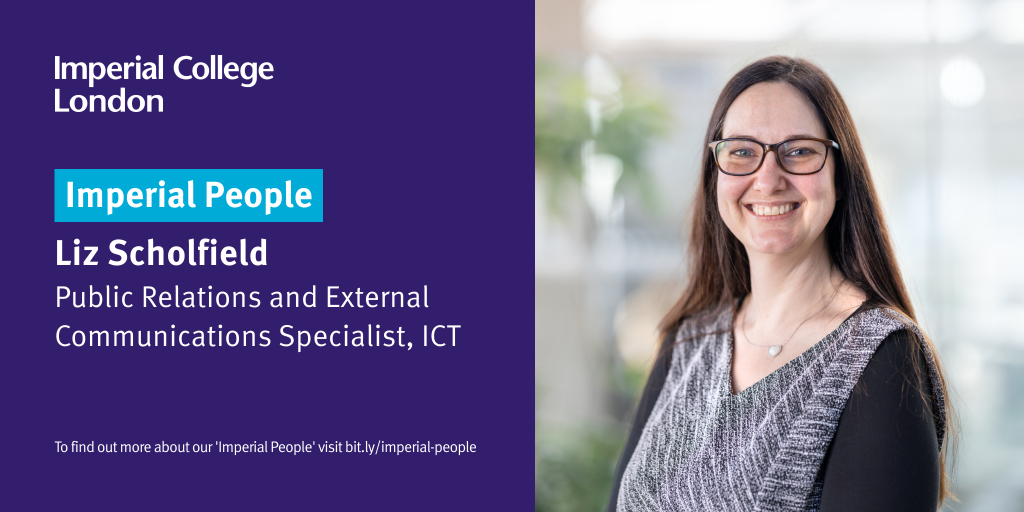 "The great thing about working for Imperial is that they support you to learn and move roles easily, enabling you to gain knowledge and skills in many areas."
I have worked at Imperial for 17 years, in many different roles and departments. I started in the ID Card Office in 2007, acting as the point of contact for many new starters, then from 2009 moved to supporting undergraduate and postgraduate students with course administration. My career took a change of direction in 2012 when I reignited my passion for the creative arts and moved to a role as a Digital and Creative Media Assistant with the Communications Division.
Prior to working at Imperial, I studied a degree in Fine Art at the University of Reading. I was proud to be the first in my immediate family to go to university, having grown up in a working-class family on a council estate in the East End of London during the 80s and 90s, where university wasn't the norm. It was a very exciting and new experience for me to move away and I loved meeting new and different people who positively influenced my life. After graduating, I eventually returned to London which is where I found Imperial and my husband Karl Scholfield, who also works for Imperial. We met 11 years ago over PG administration coursework and a love for Tina Turner records.
The great thing about working for Imperial is that they support you to learn and move roles easily, enabling you to gain knowledge and skills in many areas. This ease of movement, be it on a secondment or through job interviews, has made me a well-rounded member of the community, and a go-to person for advice and direction.
In my current role I lead, direct and manage the public relations (PR), marketing and external facing communications support for ICT, which includes the Realising our digital ambitions blog. I support the Chief Information Officer (CIO) with promoting Imperial and ICT as a world-class university with a world-class IT department.  This role includes communications activities with external media organisations partners, industry experts and the public sector with the aim of showcasing ICT's tech talent and equality, diversity and inclusion, as a way to encourage recruitment from all areas and backgrounds.
One of the most impactful pieces of work I have completed so far, and one in which I have felt a great purpose, has been embedding the Imperial Values within the ICT community. I led a campaign to introduce and embed the values through a variety of means, including staff meetings, newsletters, identifying dedicated champions, and creating sustainable merchandise. Part of the campaign involved introducing our quarterly ICT Awards, which recognise staff who demonstrate the Imperial Values.
I have been recognised with several ICT Awards myself, including the Equality, Diversity and Inclusion Award for my work on the Women in ICT campaign. This campaign has not only recognised our current amazing people working in tech, but is driving our commitment to recruiting an inclusive, gender-balanced work force.
In my spare time I enjoy painting and drawing, so I'm looking forward to making more time for the ICT sketch club. I enjoy exercising, but I have knee arthritis and I am currently looking for new ways to work out – I am loving aqua aerobics at my local gym, spin class, and I am now on the Move More programme at Ethos.