Dr Enrica Papi a post-doctoral research associate looks at how the rise of wearable tech could play a role in osteoarthritis detection and management.
---
When deciding what to do in life, it was clear that I wanted to help people live better, however becoming a doctor wasn't for me. I found my way through studying biomedical engineering, which developed my passion for the biomechanics of human movement. I see this as a means to understanding the underlying mechanisms of musculoskeletal disease. Through detailed assessment of patients' movement function we can understand the implications of disease progression and propose solutions to mitigate the developing disorders. To a curious mind like mine, this is a fascinating way to achieve my aspirations. The idea of being able to find explanations as to why things happen to our bodies is amazing and the fact that it can improve people's quality of life makes it all the more satisfying.
Debilitating disease
I joined Imperial as a research associate in the Musculoskeletal Medical Engineering Centre. As a postdoc researcher in the centre, my goals are to tackle ways that could improve symptoms as well as gain a better understanding of knee osteoarthritis development. Osteoarthritis (OA) – the most common form of joint disease – is a disabling musculoskeletal disorder that can affect our joint function. OA progression is slow and if measures are not taken, joint replacement will eventually be necessary. Joint replacements are costly, invasive and have a limited lifespan that may not last for the duration of patients' lifetime. Moreover, patients' satisfaction after surgery is poor, calling for early management strategies.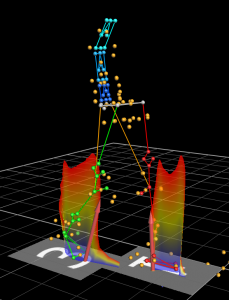 The knee is one of the most commonly affected joints, and as you can imagine, with painful knees most of our daily activities would be compromised. Here lies a need to improve patients' symptoms – pain and function – to maintain active lifestyles as well as develop early detection tools to slow progression and delay surgery. Current clinical guidelines recommend exercising to alleviate pain and improve joint function. However, most patients are reluctant to adhere to prescribed exercise routines.
The rise of wearable tech
As a member of Professor Alison McGregor's research group, one of our main focuses is understanding how we could enhance rehabilitation pathways for those suffering from knee OA, and hence symptoms, by using wearable technology. We are increasingly moving towards a tech-savvy world and we should take advantage of this for our own good. Wearable technology could offer daily virtual support, reassurance and motivation to exercise whilst maintaining a link with health professionals who can provide periodic advice and guidance. This way we can overcome barriers of current practices, as highlighted by knee OA patients during focus groups.

We received great support from knee OA patients and clinicians, such as GPs, physiotherapists and orthopaedic surgeons when proposing the use of wearable technology as an aid for knee rehabilitation. We were surprised but delighted by this outcome, which led to a series of studies and the development of our knee sensor. It has been a rollercoaster journey; with some disheartening days when the sensor did not behave but, these days were thankfully overcome and forgotten by beautifully recorded data soon after. I guess having up and down days is synonymous with research life, but those days when you crack it are invaluable and so rewarding.
Patient perspective
What I found particularly interesting in our development journey was how we engaged with patients and clinicians; having their perspective guided us through the process of designing the sensor and navigated us in the right direction for future success. Most of all, it gave me the inspiration and motivation to do what I was doing and persist in doing it as it rooted our ideas to a real need. We are still 'playing' with our sensor, but every day we are a little closer to testing it on real patients in clinical trials. For this to happen, we are collaborating with colleagues from the Department of Materials to finalise the sensor fabrication process.
Future markers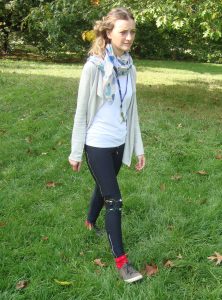 The use of technology is one way we are proposing to improve symptoms and function. However, if we want to prevent and slow OA progression we need to search deeper. Altered gait patterns have frequently been reported in people suffering from knee OA, with studies showing how knee OA severity exacerbates gait alterations. We therefore envision there is scope to use biomechanical parameters as markers of disease detection and progression. In relation to this, within our group, we investigated the role of biomechanical factors in predicting knee OA. Through applying machine-learning techniques to biomechanical parameters collected in our Biodynamics laboratory, we could predict OA status with great accuracy.
We are now planning to solve the problem around early detection and progression monitoring with a more holistic approach. This means that we will take into account the biological and structural components that are often related to OA, in addition to biomechanical factors. Understanding how these are intertwined, we aim to identify simple markers for OA detection and progression monitoring. We are now starting a pilot study, recruiting knee OA patients in collaboration with colleagues within the Faculty of Medicine. This, I hope, could be the subject for a future blog post into the insight of OA development.
Dr Enrica Papi is a post-doctoral research associate in the Musculoskeletal Medical Engineering Centre and National Centre of Excellence for Musculoskeletal Health and Work. She has a joint appointment between the Faculty of Medicine and the Department of Bioengineering.
Enrica's research is funded by Arthritis Research UK and the Medical Research Council.