To mark Movember, PhD student Akifumi Shibakawa explains how Movember cash is funding prostate cancer research at Imperial and how to get involved in the fundraising. 
---
It's that time of the year again, when men grow moustaches around the globe. It all started in 2003, when two guys in Australia had the idea to make moustache-growing fashionable again. For a greater cause, they made this campaign about men's health and established the Movember Foundation. As you may know, the campaign became an international phenomenon, attracting over 300,000 participants in more than 20 countries in 2016.
The Movember Foundation is now a global charity with one mission: "Stop men dying too young". To achieve this, they are raising awareness and funds for three issues affecting men's health; prostate cancer, testicular cancer and mental health. Here in the UK, the Movember Foundation has been working together with Prostate Cancer UK – the only charity that exists solely for prostate cancer – investing over £21 million in prostate cancer research between 2012 and 2015.
The prostate is a male-specific organ that sits just beneath the bladder and surrounds the urethra – this location is the reason so many symptoms of prostate disease affect the ability to urinate. Prostate cancer occurs when cells in the prostate grow and divide out of control. In the UK, prostate cancer is the most common cancer amongst men and expected to affect 1 in 8 men during their lifetime. The word 'cancer' sounds frightening, but it needn't be for all cases of prostate cancer. When diagnosed at the earliest stage, virtually all men survive beyond 5 years. However, when diagnosed at the latest stage (advanced prostate cancer) only 30% of men survive beyond 5 years, indicating early detection is key.
Some early-stage prostate cancer can develop into advanced prostate cancer, in which the disease spreads to distant parts of the body. Currently, advanced prostate cancer is not curable but there are several treatments that can keep the disease under control, prolonging survival. However, not every treatment is effective in all patients so there is a need for a biomarker that can help doctors choose the most effective treatment for each patient. Also, a treatment that was initially effective can lose its effects as the disease develops resistance to it. Hence the development of effective new treatments is always desirable.
In 2014, our Group led by Professor Charlotte Bevan, along with groups at the Institute of Cancer Research and University College London, were awarded a status of London Movember Centre of Excellence for prostate cancer research – a virtual centre that allows enhanced collaboration between the groups. As a part of the Centre, we study advanced prostate cancer that has developed resistance to primary treatments. Currently, chemotherapy is commonly used to treat the patients at this stage but it is only effective in fewer than half of the patients. The other half, who do not respond to the treatment, may experience the side effects of chemotherapy without much benefit, but we currently have no way to predict who is going to benefit from chemotherapy and who will not.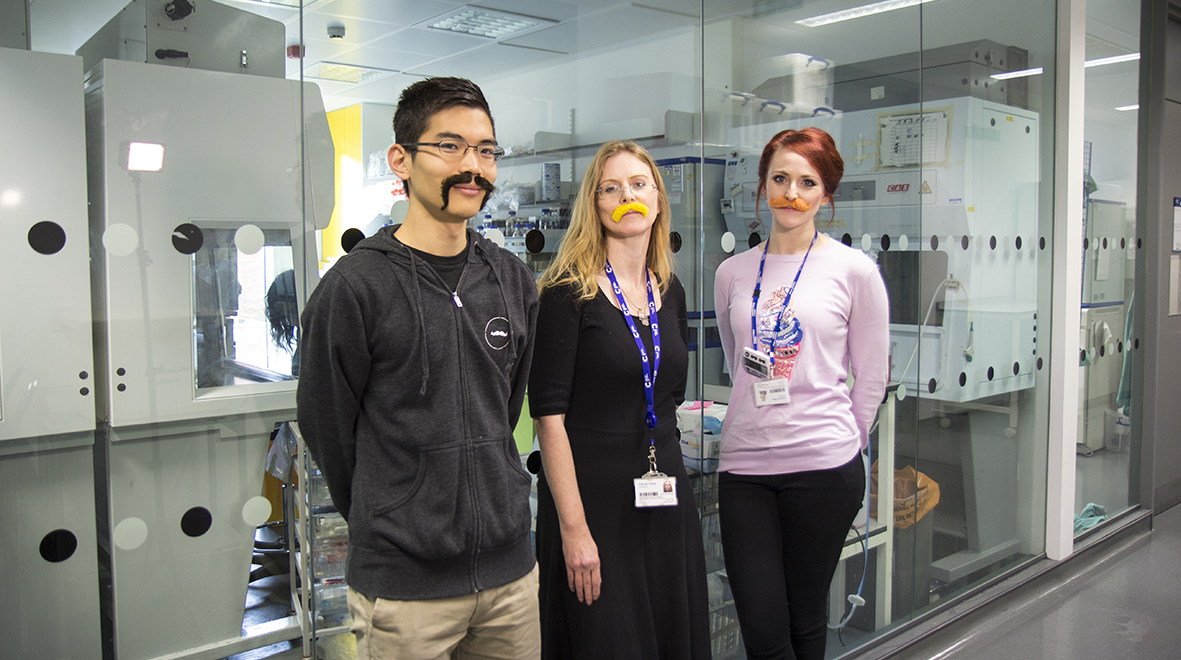 Aki Shibakawa, Professor Charlotte Bevan and Dr Claire Fletcher
My PhD project aims to predict the response to chemotherapy prior to starting treatment, using the levels of small DNA-like molecules in the blood. So far, I have identified a signature of these molecules that could predict chemotherapy response at 100% sensitivity with 60% specificity. I will explain this using a hypothetical population of 50 patients who will respond to the treatment and 50 who will not. The signature, in theory, would identify all the 50 patients who will respond to the treatment as well as 30 patients who will not respond, prior to the treatment. Those 30 patients could avoid side effects of chemotherapy and be referred to an alternative treatment that may be more beneficial. We are hoping to improve the specificity of the signature and retrospectively validate it in a large independent cohort. This project would not have been possible without the funding and collaboration that Movember provided through establishing the Centre.
If reading this blog has made you want to do something for men's health, here are three ways you can get involved in Movember:
For Mo Bros, grow a moustache to inspire donations as well as conversations! If someone asks why you are growing a Mo, talk about Movember and the men's health issues. Grow a Mo, save a Bro!
For all Mo Sistas and Bros for whom a Mo doesn't grow (that's me), you can participate in MOVE! Set a distance and then walk, run, swim towards it. There are MoRunnning events across the UK so check them out. Do something good for men's health as well as your own!
For those whose strengths lie in socialising and organising, host an event! The event can be a sports tournament, a dinner party or even a Karaoke night. In fact, our group annually host a bake sale at Hammersmith campus in November. So those readers at Imperial, come and support us!
In Movember, we can all do something to "Stop men dying too young"!
 Akifumi Shibakawa is a PhD student in the Androgen Signalling and Prostate Cancer Group at Imperial's Department of Surgery & Cancer.
Aki's research is funded by the Movember Foundation and Prostate Cancer UK.