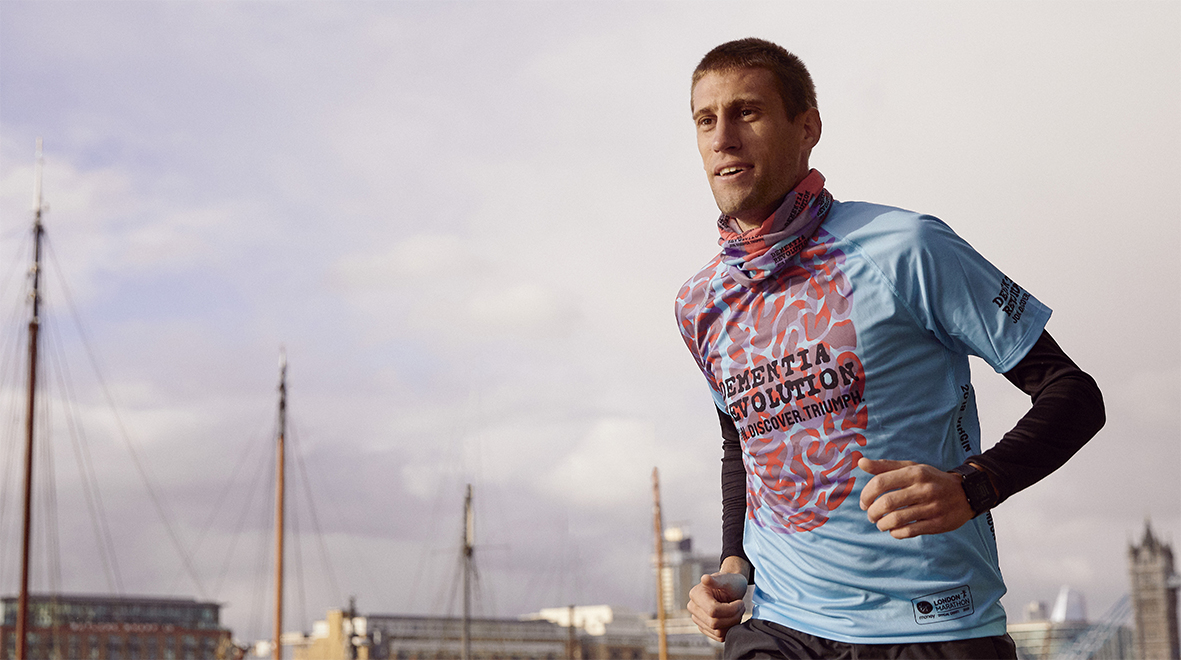 Dr Luke Whiley, a researcher at Imperial's UK Dementia Research Institute, is taking on this year's London Marathon, all in aid of Dementia Revolution.
---
To coincide with the launch of the UK Dementia Research Institute (UK DRI), the Alzheimer's Society and Alzheimer's Research UK have partnered with the Virgin London Marathon to create the Dementia Revolution – a year-long campaign to raise awareness of dementia and the ongoing research that is happening throughout the UK. As a research associate based at the Imperial UK DRI, I will be running the marathon as a representative of the centre and its research.
I have always been a keen runner, but have never completed a marathon. When the opportunity arose to promote the exciting work happening throughout the DRI and to be a part of the Dementia Revolution at the iconic London marathon, I was very eager to get involved. The experience has been very important for me, as I have met many other Dementia Revolution runners at both outreach and training events, and talking to them, hearing their story of how dementia has affected them personally, has further emphasised the importance of the research that I am doing within the UK DRI.
Running for dementia research
My research investigates the underlying processes of how and why people get dementia. This involves looking at how factors including both our genetics and our lifestyle behaviours have an impact on our health and disease. Some of these factors can be controlled by us, for example what we eat and whether we smoke. However, other factors – including the genes we inherit from our parents – are beyond our control. My research looks at how all these influencing factors combine and interact together to either increase or decrease the chance of an individual getting dementia.
One of my particular areas of research involves looking at the health of our gut and the diversity of bacteria that normally live there. Current estimates suggest that there are more bacterial cells in our gut than there are of our own cells in our entire body, so researchers think that that they could play a big role in our health across our lifetime. Many of the effects that these bacteria have on our bodies are believed to be good for us, but some could make us ill. Some bacteria are even known to release chemicals that create signals provoking a response in our brains, and changes in the gut microbiome have been reported in individuals with dementia. My work investigates these specific chemicals to see if they could affect the processes that lead to dementia.
This research is important for two main reasons. First, if we can work out if and why gut bacteria release chemicals that influence our brain health, this could help to explain why some people develop dementia while others have healthy brains until old age. Secondly, if we identify which bacteria are protecting or hurting our brain health, then we can develop treatments to control the 'bad' bacteria and encourage the 'good', helping to keep our brains healthy throughout life.
Family connection
I was inspired to pursue a career in dementia research as unfortunately I saw first hand how devastating the disease can be as my grandfather, Lionel, had vascular dementia. It was not only his deterioration in health that was difficult to watch, but also the impact the disease had on our family and friends. This drove me to begin a career in dementia research and I hope that one day my research will make a real difference to those affected by the disease. I now feel privileged to be a part of the UK Dementia Research Institute and work with the best scientists from around the world.
This is now an exciting time for my research field, especially within the UK dementia research community. I'm surrounded by team members with expertise from lots of different backgrounds, and we're all linking up and working together to tackle dementia like never before. For example, our research now involves analytical scientists, microbiologists, statisticians, geneticists and epidemiologists. We're bringing all of this together to help us get an overall picture of health and dementia.
That is why the Dementia Revolution is so important. The money raised will be invested into the UK Dementia Research Institute, helping scientific research teams like the one I work in. With more research funding we can research dementia in new ways and with better more cutting-edge technologies. This will improve our understanding of the disease and make a real difference to people affected by dementia.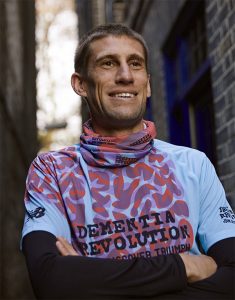 2019 is an exciting year for dementia research, the UK DRI is growing rapidly and the coverage that the Dementia Revolution and the London Marathon will bring is a great opportunity for us to raise public awareness of dementia and the ongoing research that is going on throughout the UK.
You can support the campaign through online donations, or by cheering on myself and all of the Dementia Revolutionaries on the day. You can even join the official Dementia Revolution cheer squads!
---
This post was originally published for the Dementia Revolution campaign. The Dementia Revolution is a one-year campaign from Alzheimer's Society and Alzheimer's Research UK as Charity of the Year for the 2019 Virgin Money London Marathon.
Image credit: Dementia Revolution.
---
Following the launch of the Faculty of Medicine's reorganised academic structure on 1 August 2019, this post was recategorised to Department of Metabolism, Digestion and Reproduction.